AVIXA Diversity Council's Asian Pacific Islander Heritage Month: Maneesh Kumar, an AV Creative
Posted on Jun 18, 2021
During Asian Pacific Islander Heritage month, as attacks on people of Asian background have been ongoing, the AVIXA Diversity council features Maneesh Kumar who has overcome cultural differences to become an AV thought leader and a representative of achievement through adversity.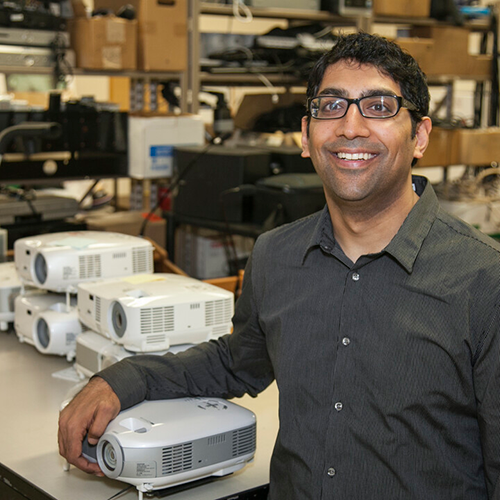 Maneesh Kumar
Maneesh Kumar of north Indian background (Punjabi) was born and raised in Illinois. To understand him and his relationship with AV, let's take the story back to his childhood. Being raised in the U.S. with a north Indian background (Indian culture being very regional) and weaving through the school system, it wasn't easy to fit in culturally. Being vegetarian, at that time, added to the challenge, but he was able to find friends along the way. As he was evolving into a young adult his family got their first computer. He remembered thinking to himself "I could program myself a friend" and carved out his identity from there with a little BASIC programming learning.
Although there was some level of loneliness as he searched for pockets where he could fit in, it was the start of Maneesh's relationship with technology which gave way to his love of computers and technology mixed with his love for reading. He explored AutoCAD, 3D modeling, animation, music, programming, and gaming, mostly self-taught via reading and some occasional classes. After a mix of jobs and education, he fell into AV as an adult via the assistance of the job placement center at DeVry as an AV programmer. With the world of commercial AV being an unknown, his job at United Visual felt like a perfect fit of everything he had already been doing most of his life: Exploring technology and developing user experiences through coding.
While ramping up his skills, he got an MBA from DeVry and transitioned from his formal career as an AV programmer at AVI-SPL and started working as a lead/manager for an AV support team in higher education where he designed AV systems regularly. Design work brought Maneesh back to what he loved doing: Working creatively with technology to help create an experience that met the needs of others. His creative designs in AV has been intertwined with his personal life in different ways. For Instance, his deaf sister made him a life-long advocate for ensuring there are forms of accessibility and assisted listening available at venues, and it reflects in his constant pursuit of understanding what works well to support users with accessibility needs.
Today, as an AV Architect at California Polytechnic State University in San Luis Obispo, CA, Maneesh fundamentally explores user needs and creates the tools necessary for their efficacious collaboration and presentations. Becoming an AV designer without an AV background, though challenging, proved achievable with his computer engineering background, tons of online courses including AVIXA courses, endless collaboration with AV installers, programmers, engineers, sales reps, project managers, etc., and a well-curated sense of self.
Over the years in his meetings with a variety of amazingly intelligent people in the AV industry, he has learned so much. Now, he too wants to share (give back) and is hoping to create a venue to enable collaborative learning for AV engineers. As a member of the AVIXA Diversity council's Education committee he is doing just that, giving back. Bravo Maneesh to a career well-done!
View the original story on LinkedIn.
TOPICS IN THIS ARTICLE