Reinventing Virtual Events
Posted on Aug 20, 2020
small group were placed back into the larger meeting to share their thoughts with the main group of meeting participants.
What Went Well?
First, the content was designed to keep attendees engaged and interested – both from how the content was presented to the length of each session. Presentations and discussion points were specific and relevant to the intended audience. We ensured there was an even balance of technical and professional development content to appease a wide range of viewers. Each presentation was approximately 35 minutes long, keeping listeners engaged and interested. Event attendees do not have time to waste, they want to walk away from an event with new knowledge and perspective so content should be relatable, insightful, and engaging. Different kinds of speakers discussing a wide range of relevant topics will keep attendees interested and inspired. And from a survey of attendees, more than 70%of respondents said they were satisfied with the networking opportunities the event provided.
RELATED: How to Create Authentic Connections with Customers during COVID-19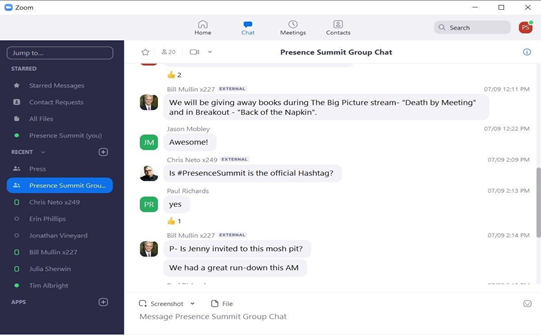 Presence Summit Group Chat
Perhaps the most surprising successful element of the summit was the continuous collaboration that happened within the group chat channel set up in the Zoom client. The chat provided all attendees with a communication channel they could use before, during and after the event to share and discuss their thoughts and experiences from the event and keep the momentum going.
Future Improvements
While designing the event, we felt it critical to maximize attendees' opportunities for networking. However, many of our Summit attendees expressed FOMO (Fear of Missing Out) because we had the livestream, breakout rooms, and interactive meetings happening simultaneously. In retrospect, we think small schedule tweaks will enhance attendees' experiences in the future.
We also recommend a half day of presentations/education, followed by a half day of networking, to achieve the highest success and engagement. In addition, while our event ranked high on the networking scale, we enabled multiple layers of engagement. While those opportunities were unique, we could have been clearer about the value of each engagement tool, whether it was the overall event chat feature, the Zoom meeting itself or the live stream chat areas social media.
Despite the first-time challenges that many virtual events face, survey results showed that 83% of attendees would recommend Presence Summit to a friend or colleague, and another 75% said the event gave them the tools they needed to achieve better video "presence" in their online meetings. So ultimately, we consider that a success.
A behind the scenes technology setup guide is available here.
Read Next: TIDE Generator: Creating Connection and Empathy Remotely
Now that we're moving beyond short-term technological fixes for a socially distanced reality and making plans for a longer-term hybrid of remote and in-person communications, how can we design AV communications systems that will foster better connections between people?