Hungry for Audiovisual Experiences
Posted on May 13, 2019
This story first appeared in
Xperience
, the official publication of AVIXA. For more articles,
take a look inside
.
As more markets adopt AV to help drive business results, new opportunities take shape.
By Brad Grimes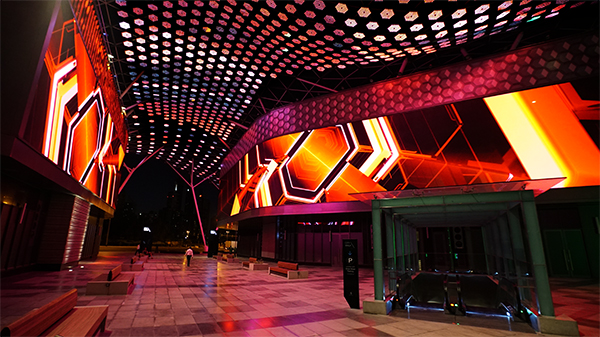 Credit: Float4
Audiovisual solutions are all around us. There isn't an industry sector, walk of life, or corner of the human experience that isn't touched by AV. That's meant a growing market for solution providers and a world of possibility for the people and organizations that purchase AV solutions.
"We're at an inflection point. AV is evolving from being 'nice-to-have' into a strategic asset," says AVIXA Senior Director of Market Intelligence Sean Wargo. "Take the retail sector, for example. Facing competition from online commerce, physical stores are set for a renaissance, based largely on their ability to integrate modern technology to create experiences that can't be had through a web browser. Similarly, research indicates that hospitality companies will spend billions of dollars on AV in the coming years to meet and exceed the expectations of a traveling public deeply rooted in technology."
Researchers cite several technology trends that are poised to sustain the pro-AV industry's current momentum. Analysts from global firm IHS Markit see advances in audio, display technology, cloud solutions, internet of things and smart buildings, and artificial intelligence contributing to AV demand.
"Say what you will about devices like Amazon's Alexa, speaking generally, artificial intelligence and voice recognition — in either their current or yet-to-be-developed forms — present significant potential," says Sanju Khatri, IHS Markit Director of Consulting and Strategic Advisory Services. "IP audio continues to take off, requiring a fresh set of information technology skills among integrators. And the growth of new direct-view LED technology is set to breathe new life into everything from digital signage to cinema."
Conferencing and collaboration are leading drivers of pro-AV sales. "There continues to be a growing need for engagement and collaboration, particularly in the corporate and education markets," Khatri says. Other solution areas that are driving pro-AV growth: digital signage, entertainment, and command and control. "The control room ecosystem is expanding. More information is coming into control rooms and more technologies are being integrated," says Khatri. "Command and control room applications remain one of the most lucrative markets for advanced display technologies."
Where the AV Goes
Overall, corporate AV represents the largest chunk of industry sales, projected to reach $45 billion worldwide by 2023. What used to be a series of disconnected flagship conference rooms have become communication and collaboration points, tied together with networks. What were cookie-cutter office buildings have become statements of corporate identity, brand, and culture. Where individuals used to be housed in a rabbit warren of individual offices, open concepts with privacy rooms and huddle spaces have emerged to facilitate interteam coordination. All the while, some companies are using AV technology to encourage telework.
Despite its breadth, corporate AV is among the slowest growing segments of the AV industry (about 2 percent annually). Others are adopting AV solutions at a greater rate. The market for AV solutions and services in healthcare, for example, is currently small but poised to grow roughly 10 percent annually through 2023. As institutions continue to leverage technology to improve patient care, more facilities will require AV solutions. Analysts at IHS Markit see a strong residential AV component to the growing healthcare market, as more people age in place and require solutions to stay connected to and engaged with healthcare professionals.
What other industries are rapidly adopting AV solutions?
Hospitality. According to AVIXA's series of Market Opportunity Analysis Reports (MOAR), companies in the hospitality sector have sizable capital improvement plans in place. Knowing they must differentiate themselves to stay competitive, hospitality companies tell researchers they plan to increase their spending on capital improvements over prior years. In line with construction data, about 6 percent of that spending — approximately $3.1 billion this year — should go toward AV. Globally, the compound annual growth rate (CAGR) of AV solutions and services for the hospitality market is expected to be 9.1 percent through 2023.
"Hoteliers used to compete by providing clean, comfortable rooms for travelers. Restaurants earned their reputations by serving delicious food," says Peter Hansen, AVIXA Economics Analyst. "Now consumers are looking beyond just lodging and food. With so much information at their fingertips and media stimulation all around them, consumers expect the same level of on-demand functionality and rich experience when they travel or dine out."
Retail. While it's true that certain segments of the retail market — think department stores — are struggling in the face of online competition, that doesn't mean all brick-and-mortar retail is in danger. In fact, the opposite is true. Surveys indicate that a younger generation of shoppers wants a communal, engaging retail experience. Industry experts have come to call it "destination retail" or "retail-tainment," and AV solutions play a significant role. According to AVIXA's MOAR: Retail study, a greater share of capital investment by retailers — up to 7 percent — is earmarked for AV than in the hospitality market. Worldwide, the retail market accounted for $19.6 billion in pro-AV solutions and services last year and is forecast to grow at a CAGR of 6.4 percent over the next couple years.
The concept of destination retail is compelling and global. Montreal-based Float4 worked with developers of the Meraas City Walk in Dubai to incorporate massive LED screens throughout the mall that come alive with digital entertainment. Float4 Principal Alexandre Simionescu says, "You want people to say of your shopping experience, 'Hey, go there because I saw something that blew my mind.' We shouldn't think a mall is only made for shopping. It's much more."
Transportation. Air and rail travel continue to grow, as consumers shift spending from things to experiences. Operators of transportation hubs plan to invest significantly to ensure the travel experience is more pleasurable than it's been in the past. The Airports Council International-North America trade group says airlines and officials in major cities are planning close to $100 billion in renovations through 2021. According to AVIXA's MOAR: Transportation study, decision-makers estimate nearly 5 percent of that spending will be for AV, including better public-address systems and ubiquitous digital signage. Globally, according to the latest AVIXA Industry Outlook and Trend Analysis (IOTA), transportation was expected to generate $9.5 billion in spending on pro-AV solutions and services last year and is projected to grow 8.8 percent annually through 2023.
"What's interesting about digital signage in transportation, for example, is that the value is in perception," says Eric Henry, President of Tightrope Media Systems' Carousel Digital Signage. "It doesn't change the wait time, but it helps the perception of wait time." At London's Gatwick Airport, operators invested in bigger, better wayfinding displays to meet customer service benchmarks. At Los Angeles International Airport, officials are piloting interactive kiosks that not only provide wayfinding and flight information, but also allow travelers to video chat with customer service representatives.
In short, demand for AV solutions and services remains universally strong. Designers, influencers, and buyers of AV are finding new and innovative ways of applying the technology to their unique situations. "AV will always be able to deliver 'wow' moments," says AVIXA's Wargo. "It's in the human-centric experiences of communication, collaboration, education and more where AV reveals fresh possibilities."
One-Stop Shop for AV Market Intelligence
AVIXA invests in market intelligence to help AV companies and those interested in doing business in the AV space succeed. Among the available resources:
Industry Outlook and Trends Analysis (IOTA). A global, holistic view of the technology and applications offered by the pro-AV industry, including revenue estimates and projections. In addition, IOTA Spotlight reports examine discrete areas of the market, including audio equipment; conferencing hardware; control systems; LED video; managed services; and streaming media, storage and distribution.

Macro-Economic Trends Analysis (META). A comprehensive examination of economic trends and the possible impacts on pro AV, starting with an analysis of five global regions and including discussions of risks and growth opportunities.

Market Opportunity Analysis Reports (MOAR). A series of reports investigating the opportunities and challenges of working in specific markets, including corporate, hospitality, retail, sports venues, and transportation.

Pro-AV Channel Employment Report. A broad examination of employment trends in the pro-AV industry, including data on compensation and benefits.
For more information, visit www.avixa.org/marketintel.
TOPICS IN THIS ARTICLE