Esports: AV's Newest Frontier
Posted on Jun 21, 2018
By Dan Daley, Special to AVIXA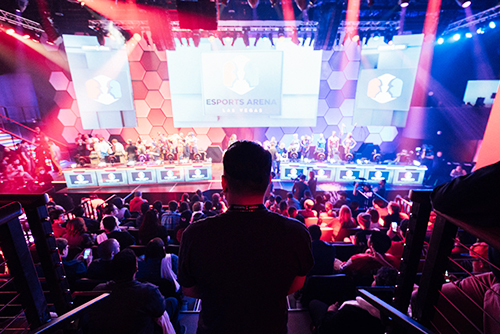 Photo: Esports Arena Las Vegas
The new arena is everything a sports fan could hope for: raked, stadium-style seating overlooking a field of play where the action is displayed brightly on huge LED video screens that stretch 50 feet wide and 20 feet tall. If fans don't grab a beer or a burger on the way in — as they enter through a brightly-lit arcade bar — they can get them at several restaurants and premium suites that ring the arena's concourses.
The music is loud and bass-driven, pumped through a PA system that otherwise might have been installed in a concert hall. But when the "players" take the "field," it quickly becomes apparent that this is no conventional sports venue. Rather, the 30,000-square-foot, multilevel Esports Arena Las Vegas is the newest frontier for how AV technology is helping keep sports at the top of the live-event production industry.
Video games are a massive business — total consumer spending in the video game industry reached $36 billion last year, representing an 18 percent increase from $30.4 billion in 2016. But their evolution into competitive "esports" — played live in front of an audience — has the potential to grow that category further and faster. Esports reached $325 million in revenues in 2015, according to the Newzoo 2016 Global Esports Market Report, and should reach $1 billion by 2019 (the year before it could be eligible to become an Olympic sport, as the Wall Street Journal has speculated).
Esports competitions have traditional sporting events looking over their collective shoulder, as the purses grow larger. For instance, the International 2017, a Dota 2 competitive-gaming event, drew an audience of 5 million concurrent viewers and had a total purse of $24.6 million — $10.8 million of which went to the winning team (Team Liquid of Utrecht, Netherlands).
The sports industry is taking note. And pro AV has a big role to play in the evolving experience of esports.
A Different World
Esports venues are likely to be different experiences than traditional sports venues because esports fans are different from traditional sports fans. The Association of Luxury Suite Directors, which focuses on the premium seat industry in stadiums and arenas throughout North America, has identified this cohort: They are younger than traditional stick-and-ball sports fans, with an average age in the mid-20s versus, for instance, 50 for the average NFL fan. They may be millennials, but they're relatively affluent ones. And they've been brought up on video games played at home and online, not as fans in the stands.
That, says Max Snyder, Director of Sponsorship at the ALSD, has implications for audiovisual experiences. For starters, fans will be able to be much closer to the action, because there are no balls or pucks flying around, which means video screens will not only be larger, but also lower and closer to the seating areas.
"Flexibility of the AV will also be important," Snyder explains. "For instance, being able to reposition video screens as the types of games change. Even down to the digital signage — the menus and food service for esports venues are different: They'll have sushi while the [conventional] venues serve hot dogs. Everything will be digital in these venues."
But getting the next generation of sports fans, who may have been put off by the high cost of tickets to live games, into the venue in the first place is critical. AV can help there, as well, providing fans with the kind of media environment they're used to from home video games. The Las Vegas Review-Journal reports video games are analogous to the slot machines that Vegas casinos depend on, and the city is hoping live video gaming in venues like the Esports Arena Las Vegas can help replace the aging Boomer demographic they previously relied on.
In fact, esports venues may draw as much from AV's hospitality sector as from its traditional sports-venue categories. For instance, MGM Resorts International and the Luxor Hotel and Casino are partners in the Esports Arena Las Vegas and Allied Esports, the gaming industry's largest network of dedicated esports venues and content-production facilities. Allied Esports has an online network of 400 million fans worldwide who can log on from computers and devices to watch or participate in tournaments and events at any of its venues, including the Esports Arena in Santa Ana, Calif., and Blizzard Arena LA in Los Angeles.
The New Landscape of Sports Venues
The esports venue will share some basic similarities with its analog-sports cousins: seating will surround a field where the play action will take place, much of it projected through large video screens with announcements and an LFE-heavy underscore pumped through high-SPL sound systems, with concessions in a surrounding concourse and premium-seat accommodations available.
The resemblance ends there. Instead of simply replaying the action, the massive video infrastructure of esports venues will be the field of play, projecting larger representations of what the esport competitors are doing on their own screens on stage. With sports that exist in a virtual domain, those displays can be configured in ways unimaginable for conventional sports venues, including enclosing the spaces to adapt to different types of video games and different levels of viewing, some of which will allow the spectators to participate to varying extents.
Populous, a global architecture firm whose conventional sports stadium and arena portfolio includes the MLB Atlanta Braves' SunTrust Park, the NFL Kansas City Chiefs' Arrowhead Stadium, and the NHL Las Vegas Golden Knights' T-Mobile Arena, predicts an almost Blade Runner-like landscape of immersive esports venues that can shape-shift as needed.
Integrators Weigh In
Esports may eventually grow into a unique vertical with its own technical requirements for audiovisual systems integrators and designers, but it will still rely on the basics of AV integration.
"The kinds of video switching that will need to take place will be specific to electronic gaming, and specific to whether the venue is for thousands of spectators watching a handful of players or for many participants in big, multiplayer games," says Frank McCann, President of integrator McCann Systems. "But you're still building an LED video wall the same as you would in another kind of venue. The basics of what we do as AV professionals are still there."
McCann, whose company has a large portfolio of sports books, says the emerging category of competitive esports venues will take cues from that AV category, but it will also share characteristics with conventional sports venues and broadcast. He cites how headset audio from video gamers is analogous to the in-car driver/pit-crew strategizing heard in televised NASCAR races, as well as the communications in performance spaces and destination venues, such as theme parks.
But sports and live events venues versus esports venues needn't be an either/or proposition. McCann points to the MSG Sphere Arena, a 360-foot round dome completely covered inside and out by programmable, wrap-around LED screens, with a 170,000-square-foot, 19,000-by-3,500-pixel main display, nearing completion in Las Vegas. The venue, a joint venture between Madison Square Garden and music mogul Irving Azoff, establishes a new level of immersive live-event spaces, says McCann, one in which the virtual aspects of video gaming intersect with modern sports venues whose designs rely heavily on the technology of AV.
"This," says McCann, "is where it's all headed."
TOPICS IN THIS ARTICLE