AVIXA Latin America: New Realities - Part 4
Posted on Aug 11, 2020
Training, a Smart Action While Recovery Is Still on the Way
After reviewing the data from the weekly AV Industry COVID-19 Impact Surveys, conducted by our colleagues in the AVIXA® Market Intelligence Team, we learn that, in all regions of the world, most companies in the AV industry have lived through the current crisis with similar effects and actions. Latin American companies are no exception and, with a few differences – mainly their access to government reliefs and loans – they observe situations like those of their colleagues in any other country. One of the everyday actions is taking advantage of the "free" time and spending it on training, skill development, and updating knowledge through courses and seminars that organizations such as AVIXA and many manufacturers offer daily.
In Peru, a young AV solutions integration company has decided that training will be the mainstay of its activities during social distancing, so the company developed an ambitious plan to which every single team member has committed from the start of the crisis. In this new article of the New Realities series, we present the case of Dacer Soluciones Tecnológicas, a company that is benefiting from seminars, courses, and obtaining certificates daily.
Comprised of professionals with vast experience in the AV industry in Peru, recently-founded Dacer Soluciones Tecnológicas brings multiple integration services, videoconferencing, open design, among others, to essential clients on the banking, mining, and telecommunications sectors. The company works with manufacturers and service providers of high quality and international presence.
According to Darwin Chávez Clavo, Commercial Manager of Dacer, just a few days after health authorities identified the first patient with COVID-19, the Peruvian government ordered a strict quarantine for the entire population and most companies. Among the economic measures to prevent companies from being even more affected, the government opened the possibility of the "Perfect Suspension," a scheme that allows companies to retain their staff without paying their salary for three months.
"At Dacer, we decided to support our personnel. We know them, we know they have families, so we looked for the best solution for them and the company, and that is why we didn't resort to Perfect Suspension", explains Darwin. The option was to keep all employees, who accepted a temporary reduction in salary and made the commitment to dedicate their available time to training. "It was a team decision. We decided to strengthen our skills with knowledge. We are delighted, we were not petty, we didn't turn our back on our staff," says Darwin.
Dacer already had a training plan in place that had not advanced enough due to the heavy workload the company had before the pandemic. The shutdown of activities due to confinement allowed them to rethink the plan, review the offer of courses and seminars available, divide topics according to the needs of each department within the company, and focus on those that would provide a certification.
"From day one of the quarantine, we decided to develop the training plan based on AVIXA's educational resources and also with courses from various manufacturers," points out Alfredo Pereda, General Manager at Dacer. "Our goal was to achieve the certificates that we had pending but had not previously completed due to lack of time. We know that having personnel with certificates will allow us to make a difference when presenting a project to a client, so we are aiming for that goal as a team."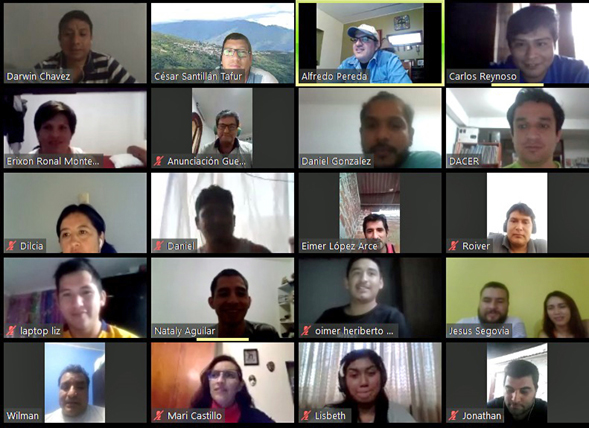 The professionals at Dacer decided to benefit from the AVIXA education catalog, which is free for every member. They used it as the backbone of its plan, also adding courses from over 20 manufacturers.
According to Dacer's data, in the first month alone, the expectations of the original plan were exceeded, so they hope to reach a cumulative figure of a thousand training actions in June 2020. In the first week of June, the company's 13 collaborators had already obtained a combined number of 306 AVIXA course certificates.
The AVIXA education catalog, from which the company has benefited so much, was available temporarily free of charge from March to June 12 for all members of the association. These contents were used by 744 Latin American professionals, who took 2,134 online trainings. Regularly, access to these educational contents are offered at a special rate or as part of the benefits of Elite AVIXA membership that requires an annual payment.
"We are not waiting for the pandemic end to decide what to do, we are preparing right now to be ready for reactivation" is a statement on which all the members of this passionate Peruvian company agree.
For César Santillán, Project Manager with vast experience in large-scale solutions, all these certificates will be critical to compete in new projects once activities resume. César emphasizes that the Peruvian government, whose investment will be essential to economic recovery, places great emphasis on the trainings (certificates) that a company's personnel have. "We want to go a step further, we are interested in strengthening our training, and we will see to it that a couple of people from our team reach the CTS® level of AVIXA," says César.
Jesús Segovia Marrero, who is head of Programming and Systems, coordinates the training plan and is one of its leading promoters. Working with Darwin, Alfredo, and César, he defines and adjusts the program for each of his teammates. "We developed a database that allows us to update daily the different courses and certificates that our colleagues obtain. The information is organized by training topics, organizations, and manufacturers that teach the courses, the validity of the certificates, and much more," describes Jesús, who holds 50 AVIXA course completion certificates. "The data is available to all colleagues, so they can monitor their progress, compare their numbers with the rest of the team, and know which topics require the most focus."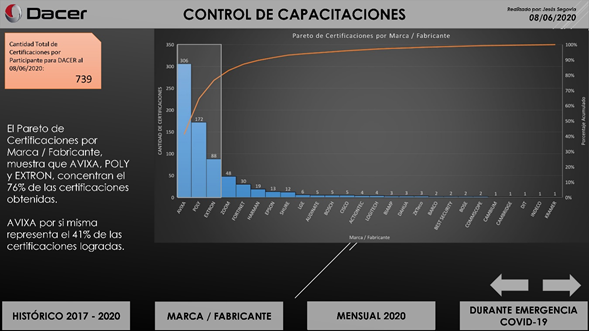 Dacer executives emphasize that this is not a competition to obtain certificates; the objective is that employees dedicate themselves to strengthening their knowledge in the most critical areas, both for themselves and for the company. For example, sales staff have combined AVIXA courses, various manufacturers' seminars, and learning available from AVIXA En Directo, because they provide a very current overview of products, technologies, trends, and even the possibility of networking.
"I am pleased with the training strategy and the support we receive at Dacer," says Carlos Alberto González, a commercial advisor, who has completed more than 42 AVIXA courses. "Learning is always positive and it helps us in the sales process, since most clients demand qualified personnel for their projects," he declares.
Carlos Andrés Reynoso, Installation Manager, who leads the way with 71 completed AVIXA courses, expressed his satisfaction at the opportunity to acquire more knowledge and improve his professionalization level. "The certification campaign has helped us strengthen communication between teammates. We ask each other questions, and we grow together, we solve doubts, we do exercises with possible integrations, and we explore different solutions," explains Carlos.
Like his colleagues, Dacer's CEO is optimistic about the future. Alfredo says they know that the sales figures they had predicted for 2020 will not be achieved, but project requests are beginning to come in again, and the team spends many hours preparing new proposals. "There is a glimpse of a panorama with work for the near future," he says. "We see possibilities in new technologies and solutions that perhaps we had not explored, but that will allow us to maintain the level of turnover. We always update ourselves, so reinvention is the key, and the knowledge obtained through the training plan will help us to get ahead," concludes Alfredo.
More Training Tools Available to Everyone
For those who want to emulate the example of Dacer, at AVIXA, we have several professional training options available to everyone, among which are the AVIXA En Directo and, of course, InfoComm 2020 Connected.
The first season of AVIXA En Directo – 16 sessions between April 7 and May 28 – featured topics such as projection, mapping, system design, audio processing, and digital signage, as well as trends and audiovisual solutions for spaces such as sports stadiums, religious temples, or shopping centers. Many of the 3,011 learners took several courses, for an average of 500 people per session. You can still access these 30 hours of learning through a free registration at this link.
And we have excellent news! Due to the high level of engagement, the AVIXA Latin America team has scheduled a second season of AVIXA En Directo.
In addition, InfoComm 2020 Connected displayed a wide range of learning opportunities, conferences, discussion tables, and content of interest to all professionals in the AV industry and related sectors. You can still register for the show through August 21, 2020.
InfoComm 2020 Connected discusses diverse topics, from audio, video and display, live events or digital signage, to control systems, educational spaces, and unified communications. The programming includes a series of three discussion panels in Spanish on the importance of space, technology, and content in an integrated experience.
Check out all of the content programming here!
TOPICS IN THIS ARTICLE