Audiovisual Experiences Improve the Passenger Experience
Posted on Feb 11, 2019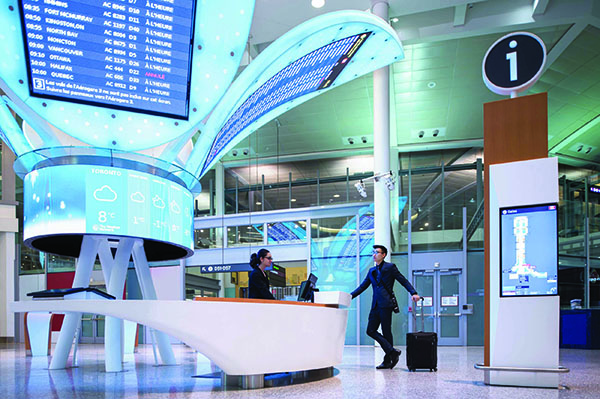 At the April 2018 AAAE Conference in San Diego, AVIXA hosted a roundtable conversation with airport executives and designers about the role of audiovisual technology in today's airports—and tomorrow's. Airport Business Editor in Chief Joe Petrie moderated the discussion, drawing on participants' real-world insights into using audiovisual and digital solutions to improve operations and enhance the passenger experience.
"Customers want to be informed and efficiently provided information as they go through their journey," said Bridget Rief, Vice President of Planning and Development for the Metropolitan Airports Commission, Minneapolis-Saint Paul International Airport."It's not about digital signs anymore, it's about the digital sign that provides the information they want, where they want it, and when they need it, specifically tailored to them. That's the direction we're heading in."

From wayfinding to flight information displays, and from digital signage to architectural video walls showing custom and branded content, audiovisual experiences are the way forward in virtually every industry you can think of. Following are excerpts from the roundtable conversation at the AAAE Conference.
Why Audiovisual Experiences in Airports?
J.C. Arteaga, Associate Vice President at HNTB and architect of record for the South Terminal at Orlando International Airport: "We are in the era of technology and communication. Airports are no longer places where you just go and travel. You go there and you socialize, work, connect, and entertain. The audiovisual experience plays a vital role."
Michael Clow, AvPORTS Management LLC, Manager of Terminal Aat Newark Liberty International Airport: "Everybody walking around the airport…has their phone. We have signs everywhere that tell people how to get where they're going, but they don't see them because they are concentrated [on their phone]. If we could put that information [somewhere] that attracts their attention, we would enhance their experience, getting them where they need to go much faster, and in a better manner."
Jeff Roach, Airport Manager at Fairbanks International Airport:"It mirrors their expectation at home and in the workplace.It doesn't matter if you're a small airport or the largest airport in the country, the expectation is that the traveler can get the information they want and need at a moment's notice. This expectation also includes quality. They're looking for big screens,ease of information, interactivity. It's a world of high expectation for our traveling public today."
How Do Airports Integrate Audiovisual Solutions Into Their Plans?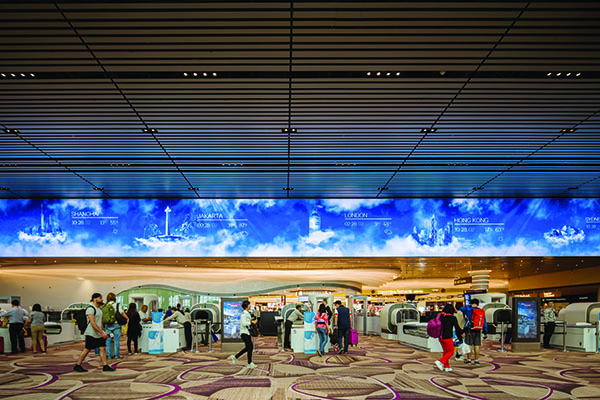 Michael McElvaney, Director at LeighFisher: "In order to meet the expectations of not only the public, but the airport that is trying to achieve those expectations, it's important to incorporate the technology in the planning side of things, the design, using say, 4D classes to actually understand the space requirements. Is it large enough? Is it small enough?"
Andy Merkin, Producer at Moment Factory, the multimedia company behind audiovisual experiences at Singapore Changi Airport and the Tom Bradley International Terminal at LAX: "We find it's important to bring us in at an early stage. It helps to integrate and control cost. We work in a different cadence to a lot of the planning and construction, in that our installation and our media production don't happen until the latter half of a project.By bringing us in early we can do some of that planning, and in the era of smart technology, it also allows us to plug into any of the other systems that are in the airport — weather, traffic patterns,the flow of passengers, luggage or planes. We can visualize all of it and make it part of the integrated experience."


How are Airports Employing Audiovisual Experiences?
Arteaga: "At Orlando, we're going to have something interactive called a portal. It's a 60-foot-high space where we put a series of video content and you can actually add pictures of your kids and see yourself there."

Jon Graves, Senior Manager of Marketing and Public Relations,San Diego International Airport: "We have a piece that goes down Terminal 2 called The Journey. It's a bunch of purple LEDs…and you see one person swim — just a silhouette — all the way down the terminal. Its slow and methodical and a great example of using art and video to do exactly what we're talking about: Ease the customer experience."
Merkin: "We're seeing examples of airports building facilities that ask passengers to stay — restaurants and shopping outside on the land side of security. They're starting to get the message that [the experience] is not just about getting baggage and leaving; they have an opportunity and that message has to reach passengers the second they hit the gate: Enjoy your time here. It's not a facility,it's a venue."
Roach: "In Fairbanks, we've branded ourselves as the Golden Heart of the interior of Alaska and also the gateway to Denali National Park. What better tool to use than audiovisual technology to show the wide-open spaces, the expanses, the ruggedness of the mountains — all those things that tell that story?"
Any Parting Advice?
Graves: "The planning needs to involve the story teller, to get at the intent behind why you're delivering on these new technologies."

McElvaney: "Keep the content current. It gets stale if you don't change it out. A frequent flier who's coming there all the time will stop looking at it if you don't refresh the content."

Rief: "There are four basics that apply to all airports. You have to be digital; if you don't have the backbone and infrastructure for that, you're going to have a hard time getting started. We also think you need to be multiuse — to provide multiple messages in the same location so they can be tailored. It needs to be content rich— the information passengers need when they need it and where they need it. And it needs to be beautiful, like at LAX. We'retrying to enhance the customer experience; why not do it in the most beautiful, most modern way possible?"

Brad Grimes, Senior Director of Communications, AVIXA: "I had a great conversation at the AAAE Conference with an airport official about all the audiovisual experiences you could bring to an airport and her question was, 'What's the value proposition?' It's a legitimate question, and the answer is, 'It depends.' AV can deliver huge benefits, but the value proposition is negligible if audiovisual technology is not treated as a strategic asset. If all we do, like we probably did 10-15 years ago when displays went fl at, is slap them up here, slap them up there, then the value proposition is far less.To me it's exciting that the audiovisual and airport industries can have conversations about the goals that airports have and how can we bring audiovisual solutions to bear on those goals."
TOPICS IN THIS ARTICLE