Date: 2/22/2021

Details:
With AV technology enabling learning to continue, overall network security, as well as data sharing and data privacy, will play a huge role in 2021. This session looks at what this will mean for higher education with new insights from EDUCAUSE, which identifies information security and managing financial resources in the top IT issues for 2021 for the majority of higher education institutions.
Join us for the February Power Hour to learn how to:
- Identify the biggest threats to higher education institutions and learn how to prepare.
- Understand how a risk-based security strategy can detect and prevent threats.
- Apply insights to your current network security documents to evaluate overall conditions to identify where improvements can be made.

This Power Hour series also includes:

March 22: How to Get to Yes: Presenting Your AV requirements to the IT Team: Tech managers are working more closely than ever with IT teams to support the rise in cloud service usage. What are the new network requirements in higher education?
April 19: Improving the Online Learning Experience: The modern focus of video conference systems should not start and end with the most top-of-the-line video camera, but instead should start with other AV components such as audio, content, and control. Review the common elements of video conference-capable AV systems for learning ad how to decide which should get priority.
May 24: Classroom of the Future: Is it in the cloud? Heading into the summer break, institutions with different needs and budgets share their approach to fully implementing learning's new normal.


Presenters: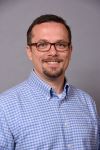 Mark McCormack, Ph.D.
Senior Director of Analytics & Research
EDUCAUSE
Mark McCormack, Ph.D., serves as the EDUCAUSE Senior Director of Analytics & Research, overseeing the association's member-facing data and analytics services (Core Data Service, ETRAC) and portfolio of original research projects.
Before coming to EDUCAUSE, Mark served in leadership and research positions for professional associations and other non-profit organizations across a variety of spheres, including higher education, K-12 education, youth development, performing arts, and community development.
His research has appeared in the Leadership & Organizational Development Journal, the Journal of Interdisciplinary Studies in Education, the Journal of Community & Applied Social Psychology, and the APA Handbook of Community Psychology, among other journals and edited volumes.
Mark earned his Ph.D. in Community Psychology from Peabody College at Vanderbilt University.

Frank Padikkala
AV Design Engineer
Diversified
Frank Padikkala is an AV Design Engineer who places Innovation and Inclusion at the heart of his design philosophy.
Having his foundations firm in IT and Cybersecurity - he promotes the utilization of converged technologies for creating high-end designs for corporate spaces.
As an IT-AV Evangelist, Frank hopes to bridge the knowledge gap between the IT/AV/Tech industries, many of which have already begun to overlap in a wide array of applications.
He is a firm believer of tech training and certifications and advocates the importance of standards.
As a self-proclaimed "cert junkie" he several IT certifications including those from Cisco, Microsoft, Comptia – the latest of which is a Certified Ethical Hacker (CEH) and CHFI from the EC-Council.
He also holds a Masters in Cybersecurity and Information Assurance (MS-CSIA) and Bachelors in both IT-Security and Polymer Sciences.
He holds the CTS/CTS-D certifications from AVIXA.

Patrik Maltusch
Head of EA Architecture
Aalto University
Patrik Maltusch is the head of EA architecture team at Aalto University, Finland, and is also chairperson of the Finnish EA-SIG and EUNIS EA-SIG.
He is also one of the lead educators who have coached staff in the national Higher Education EA schooling program.
Past experience, include working as a customer service instructor for nearly ten years and further fifteen years as network architect and business owner for internal infrastructure design in a global Telco company.
Patrik is also a distinguished and accredited security professional, risk manager, system auditor and a certified Higher Education Enterprise Architect.
As entrepreneur and startup facilitator, Patrik understands what staying practical means for business.
For Patrik simplicity and interoperability is the key to success in an ever growing and more complex and complicated ecosystem landscape.

Bas Cordewener
Coordinator Knowledge Exchange and International Facilitator Jisc. Board Member
EUNIS
As Coordinator I manage the KE Group, the unit responsible for our activities, maintain relations with member organisations, and advise the Steering Group group on KE's strategic development.
The Knowledge Exchange, is a collaboration between six European organisations; CNRS (France) DFG (Germany), SURF (Netherlands), DeIC (Denmark), CSC Finland and Jisc (UK).The Knowledge Exchange Office in Bristol, UK is hosted by Jisc.
As International Facilitator, I support Jisc in its international representation and networking, especially in engagement with European initiatives and as board member of EUNIS.
In the EUNIS board I focus on strategic development of the EUNIS organisation and support of Special Interest Groups and Task Forces, with special attention for the Information Security group.

Jimmy Vaughan
Partner Technical Specialist, USA Channel Sales
Microsoft
Prior to joining Microsoft, Jimmy was with Crestron Electronics for nearly 20 years where his efforts exemplified the tradition of quality that Crestron has been known for since its founding.
He along with Joe Sarrasin invented and led the development effort behind many of Crestron's most popular products including Crestron Mercury, Air-Media presentation systems and Crestron Flex (a family of Microsoft Team Room systems and Teams Voice products).
Jimmy's qualifications have been well recognized in both the Information Technology and Audio-Visual Integration fields.
Jimmy maintains both Microsoft MVP and Crestron Master programmer status; two highly recognized and complimentary accomplishments.
As a result, Jimmy has developed and led technical instruction at such events as Crestron Masters and Microsoft Ignite, focusing on collaboration and IoT technologies.
Moderator:

Ben Barnard
Regional Manager, UK and Ireland
AVIXA
Ben Barnard is Regional Manager for AVIXA UK & Ireland and aspires to support the AV community through education, certification, training and providing the industry with access to the resources that are most beneficial to their businesses and professional development.
Ben has been working closely with various Tech Manager groups over his time at AVIXA and is always keen to learn more about what's relevant and important to this particular segment of our community.
---
---