Date: 11/18/2021
Sponsored by: Panasonic
Details:
Welcome to AREA15 Las Vegas! AREA15 has emerged as a Las Vegas premier experiential entertainment destination. It is an immersive playground, all rolled into a vast and vibrant space. To deliver engaging and awe-inspiring experiences for their guests, AREA15 partnered with Panasonic to create sophisticated, state-of-the-art, and impactful 4K experiences for unparalleled and exceptional life-life realism. Please join Joe Conover, Strategic Manager, Panasonic Themed Entertainment Solutions as he talks with AREA15's JD Bouck, Director of Production, Sara Foley, Art Director, and Jacob Roeber, Assistant Production Manager, to learn how the venue was transformed into an interactive and fully immersive 4K environment – along with the detailed planning, coordination process needed to upgrade from HD to 4K projection technology.
Participate in this webinar to learn how to:
Identify the requirements needed to go fully 4K.
Evaluate the appropriate AV equipment for your environment.
How to bring the 4K experience to life with content creation.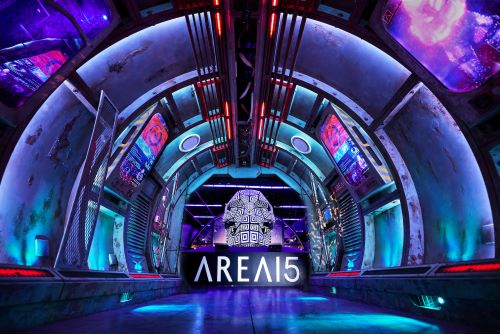 Sponsored by:

Presenters:

JD Bouck
Director of Production
AREA15
JD Bouck leads all technical production related to events, experiences, and operations throughout AREA15.
JD oversees a team of AV, tech and event producers responsible for bringing AREA15's immersive experiences to life

Sarah Foley
Art Director
AREA15
Sarah Foley is responsible for creating and executing the visual design for all of AREA15's events and experiences.
Content created by Sarah is brought to life by the ground-breaking technology that sets AREA15 apart from other event venues.

Jacob Roeber
Senior Production Manager
AREA15
Jacob Roeber executes the production process for all events and experiences inside and outside of AREA15.
Jacob coordinates all production activities and operations to ensure guests enjoy a completely immersive experience in every aspect of their visit.
Moderator:

Joe Conover
Strategic Manager
Panasonic Themed Entertainment Solutions
Joe Conover has over 25 years of emerging technology and visual solutions leadership.
He has vast experience within the Themed Immersive Entertainment and Media industries.
Joe currently leads Panasonic's Strategic Solution Development and Direct Partnership efforts in North America, primarily focused on large venue laser projection solutions.
This group provides unique and innovative projection solutions for immersive experiences as well as global resources for partners who may require technical research & development, projection studies or post-installation show quality support.
---
---