How do you ensure that the display installed in a room conforms to your client's requirements and wishes? How do you know if everyone in a given room will be able to see what the display presents? How far can one stand from the screen and still comprehend the information it displays? It's all about the content. Will your viewers understand the message that you're communicating? We've used a common Rule of Thumb for years to size screens and displays but now there's a published standard. Learn how the DISCAS standard encompasses a systems approach to display size that incorporates content, image size, aspect ratios and even resolution as a whole. Further, discover where your viewers should be placed in relation to the image.
Presenter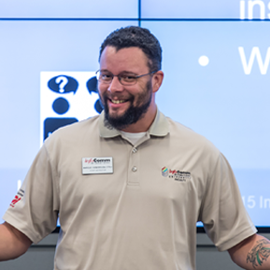 Marcus Yarborough, CTS-I

For Marcus, there's nothing like peering into emerging technology and them making it a reality. He's always up for a challenge. His down-to-earth personality has had him described as a "hippie without the hair." Marcus's 15 years of AV experience include installation, service, programming and design—plus military service in communications.
Webinar Sponsors