Meet AVIXA at #ISE2022
At ISE 2022, AVIXA will engage with the professional AV community in various ways to support a unique industry that will enable companies and individuals to still meet, learn and thrive.
On the ISE website, you can find she show's program and exhibitors as well as discounted train and flight tickets and a comprehensive selection of Hotel offerings. Using the code meetAVIXAatISE you can register free of charge.
Meet our Team at the AVIXA stand 5U505 in Hall 5 next to the ISE main stages.
Drop by, have a coffee with us, and learn more about our new online platform for the AV-Industry.
The first 50 people to join the Xchange each day during the show will receive an Xchange coffee mug!
We are looking forward to meet you in Barcelona, soon!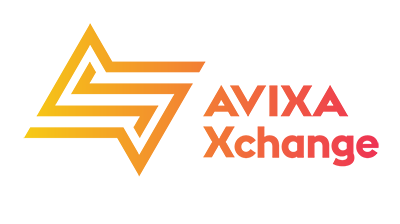 Have a drink and a bite with AVIXA and celebrate the launch of AVIXA Xchange.
Join us on at 17:00 on Thursday, May 12 at the AVIXA booth 5U505 in Hall 5 and raise your glasses in honour of AVIXA Xchange.
All day on all show days
In cooperation with Pearson VUE, AVIXA offers CTS-Testing on all show days. CTS, the only Certification in the AV industry accredited by ANSI to the ISO 17024 standard.
Tests can be taken in English, Spanish and German language.
"Ask the Trainer"
Meet experts who you can talk to about the CTS Prep courses and answer any last-minute questions before taking the exam. Expect also some great advice on test taking strategies.
Sessions will be held in English, Spanish and German.
Regional Events
🇫🇷 17:30 – 19:30 h – Monday - May 9: French AVUG Meeting – Room 3.13 C in CC3
AVIXA and the French AV User Group invites the French AV community for a get together.
🇮🇹 11:00-13:00 – Wednesday - May 11: Italian Women's Council Panel and Coffee - Room 3.13 C in CC 3
Join this in-language gathering to have a coffee with your peers from the Italian AV-industry and make new relationships. Also join the female professionals from the Italian AV world talk about their professional experience and the importance of women's empowerment in our industry. This is also the first chance to meet the new Italian group of AVIXA's Women's Council in person.
🇩🇪🇦🇹🇨🇭10:00 – 11:00 h – Thursday – May 12: German CTS Breakfast – Room 3.13 A in CC3
Interested in CTS or already a CTS Holder? Meet CTS-Trainers, Volunteers, Employers and peers for a discussion on the Value of CTS in the German speaking countries and for networking.
🇩🇪🇦🇹🇨🇭12:00 – 14:00 h – Thursday – May 12: German Women's Council Meeting – Room 3.13 A in CC3
The first in person-meeting for everyone interested in German language AVIXA Women's Council. Meet the group, discuss ideas and network.
Anmeldung / Registrazione
Council Events
15:00 – 16:00 h – Wednesday – May 11 – The Dome in Hall 5
AVIXA Women's Council: Shared Experiences Panel

The AVIXA Women's Council will be hosting a Shared Experiences Panel with inspirational women (and men) from Audio, Conferencing, Project Management and others who will discuss how they arrived into the AV industry, challenges they have faced and how the AV industry is tackling gender imbalance.

We will also provide a toolkit with links, videos and practical hints and tips for the audience to download and share on diversity, equity and inclusion. This session will be followed by a networking drinks reception.
Intro by Sarah Joyce, CGO, AVIXA
Chair: Deborah Jones, AV/IT Sales Manager, QEII Conference Centre, London
Confirmed panelists:
Malle Kaas, Live Sound Engineer, Women in Live Music, Denmark
Michaela Hirsch, Director of Sales, Peerless AV, Germany
Anna Shahin, Application Support Engineer, Audiologic, UK
Greg Jeffreys, Director, Visual Displays Ltd., UK
Rob Smith, Senior Director, System Sales, Shure, UK
Diana Quintero, Territory Manager, LATAM export, Bose, Chile
16:00 – 17:30 h – Wednesday – May 11 – Networking Area (next to Speaker's Zone) Hall 5
AVIXA Councils networking drinks reception
The AVIXA Councils invites all Council members attending ISE, AVIXA Members and AV professionals interested in their work for a get together to network and connect with like-minded people in a relaxed atmosphere.
Hosted by the AVIXA Women's Council, the Diversity Council and AVIXA Member Services.


10:30 – 12:30 h – Thursday – May 12 – Main Stage in Hall 5
AVIXA Diversity Council: Equity, Inclusion, Accessibility and Intersectionality for Business

Topics:
Equity in Leadership and building a culture of Inclusive Leadership
The business case of Diversity and Equity - benefits to organizational growth
Establishing paths for individual development and growth.
Organizational readiness and planning for the evolving workspace.
The role of safe spaces and affinity groups
How does technology help with DEI initiatives?
Intro by Sarah Joyce, CGO, AVIXA
Confirmed panelists:
Joe Way, Director, Learning Environments, University of Southern California, US
Lara Paemen

, Managing Director, IFMA

(International Facility Management Association) EMEA, Belgium

Rachel Hunt, Marketing Director, Unicol, UK
Girish Narayanan, Managing Director, Granteq
Susana Alvarez, CEO, Newtech Solutions, Argentinia
All council sessions are sponsored by:

🇪🇸 AV Experience Zone:
Daily Sessions – May 10-13 – Hall 5

The AV Experience Zone is unique event presented in Spanish language aimed at presenting the most cutting-edge AV solutions and latest trends within the industry. The event showcases AV projects flawlessly executed along with customer testimonials presented by the most talented and experienced professionals in the sector.
For this second edition of the AV Experience Zone, different sessions will be held for targeted vertical market audiences, professional technicians, and a programme for students.
There will also be guided tours in the exhibition halls for specific audiences in attendance.
Registration via the ISE Show Registration is recommended.