Date: 12/7/2020

Details:
With the ever-changing climate of todays' working environment, more and more people are switching to working from home or working remotely. Unfortunately, not many people know the ins and outs, or best practices of having a remote or mobile video conferencing setup, and have a less than good quality experience during their communications with their clients and coworkers.

In this session, Chuck has discussed some of the best practices of an Audiovisual setup for individual video conferencing and some of the simple things we can do, to insure we have a good quality and consistent experience, every time we communicate to other remote partners.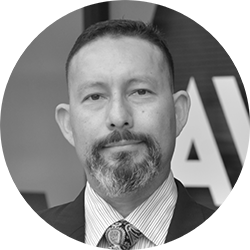 Chuck Espinoza
AVIXA
Chuck Espinoza, an AVIXA Staff Instructor, has over 26 years' experience in the audiovisual industry with 13 years in the United States Marine Corps - 8 of those years as Platoon Sergeant and Marksmanship instructor. In the U.S. Marine Corps, Chuck was the Chief Sound System Engineer for the United States Marine Corps' Musical field units. Since retiring from the Marines, he has held a variety of positions supporting commercial and federal government clients, including sound system engineer, project manager, senior integration engineer, chief training officer, quality assurance engineer, and Director of Operations.

Chuck has contributed to the development of hundreds of audiovisual professionals in his numerous professional training roles, as well as through his leadership in AVIXA And watch out: He always has a test meter in his back pocket and he is not afraid to use it!
WATCH THE RECORDING
---
---
North America Webinar Sponsors
AVIXA would like to thank the sponsors that have helped us all create better AV experiences through supporting webinars.