Experience Thinking Will Drive Innovation, Engagement in Social Spaces
Nov 13, 2019, 15:15 PM by Allison Tardif
Experience thinking will inevitably lead us to design more immersive, interactive, responsive and personalized environments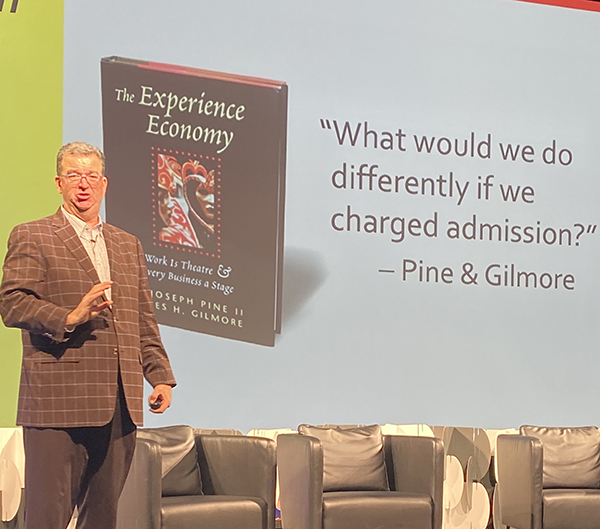 James Gilmore on the SEGD stage.
"The Experience Economy isn't emerging, it's here." In his excellent keynote at Friday's SEGD conference in Brooklyn, The Experience Economy author Jim Gilmore, dropped an hour's worth of inspiration on a room full of experience designers, and teed up a day's worth of takeaways for the creatives and technologists in attendance — myself, included. The SEGD Xlab 2019 conference is a gathering of designers, fabricators, and technologists to talk about the future of experience and place. AVIXA was a platinum sponsor of the event, which fosters stronger connections between the AV and design communities as we together innovate in experience design.
Working in the emerging technology space of virtual and augmented reality, where "experience" is the clear product, and at RLab — a physical space where we run hackathons, corporate innovation events and professional development trainings — the concepts presented by Gilmore, iconic designer Edwin Schlossberg (ESI) and others were not only inspiring, they were grounding and essential.
Time is the currency of experience, Gilmore noted, where the number one competitor for attention is the smart phone — a device most everyone has on them at all times. How many of us feel we are competing with a smartphone for a colleague or even loved one's attention, never mind our customers?
The more we think about what we do as experience design, the more directly we engage with this challenge of our modern spaces: How can we earn more of our customers' time? How do we draw them in and keep them engaged?
And there's more evidence than ever to suggest we should think about what we do as experience design – whether we're designing for a new music venue, university, retail environment, airport, museum, or any other shared physical or virtual space.
Experience thinking will inevitably lead us to design more immersive, interactive, responsive and personalized environments. And it's grounding to remember that the foundations of this practice are universal and basically evergreen. Technology is the moving target.
In fact, it's striking to think that a conference about emerging technology and design would be so appropriately kicked off by speakers like Gilmore and Schlossberg — both of whom have been in the experience design business for decades. The foundations have in the meantime become relevant to basically every business, and Gilmore's talk was chock full of examples, from Starbucks to Progressive Insurance to Airbnb to Top Golf. Consider that yet another new edition of The Experience Economy will come out next month — 20 years after the original was published, and 40 years after Schlossberg designed the Brooklyn Children's Museum, one of the world's first interactive museums.
Technology — and its creative application — will continue to keep these concepts fresh, and open doors for deeper connections. We can create that much more immersive, more interactive, and more transporting experiences utilizing spatial audio and generative interactive displays, for example.
"Experience is personal — internal vs. external," reminded Gilmore. "And if it's digital, it can be customized."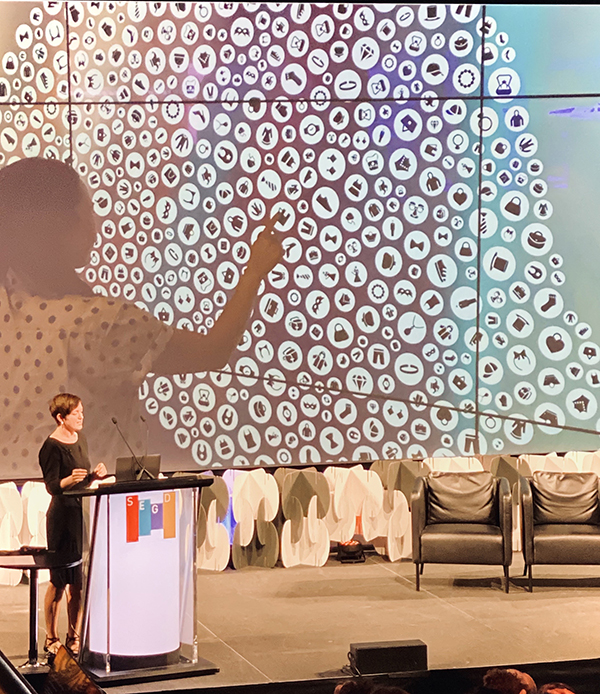 Mary Franck of ESI Design
We saw many good examples of this on the SEGD stage, most notably from ESI's Mary Franck who talked about the interdisciplinary practice the firm calls "media architecture". They're creating generative and data-driven environments for corporate clients that not only communicate brand values and information, but also connect personally with employees and visitors.
"Designing for spaces means that it's a social experience," she said. "It's actual people together in a space." She detailed an interactive installation at eBay designed to communicate live listings and all kinds of data and stats about the current inventory, community and activities.
"The installation communicates transparently what eBay is all about, in a playful, engaging and tactile way," she said. "So, our audience — eBay customers and clients — can [better] understand eBay's work. Giving that sense of meaning has a positive effect on the company culture.
"Creating meaning in shared spaces is powerful!"
We are living and working in a time of astonishing opportunity. And learning how to use the tools collaboratively is key. The best projects, venues, shows and installations leverage ideas, technologies, design and subject matter expertise from a team. Schlossberg referred to this approach as "collaborative composition" and it's essential with experience design.
After all, the audience defines the experience. So, engagement must be universal and consider all points-of-view.
"The old idea of an experience is that it's a single point narrative," Schlossberg noted in the context of discussing the new ESI-designed Statue of Liberty Museum. "Public spaces need to be multipoint narratives. You have to compose something that has that feel to it. There should be a level of stimulation and then also irritation in the work, to irritate you away from your single point experience."
"Our culture tends to think there are single meanings for words, but there isn't a single definition of liberty that exists in everyone's heart. Liberty for some people is tyranny for someone else."
There wasn't much technical talk at SEGD — after all this was essentially a room of graphic designers — but significant technical challenges were implied in the scope of every single case study. That is, how can we create installations that run 24 hours, seven days a week, and provide unique experiences for all?
And how can we design experiences that are robust, cohesive, personal and dramatic? (Because those are all the things Gilmore says experiences should be.)
It will have to be a collaborative effort, where creative technologists and AV designer/integrators bring essential expertise.