How to Rewire Your AV Approach From the Inside Out
Sep 6, 2018, 13:36 PM by Brad Grimes
Read how one established AV integrator has cultivated a carefully honed, strategically-vetted new experience-centric marketing and branding approach.
Sometimes it seems like the sales process would be improved if it were more like life coaching. No matter the type of business, the same questions could be asked: "What would make you feel better, more productive, happier, more fulfilled and energized?"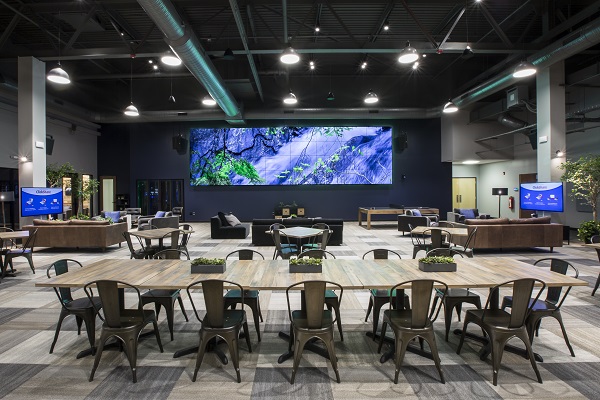 Once potential customers share their true-life objectives and what's inhibiting them from living their best life, then it's up to sales professionals to identify the ways they can help.
The most memorable sales conversations tend to be idealistic. The whole transaction feels better when the actual goods are just the end, and the means induce some daydreaming about a vastly improved existence.
So how can we do that in AV? Welcome to the conversation-shifting power of experience-design marketing, branding and sales. As the ongoing discussion goes, we're no longer talking about speeds and feeds, we're talking about making things more efficient, effective, and most importantly, memorable.
Sounds like a good strategy. But how exactly can we demonstrate some of the more nuanced ways that AV can improve lives? Maybe one idea is to bring a few of those technological benefits in house and show your customers how they're working for your company.
That's what HB Communications did with its new headquarters. In the process of cultivating a carefully honed, strategically-vetted new experience-centric marketing and branding approach over the past few years, the 72-year-old company with a global footprint decided to look within for true life fulfillment.
Okay, so I'm pushing the life-coaching metaphor a bit, but truly, these moves fit right in with HB's holistic approach to doing business. Talk to Dan Barron, HB's Director of Brand Strategy, and you'll hear how this third-generation AV leader is translating his creative work and business education into a modern approach tailored to the experience-design era.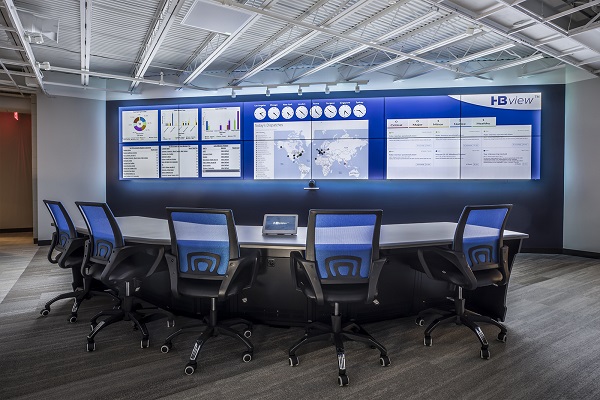 It's called the "Audiovisual Ecosystem," and Barron describes it as an overall company approach rather than just a tagline. "What it boils down to is, every business on the whole planet has one thing in common — everyone has a communication ecosystem," Barron says.
Regardless of whether technology is in the picture, there are many layers to this ecosystem. Management communicates with the team, and team members communicate with each other and with partners. Add to that the communications with customers and how that creates memorable experiences, and all those communications feed into the overall brand experience.
That big-picture understanding helped to realign HB's practices with client needs. "To me, calling it the Audiovisual Ecosystem felt more meaningful compared to just listing off all the technologies we sell," Barron said. "I was thinking about how we categorize products and solutions, and it felt so robotic. It just didn't feel valuable. The Audiovisual Ecosystem concept helped us to illustrate that we are tailoring AV tech to the already existent communication ecosystem within organizations."
Before it took the AV Ecosystem idea to market, HB tested the approach on itself with the construction of its new headquarters in North Haven, Connecticut. Facing the same balance of possibility versus logistics and budget as its clients would have, HB drew up a wish list based on the way its team members work together and with clients. "We're fortunate to have the best employees in the business constantly pushing the limits of possibility," Barron said. "There was a true collaboration of our teams within HB that diligently worked toward creating this space. It was their dedication and ingenuity that led to Ecosystem being a success."
Together, the HB team conducted a full analysis. Step one is to look at communication styles in various parts of the business and "find the gaps in that," he says. "Then we learned how our organization is actually communicating. And that's when you start figuring out what technology to layer in over that."
The resulting headquarters facility, built around a central "Hub" collaborative space, is a working demonstration of all that is cool in AV right now (they even have a drone for their content studio, which is pretty next-level). More than just a cool office space (ping-pong table notwithstanding), the structure represents a physical shift in the AV conversation. Why not walk into a room and see possibilities for better collaboration in action, rather than spec sheets?
"It's truly an eye opener to see the new space in action," says HB Executive Project Manager Wayne Miller, who oversaw the HQ design and build-out. "Our team was amazing in making parts all come together. Great experience for me as an individual, and it's a fantastic space for HB to showcase what we do for customers every day."
Understandably, HB has definitely increased the number of client meetings it hosts at its HQ. Now the conversation flows more naturally along the lines of, "this is how we do it, and we love it, but maybe your organization is different. And that's fine because the core philosophy applies equally as valuable to any organization," Barron says.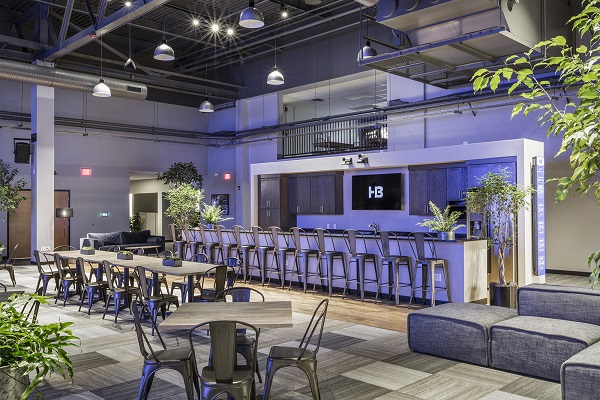 Plus, with the actual technologies that HB's partner vendors provided, the demos clearly prompt some visionary thinking. Especially because every element of The Hub was designed with look and feel in mind, from the furniture to the custom interfaces and 4K content the HB creative team developed for the massive video wall in the space. And when it comes to gear, those elements are dazzling as well. Clients are no doubt impressed when an HB team member walks in with a laptop and the room recognizes it for instant sharing of content with the push of a single button.
Having been through the AV Ecosystem process internally, HB is now in the coaching role with its clients. The conversation has shifted from "How many rooms do you have, here's how many boxes you need" to "How can you communicate better or what kind of experience do we want to design in this space or across these locations?"
There is much potential in the approach, Barron says. "I've been to a lot of beautiful spaces, and many haven't done an amazing job with communication yet. That's the main point of what we're doing. When I tell people that we built a beautiful space that makes people feel good and also provides an amazing, engaging experience, as well as a truly functioning solution tailored to optimize the business/business function, that's the story we want to tell."