Rock Lititz Cultivates the Future of Live-Event Production With a Hub for Collaborators
Aug 28, 2018, 21:01 PM by Brad Grimes
Lititz is legendary. Those seeking the roots of the experience design business quickly learn that this South Central Pennsylvania town is where the biggest, most famous, most legendary productions begin.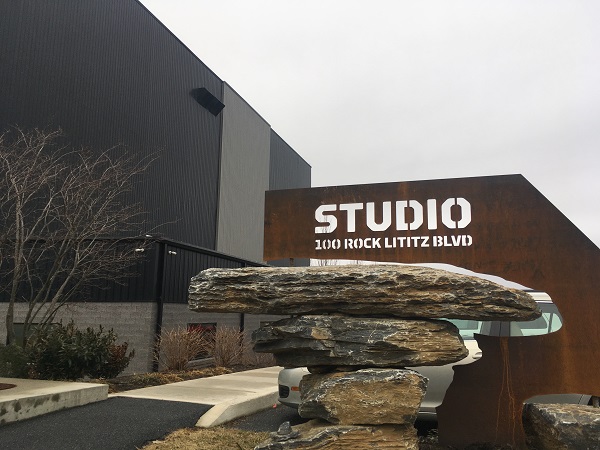 Lititz is legendary. Those seeking the roots of the experience design business quickly learn that this South Central Pennsylvania town is where the biggest, most famous, most legendary productions begin. It's where the
Clair Brothers
first started renting out PA systems more than 50 years ago. It's where
TAIT Towers
radically changed lighting and staging systems beginning in 1972.
It's also where the country's first
pretzel bakery
and the
Wilbur Chocolate Company
originated. So clearly, the place has been home to leading taste-makers for centuries.
The town is tiny, but there are clues to a larger purpose when one sees the gigantic 18-wheelers rolling through its narrow streets, alongside the occasional
celebrity bicyclist
. Artists and technologists agree, Lititz provides sweet renewal in the long process of getting a show on the road. It's certainly a historically important place, but the legend of Lititz has been changing over the past four years. Now, if you want to know the future, you better go to Lititz.
Ever since a gigantic, empty, metal-sided box appeared in the middle of a bucolic field adjacent to Clair's headquarters, people have been talking about Lititz in a new way. Now the tales are delivered in a voice of awe, as in, "That's the 30,000-square-foot, 100-foot-tall secret place where mega-stars can safely rehearse their shows in full scale."
That mega rehearsal facility, which also includes a suite of dressing rooms, a black-box space and full catering amenities including a coffee setup that's always running, is where a glorious experiment known as
Rock Lititz
began. Its ceiling grid can support up to 1 million pounds, and its temporary residents are always protected by professional privacy. Such an arrangement seems to open up all sorts of creative possibilities in the collaboration between Rock Lititz's strategic partners, Clair Global and TAIT, as well as a growing tribe of live-event technology companies that have begun to coalesce around this magical production hub.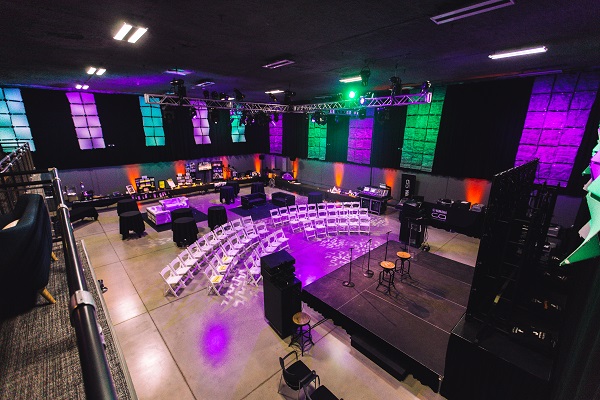 Following the dazzling success of the mega-rehearsal facility known as The Studio, and in keeping with the Rock Lititz vision to accommodate a diverse ecosystem of artists and the production companies that develop new shows for them, a second rehearsal space opened this summer. Studio 2 (pictured, middle right) is a 3,500-square-foot room built to replicate a venue sized for rising artists and provide accommodation for established acts to warm up their long-established kit before hitting the road. Also in the works is a new hotel on the Rock Lititz campus, which will open to clients and the public this fall.
The original rehearsal studio was never meant to be alone. It was actually the first structure to rise on a 96-acre campus, with a master plan that includes up to six "pods" that will offer purpose-built facilities for live-event production companies. Loading docks, high ceilings, and plenty of coffee are just the first layer of offerings that will spread out across this green acreage.
Having heard for years about the wonders of Lititz, what finally attracted me to the town was Rock Lititz and the intriguing hive of activity that has grown in the campus' first "pod" building, specifically Pod 2. (Yes, because of where it's located on the campus plan, Pod 2 was the first to take shape, with either Pod 1 or Pod 6 to follow, depending on potential tenants' needs.)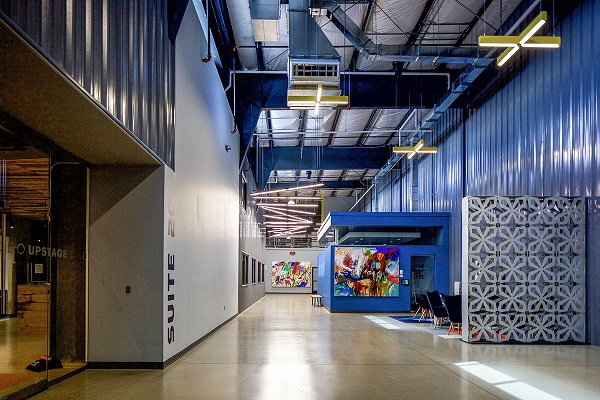 After steady growth since Pod 2 (pictured, bottom right) opened for business, the building is now fully leased out, with 25 live-event technology companies setting up shop . Working side-by-side, and joined together by community-enhancing events with industry speakers, training sessions, and departmental meet-ups, the businesses here enjoy productive proximity to other creative forces in a close-knit ecosystem. In fact, some firms have moved their headquarters or global R&D departments to Rock Lititz.
Long story short, the experiment is working, and according to Rock Lititz General Manager Andrea Shirk, it evolved naturally from the community that grew up building giant tours in a small town. More than just a "collaborative hub" by name, Rock Lititz was created as a way to amplify natural connections between companies and increase opportunities for the whole bunch.
"A lot of what we do here is figure out how to continue to grow a community," Shirk says. "We can move people here, sign leases, take care of all that technical stuff, find the financing and make it happen, but the reality is if we don't keep this community achieving that collaborative goal, then it doesn't continue."
In addition to original programming and methods for sharing resources among fledgling companies and established members of the scene, Rock Lititz offers plenty of places where people can simply meet and have happenstance conversations that lead to new ideas. For tenants and visiting Rock Lititz clients, there's a climbing gym, yoga studio, bicycle shop and medical office.
Maybe the best hub for random encounters is the coffee bar and restaurant in the center of Pod 2, where a trip to lunch can lead to a spontaneous engineering discussion or human resources suggestion. This happens all the time, and once people get to know each other through planned and unplanned gatherings, "All of the sudden you're sharing experiences from being in that environment and exchanging information and ideas even more effectively than you probably planned to," Shirk says.
But again, it's not just random. Shirk and the Rock Lititz management team are living the collaborative vibe themselves, continually talking with community members about their needs and concerns. With upcoming OSHA regulation changes looming, for instance, Rock Lititz arranged to provide training for the whole campus.
"We're always looking at what we all do in common; what ideas could we share, products, efficiencies, lessons learned — what software programs do you use, and on and on," Shirk says. "And some of what we realized was just, 'All the HR people who work here should know each other.' Because you're so much more likely to pick up the phone and ask about an issue with road staff traveling to Europe if you've actually met each other."
Essentially, what happens at Rock Lititz is a little bit like "a year-round conference," Shirk notes. And when that year-round conference is happening adjacent to mega show production rehearsals, new opportunities arise on a regular basis.
"We've created this common community and culture, but each company has a very distinct and unique culture," Shirk says. "We're not trying to become one. We're not trying to sell anyone all of our products. All the vendors are separate, and the hotel will be separate, but the goal is for the campus to feel like a cohesive experience."
Sounds a little bit like a live-event production, where experts from many separate fields come together to make a great show. Only this one is ongoing and continues to attract new collaborators, who are bringing more of the future to Lititz.