Artechouse DC Uses AV and AR to Create an Immersive Gallery Experience
Mar 14, 2018, 13:58 PM by Allison Tardif
When used creatively, audio and visual technologies can create powerful experiences as well as become an art form.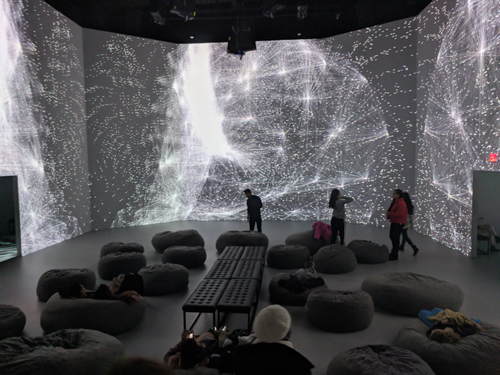 Augmented reality (AR) expands our physical world by adding layers of digital information and experience. Much has been written about the commercial, scientific, and educational advances that could be made by using AR. But to date, the most widely used and understood application of augmented reality has simply been for fun, like in the mobile game Pokemon Go. The technology took another leap into the mainstream recently when NBC added virtual reality (VR) elements to the online viewing experience of the Winter Olympics in South Korea.
Before AR comes to our schools, workplaces, and shopping centers, it's likely we will learn to use it first in our leisure time – playing games, watching sports – and to enhance cultural activities like interacting with the visual arts.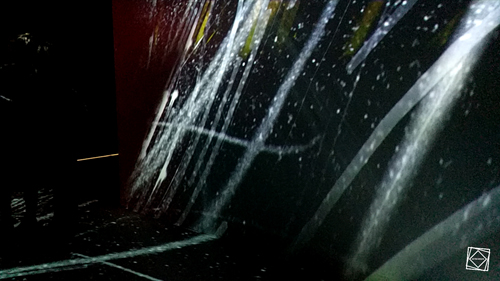 In a nondescript retail space in Southeast Washington, D.C., next door to a Potbelly Sandwich shop and the Mandarin Oriental hotel, stands Artechouse, which describes itself as Washington's first art gallery to focus on technology as a medium. The small independent gallery and bar uses augmented reality to enhance the experience of viewing large-scale multimedia art installations, and enjoying cocktails. I recently toured on a rainy Sunday afternoon to see the latest exhibit, Parallel Universe, by the Turkish artist Ouchhh!
Before visiting, you must download the gallery's smartphone application. Upon arrival (Tip: Make an appointment online before heading downtown), you will get a brief orientation from a docent and are then led down a large flight of stairs to a windowless, cavernous, whitewashed space.
Dozens of projectors line the ceilings and bean bag chairs cluster in the middle of the room. Super-kinetic projections illuminate every inch of wall. Visitors chill out on the bean bag chairs in the middle of the room staring up and at their phones in wonder. The scene has a psychedelic vibe, like something from the original Willy Wonka and the Chocolate Factory film, and that makes you completely forget the mundane government town surroundings outside – you have been fully immersed in a new world.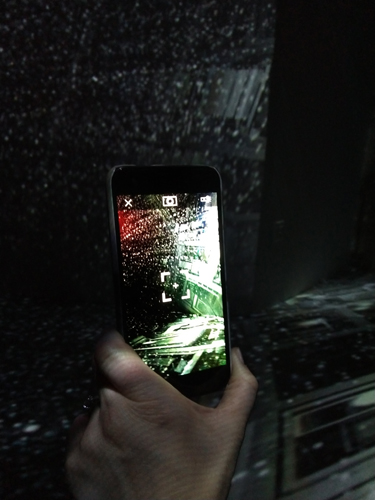 Launch the app and hold your phone up to the walls, and you see something different than the images available in real life. New shapes, colors, and animations reveal themselves on the tiny screen. As you view the art, you can't help but switch back and forth between real life and phone to see how different everything looks.
Visitors are permitted to take as many in-app photos or regular photos as they wish. Something about being invited to use your own device also makes the viewer feel more comfortable breaking the "fourth wall" of a typical gallery experience. You find yourself physically interacting with the exhibit, jumping onto the projections that line the floor and putting yourself between your friend's phone and the wall to document the experience.
An elevated bar lines one side of the main room. Placing your cocktail on a marked spot on the bar allows you to use the app to see additional visual effects in each drink.
On one side of the main exhibit room is a timed theatrical light show in a smaller room that you can discover at your own pace. In a low ceiling room, you sit on bean bag chairs again, but around a mysterious inverted pyramid. When the show begins, the room is flooded with bright light and overwhelming sound.
The experience at Artechouse left me excited for the possibilities of adding AR and VR to even more aspects of life. And, it reinforced that when used creatively, audio and visual technologies can create powerful experiences as well as become an art form.