An AV Viewer's Guide to Watching the Oscars
Feb 28, 2018, 19:16 PM by Allison Tardif
Behind the scenes at the Oscars this year will be a number of boldface names from our industry.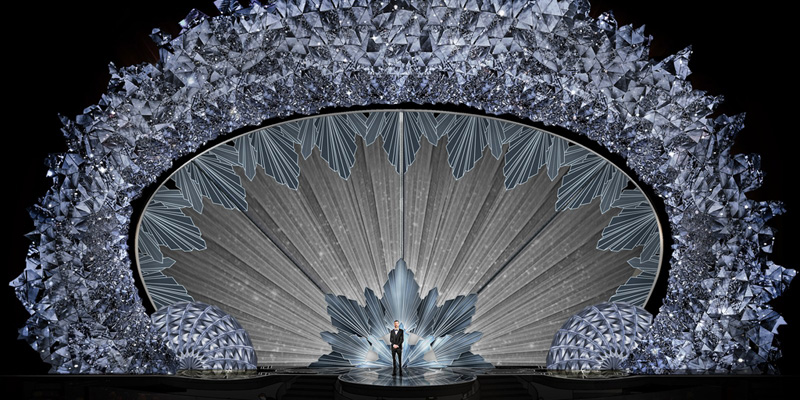 The new proscenium arch design by Derek McLane includes 45 million Swarovski crystals.
PHOTO CREDIT Courtesy Derek McLane for Oscars 2018
To us, pixels are the brightest diamonds. But to production designer Derek McLane, there are plenty of lumens to be gained from Swarovski crystals. Especially when you're setting the stage for the milestone 90th Academy Awards, which will celebrate the biggest screen stars of the biz at the Dolby Theater on March 4.
There are some 45 million Swarovski crystals twinkling across the grand proscenium arch that McLane designed for the stage in the 3,400-seat Dolby Theatre, which has brought Atmos Sound to the Oscars since 2012. For those trying to figure out the resolution of the new arch, that's nearly double the number of crystals used in the arch last year, so it's going to be supremely high-def sparkle.
Of course, for those of us in the AV world, there will be plenty of spectacle as well. In an exclusive set design preview published by Architectural Digest, McLane detailed how the giant LED screen backdrop will bring its own glittering pixels to the party, with elements of the set designs incorporated in a stylish trompe l'oeil video design. As the AD article describes, "With digital projections, McLane notes, 'you can kind of trick the eye into seeing something that you can't just build on the stage.'"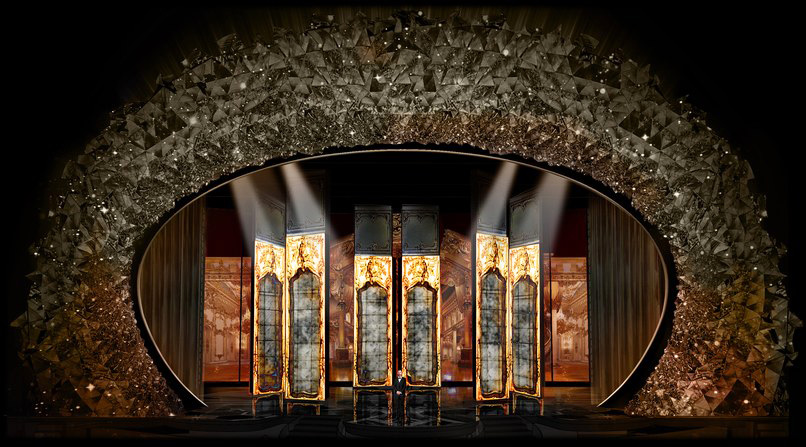 Six rotating mirror elements will feature LED screens on one side.
PHOTO CREDIT Courtesy Derek McLane for Oscars 2018
This is McLane's sixth production design for the Oscars, and the second one for which he is relying on screens producer Raj Kapoor of Raj Kapoor Productions to bring the extra dimensions on the LED elements. Those include not just the giant backdrop, but also six tall and narrow screens that will be mounted on one side of rotating mirrored panels designed in reference to the Versailles Hall of Mirrors.
Wear your sunglasses when watching this show, friends.
From a live sound perspective, all the nominees for Best Original Song will perform, including Oscar winner Common, Oscar nominee Mary J. Blige, Gael García Bernal, Andra Day, Natalia LaFourcade, Miguel, Keala Settle and Sufjan Stevens. I'm going to be watching the latter extra closely, because sources near my desk in Brooklyn say that there will definitely be special guests.
Of course, diehard AV fans already watched the Oscars for our industry on February 10. This year the Oscars 2018 Scientific and Technical Awards Presentation honored rigging heroes from Industrial Light and Magic, along with interaction designers, animation engine experts, camera systems engineers and many more Hollywood-level gearheads.
Behind the scenes at the Oscars this year will be a number of boldface names from our industry, including ATK Audiotek, Baltzell Audio Design, SenovvA, Full Flood, and PRG. They're no doubt working around the clock onsite right now, making every bit of the show shine just like a Swarovski crystal should.
Meanwhile, if you can't wait until Sunday to get your production design fix, you learn more about the Dolby Atmos setup in the Dolby Theatre in this backstage tour from the theater renovation in 2012 . Just a note though, continual improvements have been made to the system, and now there are 215 individually powered loudspeakers in the Dolby Theatre Atmos setup.
So set your VCRs, AV fans. It's gonna be a great show!
Hosted by Jimmy Kimmel, the Oscars will air live Sunday, March 4 8:00 p.m. Eastern, 5:00 p.m. Pacific on ABC, abc.com or the ABC app.