Find Your TRIBE with Local AVIXA Women's Council Groups
Jan 18, 2018, 15:27 PM by Allison Tardif
The number of local AVIXA Women's Council groups has more than doubled and connections are being made all around the globe.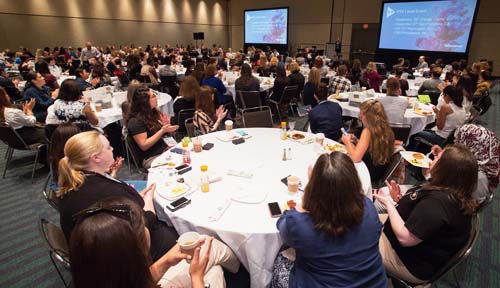 I wrote a blog in early 2017 encouraging women to get involved in building their network at a local level noting that members were stepping in and stepping up to become involved. Since that post, the number of local AVIXA Women's Council groups has more than doubled and connections are being made all around the globe.
I believe 2018 is the year for women with more local AVIXA Women Council groups taking off. We are building our tribe. This is our year to connect, uplift, support and encourage. This is the year, where we see new groups form globally. These local groups create a safe and nurturing environment where we can work to improve our skills by speaking up and volunteering in a multitude of ways. Some groups are conducting meetings with amazing topics, doing field trips to see how technology gets deployed, they are creating AV book clubs, study groups and pulling others into our tribe. The outreach has gone beyond the integrators, manufacturers and consultants to the users of technology within enterprise companies and higher education. The tribe and outreach is growing far and wide.
On a recent podcast a few of the AVIXA Women's council members were sharing their stories and talking about upcoming local events. I was impressed with Dayna Baumann of Control Concepts who shared that she's been in our industry for less than three years, yet, she jumped in and not only got involved, she co-chairs the NYC Metro local chapter. She is a perfect example of a woman wanting to get the most out of her industry and she was willing to jump in and take action.
For our groups to succeed, we need help from all of you who are willing to take action and help; men and women. Here are a few ways where you may be able to help at a local level:
Volunteer to host an event
Offer to sponsor and event – with food/drinks or swag
Propose to speak or help find a speaker
Help build the list of who to invite and include
Spread the information about upcoming events via your social media networks
Support technology field trips by arranging tours of venues you've worked on
Attend a meeting – all are welcome
Bring your ideas and be willing to jump in and help
Local Group Leaders:
Southern California: Cory Schaeffer or Brandy Alvarado
Northern California: Victoria Dade or Rachel Archibald
Tampa, Florida: Ericka Shumpert or Kelly Bousman or Coleen Leith
New York City: Gina Sansivero or Dayna Baumann
Atlanta: Jennifer Davis or Mary Cook or Erica Carroll
Dallas & Houston: Lauren Larson or Alesia Hendley
Philadelphia: Christa Bender
Washington DC: Alexa Labroi or Megan Riddle
Pacific NW: Debbie Williamson or Lauren Yockman
AVIXA: Amanda Boyer or Penny Sitler
See upcoming events on the AVIXA Women's Council webpage.