The Rise of the Playful Interventionist
Jan 5, 2018, 16:16 PM by Krystle Murphy
The first time I was introduced to the term "playful intervention" was in a hospital. The space planners and designers described the emotional feeling they were trying to evoke in a hospital entrance and atrium. The intention was to momentarily distract patrons from the true business at hand in the hospital and transport them temporarily to another place — or at least state of mind.
The first time I was introduced to the term "playful intervention" was in a hospital. The space planners and designers described the emotional feeling they were trying to evoke in a hospital entrance and atrium. The intention was to momentarily distract patrons from the true business at hand in the hospital and transport them temporarily to another place — or at least state of mind.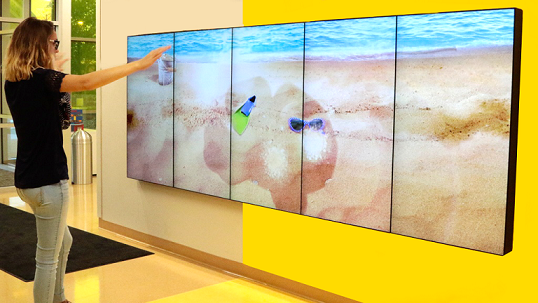 Playful interventions are destinations designed to create both physical and psychological distractions. When they are done well, people move emotionally to another place. But to clarify, a playful intervention is not just a destination. It's both a strategy and a mindset.
I'm a member of University of Michigan's Business School Center for Positive Organizations. I have a unique opportunity to interact with academics, researchers, and some of the brightest, people-centric companies I've ever seen. Recently we were presented with some research that identified the business value of positive energy networks among coworkers in a space. Dr. Wayne Baker refers to them as positive energizing network relationships (article here).
One of the key elements of the research refers to energizing network relationships as fostering and driving positivity in organizations. Positive cultures tend to be the most creative, productive, and balanced. The kind of team members and people you want to be surrounded with. Conversely, there are negatively charged relationships which have an overwhelming power and impact in driving the effectiveness of organizations down. In all cases, business leaders need to be much more cognizant of these challenges when space planning based upon the energy links in their spaces.
This same notion applies with playful interventions, which are designed to excite, delight, and emotionally move people. This is not a new idea. From the Lascaux France Cave paintings, through Renaissance art, to the Detroit Little Caesar's Arena, the intention of playful interventions is consistent, and storytelling is at the heart of all of them.
My intention is not to unfold the history of playful interventions here, but I want to highlight what I think are the four ways to incorporate into modern, technology forward examples.
1. Interactivity. User inputs action, activation delivers experience. Remember the interactive piano in the movie Big with Tom Hanks? The FAO Schwarz centerpiece illustrates a piece that achieves both excitement and unexpected happiness. The fact that you physically must play the piano by jumping from key to virtual key illustrates how well this works.
Interactivity also plays well in less retail-centric environments. Savvy event planners and strategists are bringing their events to life with greater power by purposefully designing interactive hooks. Audience polling, engagement tracking, and panels are directly bringing people into the content storyline. Social channels connected to events extend their reach far beyond the physical space and give events longevity and extended reach.
One of the best I've seen lately is the Roots' brand "Northern Lights" fashion show. Teams pushed the envelope not only with a cool fashion show of a great brand, but incredible audience interactivity leveraging incredible content storytelling and AR. As models (physical and virtual) crossed the stage, the audience used the event's mobile app to scan the models for immediate feedback on the model's fashion ensemble. Amazing! You must see it to understand it!
2. The element of surprise. Just like a great mystery story, surprises keep us on the edge of our seats. Unexpected interventions have the potential to be especially powerful. To be pulled into an interaction that takes your brain a few minutes to figure out what's going on opens the door to what we call the surprise and delight moment. One of the best ones I've seen lately are interactive/reactive walls. Popping up everywhere now, I call this category reactive installations. Driven mostly by movement, they may run the gambit from defined to abstract art. The whole idea is driving an unexpected, playful reaction.
I heard one of my absolute all-time favorites from Hilton's brand head Gina Valenti at the company's internal culture summit called "Happiest Huddle Ever." At one point in the meeting on their amazingly designed set, the CEO breaks into dance with conference participants under a disco ball on their theatrically designed set. They call it "hamptonality unleashed" and "HamtonNation!" Amazing work with a fantastic team! Agency EA has partnered with the Hilton team since 2014 to effectively use surprise in a playful way in this transformational event!


3. Play a game! Jane McGonigal coined the term "urgent optimism." This is the idea that we play games fully knowing that we are going to fail them more than 80% of the time. Games are playful and ideal intervention tactics. Some people ask if it's necessary to score them. My answer: It depends. When you keep score in games you create opportunities to come back and play again - especially if you use the opportunity to capture contact information for maintaining a relationship with that contact.
Full-body games have been accelerating since the early 2000s. Started by the folks at Nintendo with systems like the Wii, full-body interactions can now be found everywhere using some of that very interactive sensing tech. Games are playful and provide great monotony breaks and creativity boosters.
If you haven't seen this one already, here's an amazing example with an interactive wall- climbing pong game. This installation featured a climbing wall retrofit with projection and position sensing to play the classic game of pong. This is a fully interactive and immersive physical and tech-fueled experience.
4. Harmonize playful cues. This is about untapped synergies. Taught to me by the experiential master Joe Pine, playful interactions can be reinforced with design cues everywhere. They don't all have to be tech either. Going back to the University of Michigan research and energy networks, cues can include elements like color, sound, and smells. Some of the best retail designs today reflect a perfect understanding of the cues. The future of retail hinges around understanding how these cues work. The key here is to find ways of driving a leveraged view of interrelated elements. Examples and creativity here are endless but also some of the most overlooked. Some great examples include Library Hotel's card catalog front desk and Dewey Decimal System room scheme.
Another is Canada-based SportChek's Toronto flagship store. Everything about it screams jumbotron sports skills to patrons. Everywhere you turn is a playful interaction! Check out last year's flagship store in Robson. It SCREAMs playful interventions!
5. Feedback Sharing. Playful interventionists are never satisfied with static, one-way experiences. They plan and execute them with a powerful feedback loop. And one-to-one marketers understand that ultimately an on-going relationship is formed on a shared belief in value in that relationship. Feedback sharing engages people better by deepening relationships. Playful interventionists find clever ways to amplify it.
In 2016 Airbnb launched their "Live There" campaign. Don't just go to Paris, live in Paris. The genius of the updated app includes 3D virtual tours of places to go. This evoked a stronger sense of being there and not just looking at a photo. The feedback portion is enormous! Hosts of spaces amplify their stories with a virtual panoramic view. This used to be a major upgrade in the real estate market, but the folks at Airbnb understood perfectly how this could move down market to smaller transactions comparatively.
In the end, it's the notion of the relationship between the host and guests that underscore how an actual transaction gets done. An ideal illustration of the power of feedback sharing to build new relationships. A perfect playful intervention.
I call this movement an inflection point! It's a snapshot in time for leaders not only looking to tell their stories in more compelling ways but for new and exciting possibilities of increasing engagement. Leveraging positive energy networks, the rise of the playful interventionist is upon us! Are you ready?
This blog article was originally published here and is used with permission.