Servers are AV, Too
Dec 12, 2017, 20:25 PM by Allison Tardif
Look within the pages of AVIXA's new Industry Outlook and Trends Analysis (IOTA) report and you'll notice a sizable (and largely new) product category — streaming media, storage and distribution (SMSD).
Look within the pages of AVIXA's new Industry Outlook and Trends Analysis (IOTA) report and you'll notice a sizable (and largely new) product category — streaming media, storage and distribution (SMSD). Examine closer and you'll see this category broken out into its component parts — AV servers, I/O cards, media players, media servers, and media storage. Read the description of those last two, specifically, and you'll get a decidedly "IT" feel — the servers and storage in question include off-the-shelf, commodity hardware you might otherwise find in a data center. You may even be surprised that AVIXA has declared the SMSD category to be the largest component of the total pro-AV industry, at $47.4 billion globally in 2017 or just over one-quarter of total industry revenues. How so? To answer, we need to take a step back.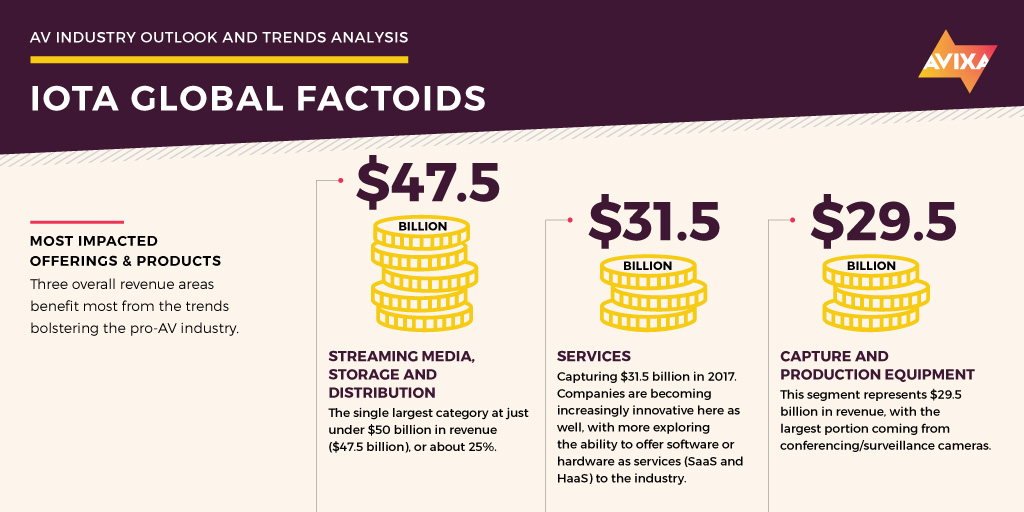 One of the long-raging debates within the AV and IT industries revolves around the territorial boundaries between them. Specifically, many wonder, where does IT stop and AV begin and vice versa? Ultimately, the question is one of project scope. A pro-AV integrator wants to know which parts of a solution set they are responsible for and which ones are the purview of the IT contractor or specialist. The challenge for any involved is that the lines are increasingly blurred, thanks to broad trends like the Internet of Things (IoT), in which technologies are seamlessly interconnected by the wireless web as they share content between them.
Take a digital signage solution as an example. True to their name, these solutions will include a display for portraying the video or static image footage to the viewer, at the very least. In modern tech terms, this is increasingly some kind of LED-based direct-view monitor, thanks to their greater power efficiency and slimmer form factors. Audio components, like speakers and signal converters/amplifiers are likely also present for sound delivery. So far, so good from a strictly AV tech perspective. Any pro would easily claim these as part of a normal SOW. Even the lighting fixtures and printed signage or graphics might be included, though somewhat non-traditional.
But here's the problem: Where does the content for that digital signage come from? In yesteryear, there might have been a playback device to serve the content in a loop. More recently, there might be a solid-state thumb-drive hooked to a capable display. In still others, a connected PC or laptop serves up the content. It is precisely here the problems begin and the debate tees up. Who owns and maintains the server/laptop/PC? Is it the IT crew or the AV integrator? Does the brand of the box matter to who owns it? And what functions does the box serve beyond just content playback? Likely it also handles some signal processing and control purposes, making the waters even muddier for true role clarification.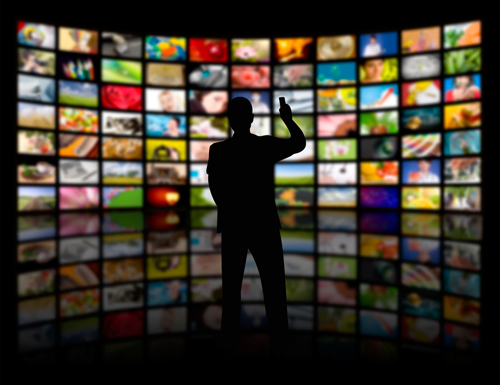 Cloud makes the issue even more complex. Nowadays, many installations don't serve in isolation. Instead, content is refreshed or updated on a regular basis from some remote location. Even control mechanisms might not be on-location in the form of dedicated hardware. Think "as-a-service." Sure, some localized hardware may exist, but it will likely be connected to the internet, and will serve what traditionally were IT functions, as well as some AV. As a result, some entrepreneurial providers on both sides of the fence are choosing to include it in their scope, because this infrastructure and hardware will be a key component of a solution set. Consider this part of seizing an adjacent opportunity.
Truthfully, who claims ownership over SMSD in a digital signage or other solution is irrelevant to the ultimate solution. The viewer, consumer, or user does not care. It's all a part of the experience and is a part of what a solution provider must accommodate in some way. This is the spirit of IX, the Integrated Experience, and is it is precisely for these reasons AVIXA includes SMSD in the IOTA report. Consider it either a land grab or pride of ownership, but more accurately, it is simply a reflection of the new technology world order we all operate in under IoT. It is therefore a key component of the pro-AV marketplace and a part of the AVIXA community. And so, as a $48 billion opportunity, wouldn't you like a part? You can be sure others will and are already making a move.