How the Portals Project Really Opened Doors with Its Milwaukee Superstar
Nov 28, 2017, 16:24 PM by Allison Tardif
When Shared_Studios brought its Portals project to Times Square last month, it brought in one of its star curators to take a turn on Broadway.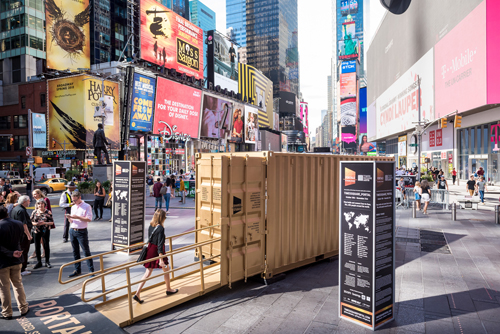 Times Square Portals Project
When Shared_Studios brought its Portals project to Times Square last month, it brought in one of its star curators to take a turn on Broadway. Lewis Lee, who with his generous and engaging nature embodies the Portals mission to connect people around the world, flew in from Milwaukee to connect visitors with friends and strangers. Or more specifically, strangers who become friends.

Having just taken my own journey into the city via subway, I arrived a huddled mass on a rainy day on Times Square Plaza, ready to have my first Portal experience under the tutelage of Lee and Shared_Studios Founder and Creative Director Amar Bakshi. I was ushered out of the inclement weather and into the cozy, well-lit quiet of the Portal, where Bakshi set to work connecting me with some excellent souls in Berlin.
I was prepared for a pretty standard videoconference connection, but what I got was something infinitely more hygge. I was totally at home in the immersive, full-body viewing setup, feeling like I was chatting and making eye contact easily with my conversation partners, who were seated on a sofa in Berlin.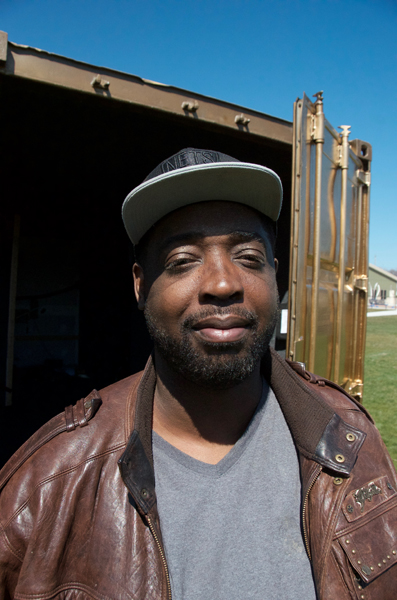 Lewis Lee, Milwaukee Portals Project
But that was just the start of this fireside chat. When Lee returned to the room, he did what people do in Portals. He just jumped right into the good stuff. Why are the Portals important? Because the one that was set upon the pavement behind Nova High School in Milwaukee for 18 months produced a lasting impact on the local community and those around the globe who interacted with Lee's energetically creative Portal sessions.
Lee's particular neighborhood in Milwaukee was selected for Portals through a connection made by a documentarian working on the film, "Milwaukee 53206," which explores life in the ZIP code with the highest incarceration rate of black men in America. The Portal was originally placed there to open the door for discussions on criminal justice, but it quickly became the center of healing community engagement. And, also, a little thing called fun.
"I can truly say, the greatest thing to come out of having a Portal was crime went down in our neighborhood 21 percent, and that was unheard of," Lee reported. "Another thing, people who lived in the suburbs started to come into our neighborhood. News cameras started to come into our neighborhood and all types of media. I was so proud that they came to our neighborhood for something positive."
The first big new idea to come to the Portal came from the students at Nova High School. Their curiosity about the burnished gold shipping container prompted daily visits, and then the community innovation began. It started with a talent show that gave local kids the chance to share their skills on a global stage. Then there were music performances with remote instrumentalists, a Portal Rap series, spoken word, and yoga classes. Entrepreneurial youths started sharing their fashion and business projects with those they connected with on the world stage, gaining support and a window into other ways of life.
"Another thing that the Portal did for my neighborhood was make us a lot more grateful for the things we had," Lee said. "When you look at the world through different eyes and you get to talk to a kid in a refugee camp who had been separated from his family — I think what fascinates people in my neighborhood was to see a person that's in a refugee camp, smiling all day, full of fun, I think it made my neighborhood wake up and be a little more humble and thankful."
Lee also built powerful new connections and established community programs through the Portal, supporting the Milwaukee Fatherhood Initiative and even arranging to have rival gang members use the neutral spaces to negotiate peace.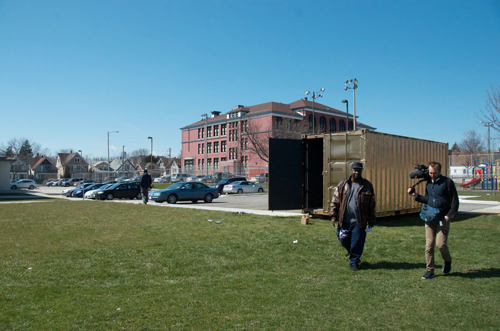 Lewis Lee, Milwaukee Portals project
Along the way, Lee built long-distance friendships with other Portal curators as they connected their spaces for these projects. Most particularly, he collaborated on several perspective-changing programs with Kristen Erickson, an educator in a community that is the polar opposite to the 53206 — at the Greenwich Academy in Connecticut. Erickson is a big part of the Portals project, and serves as the Head of Educational Programming for Shared_Studios.
"We're like Batgirl and Batman right now," Lee quipped. "Actually, I think that me and Kristin and the kids at Greenwich Academy, we've formed a life-long friendship through the Portal."
Lee calls the Portal a "machine," which is great, because it connects parts to produce something whole. It makes sense then that a session Lee will present with Erickson at SXSW Education in March is called "Empathy Machines: Global Education via 'Portals'."
The Portals project's original mission to connect strangers through casual conversations about everyday life has evolved into a multidimensional offering of educational and entertainment programming. But ultimately, it's still just about making regular people feel welcome to chat about anything they'd like.
"That's one thing that makes Portals very unique is every curator is just an ordinary person, but they have stories, and we share our stories," Lee observed. "It brings not only the network, the Portal community, closer, but even our community where we live, becomes closer. For me, it killed so many stereotypes, and it educated me on the truth about culture. That's what I got out of it the most. Being able to learn the truth from a person in Iraq, a person in Germany — a lot of times I was misled by just not knowing simple facts. It's the ultimate education on life."

Learn more about the AV integration in the Portals project in this case study.