An Internet of Things That Helps Companies
Nov 27, 2017, 14:47 PM by Julian Bullock
By David Thorson, AVI-SPL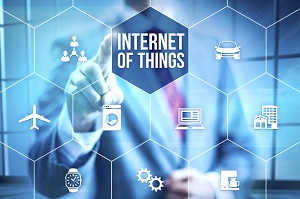 This is the second of two posts in which David Thorson takes a look at standardization and the Internet of Things (IoT). David is AVI-SPL's senior manager for programming architecture. Read part one here.
With the AV/IT "convergence" well behind the industry at this point, we are on to the next buzzword: "IoT," otherwise known as the Internet of Things. So where does programming fit into IoT? Some manufacturers are positioning themselves as an IoT provider. Using human interaction, technology and hardware, and data, they provide an entire ecosystem focused on productivity, collaboration, and automation. Others are using sensors and data to drive interactive media into retail signage and extending other types of embedded systems such as smart buildings, security systems and other sub systems.
Just because we call something IoT does not make it so. Limiting the discussion to the traditional approach of the AV industry will only allow it to be part of a bigger IoT solution or remain isolated from the rest of connected systems. For example, if we consider scheduling a meeting and walking into a conference room to share a presentation from a mobile device, we are not seeing the larger picture of an internet of things.
A few manufacturers provide a complete IoT practice to support a customer end to end. Meaning the solution reaches outside the owners' systems and into their customers' environment.HARMAN Connected (IoT) Services and Cisco IoT Solutions are two examples of this extension. A full-on IoT solution will connect many different workflows, processes, and data sources. A rich IoT solution may capture data from sensors, people or systems to connect a business's customers closer to companies providing a product or solution.
Think of it this way: Does the IoT solution save the customer money or make the owner money? The solution that is forward facing for our customers — making money — will have the biggest growth potential and provide for much more dynamic and custom solutions.
Implementing connected systems, sensors, applications, data, and people requires a company culture that is willing to experiment and commit to a mindset. A system expansive enough to be a true IoT solution is a custom IT solution and not a standard out-of-the-box device or software platform.
Here is how the Internet Society defines the different types of IoT communication:
Device-To-Device Communications. This is what the AV industry's has been doing for decades. Embedded systems is all about monitoring device communications and machine state to provide a level of automation.
Device-To-Cloud Communications. This is relatively new for the AV industry and we're seeing more and more manufacturers provide this type of solution. Integrators are also providing cloud services and monitoring.
Device-to-Gateway Model. This is an area where we will see more interoperability between hardware sensors and devices.
Back-End Data-Sharing Model. One of the top achievements of the IoT will be the knowledge that comes from sharing data to improve the delivery of technology.
Try to keep an eye on trends outside the AV world for where technology is headed. Keeping up with coming trends will ensure the industry remains relevant as hardware becomes more agnostic to solutions, and software applications and services become more advanced.
This blog article was originally published here and is used with permission.