Can You Read it Now?
Nov 17, 2017, 21:40 PM by Julian Bullock
Everybody's been through it: You go to a conference and you end up at the back of the room and can't see what's on the slides. You're in a classroom and you can't read the displayed contents, even though you'll need to know what it says for an exam. It happens so often in our day-to-day lives that we've just gotten used to it. But that doesn't make it right.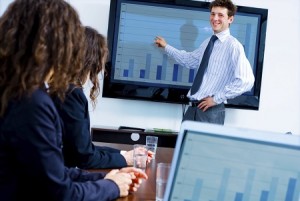 This column first appeared in Sound & Communications.
Everybody's been through it: You go to a conference and you end up at the back of the room and can't see what's on the slides. You're in a classroom and you can't read the displayed contents, even though you'll need to know what it says for an exam. It happens so often in our day-to-day lives that we've just gotten used to it. But that doesn't make it right.
A group of experts has been working with InfoComm International on this problem for a few years now. They looked at all of the science and available best practices related to image size and came to the conclusion that, although the practices worked for a particular range of technology, they really didn't work for today's viewing experiences.
Enter ANSI/INFOCOMM V202.01 Display Image Size for 2D Content in Audiovisual Systems (DISCAS). This standard provides a means for determining proper image size. The fact that it has been vetted through public review and by a third-party accrediting body should give the user peace of mind that, if they follow the standard, the viewer's experience will be a proper one. You can't put a price on that…or maybe you can….
What makes this standard so special is its scalability and ease of use. All the formulas have been figured out for you. All you have to do is plug in the variables that you already know to find the values of the variables you don't know. The standard can be used for all resolutions and will still be applicable as resolutions increase.
Guided by the sage leadership of Greg Jeffreys, Visual Displays Ltd., and the brilliance of mathematician Dick Tollberg, CTS-D, AVI-SPL, the task group did all of the dirty work for you. They've whittled down the problem of figuring out correct viewing distances and image size by providing science-based factors for determining whichever variable you need to find when designing an AV display system or when measuring one that's already installed. You can show your clients that the system you've put together will meet their needs, and you can document that fact to eliminate any question about it.
The standard focuses on two particular viewing categories and it takes a different approach for each one. Why? The needs of the viewer in each case are different. When viewers need to make analytical decisions based on what they're seeing, the standard bases the formulas on visual acuity and the ability to discern each and every pixel of information. For only basic decisions, the viewer can still get the necessary information from the image, if the content is big enough. So, how big is big enough? Let's take a closer look.
Scenario 1: Basic Decision Making.
This is the most common use of display images, if you think of classrooms, courtrooms, meetings, houses of worship or any environment where you are making some basic decisions (assimilation and retention of detail) based on the information you're seeing. Building on the definitions of this viewing category that were presented in a previous standard (ANSI/INFOCOMM 3M-2011 Projected Image System Contrast Ratio, or PISCR), DISCAS defines these environments and provides examples of their application.
This need to "assimilate and retain" basic information requires that the formulas for determining nearest/closest viewer and image size include an unavoidable variable: content. The standard's formulas for this category use a "percentage of element height," which is just what it says: the percent of the height of the text compared to the overall height of the image. Before the standard came out, InfoComm and many others taught the "4-6-8" rule, which has been around for a long time. It has worked in the past, but it isn't scalable and it doesn't consider newer technologies and increasing resolutions. The standard, in effect, broadens this rule to adapt to the new AV-system landscape.
Don't system designers already consider content? Of course they do. Has there been a way to help them quantify content in a consistent, defined manner? Not until now. The standard provides a reliable, consistent method for determining proper image size for a given space. The biggest challenge will be making sure that the content creators and presenters are aware of the required %EH (percentage element height) for the space and viewing distances. The solution: Put a sign on the display that says it's approved for X% element height. Or better yet, share this article with content creators and presenters!
Scenario 2: Analytical Decision Making.
This second use doesn't present itself as often as basic decision making, but it exists. This is when a viewer has to "assimilate and retain" all the detail of an image. That is, the viewer has to be able to see the finest detail of the image to make decisions. Again, the standard provides examples of this viewing need. Think of a seismologist, an art history class or images used as evidence.
In this case, visual acuity, considered with pixel height (or line-pair height), combines with viewing distance to create an acuity factor for the formulas. The task group referenced several standards and documents to align their variable assumptions with them. A list of normative and information references can be found in the standard.
What about the other use categories defined in the PISCR standard: passive viewing and full-motion video?
The task group analyzed the data and ran a study with more than 100 participants to determine that the passive-viewing category was so broad in scope that any guidance they would provide wouldn't really be much help. The group also determined that the full-motion video category really applied to home theater more than commercial applications, and an image size for that application has been determined by another standard.
So what now? InfoComm members can download the new standard for free at www.infocomm.org/standards. And even though the standard lays out all of the calculations so you can see how they drew their conclusions, InfoComm and the task group certainly don't expect you to know trigonometry. InfoComm is working on a web-based app for the standard so that all you'll have to do is plug in the variables and you'll get your answers. In addition, be on the lookout for a webinar in the upcoming months; task group members will walk you through your calculations and discuss your particular questions. Of course, you can always email standards@infocomm.org with any questions in the meantime.
This standard will be of great interest to many stakeholders outside our industry, so please spread the word. You don't have to apply old science to your new scenarios any more: DISCAS just took care of that for you. Happy viewing!