Mindfulness Comes to AV at AV Executive Conference
Nov 14, 2017, 14:34 PM by Allison Tardif
AV humans are pretty savvy to the ways a room can affect outcomes. But often all that knowledge of psychoacoustics, brightness levels and even thermostat mastery is subject to some kind of value-engineered compromise.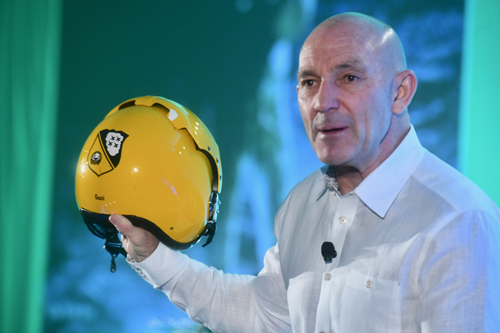 John Foley, former lead pilot with the Blue Angels
AV humans are pretty savvy to the ways a room can affect outcomes. But often all that knowledge of psychoacoustics, brightness levels and even thermostat mastery is subject to some kind of value-engineered compromise. Consequently, we end up spending a lot of time in rooms that sound and look less than optimal, and leave us shivering with regret that we didn't bring a winter coat to the office.
Not so at AVIXA's fifth annual AV Executive Conference (AVEC) last week in Key Biscayne, Florida. This year, the human element of experience really came to the fore both in terms of the event's style and in the conversations generated there. Not only were boring old ballroom tables replaced with AVIXA's new thought leadership event furniture of choice — super-cool sofas and captain's chairs arranged in conversation groups facing the stage — but there were actually blankets on hand for those of us who don't love sub-arctic air conditioning (and it's not just the ladies, lest you think that's the case).
These elements, paired with some top-notch AV and lighting room design by One Smooth Stone, set the stage for practicing what our industry preaches. This was an engaging and interactive learning environment built with human needs and goals at the center of the experience.
I'm going to jump on the buzzword bandwagon call it AV Mindfulness. Even before the speakers took the stage, I overheard conversations where key executives were talking about meditation and speaking from the heart. Before I lose you, though, let me get to the practical results of this new way of thinking. Here are four business-oriented mindfulness takeaways from AVEC:
"Find Your Non-Business Bond" - AVEC emcee and host Mark Jeffries led the group through his "NBB" exercise, which was all about finding a point of personal commonality with a perfect stranger. Because people do business with people they like, he said, "and people are tribal." So, to be liked by a person, and potentially generate a business opportunity, find some tribal common ground. "You're from Michigan? My ex-wife went to a Big-10 school!" (That's a When Harry Met Sally reference for all you rom-com heads out there.)
Voice Control is All Human - Listening to some executives using dictation to send texts and emails, I realized that we speak to our devices in a more personal way than many would have predicted. There's a universal kind of pleasant monotone that people use when they're hoping the mic picks up the right words. We'll probably want our conversational user interfaces to listen to us in that voice, too. So, don't build a system with shouted commands in mind.
Corporate Happiness is the New Collaboration - Listen to your clients and you'll find that they're not asking for collaboration technology, they're really asking for ways to make their teams happy. We know it as well as any industry, talent attraction and retention is the biggest challenge at the moment. If people feel like they have the agency to be creative and work together with local and remote teams easily, they're likely to have positive associations with their workplace.
Be Glad to Be Here - One of the final speakers at AVEC was one of the most engaging, and in a very surprising way. John Foley, a former lead solo pilot with the U.S. Navy Blue Angels, and a guy with master's degrees in business management and international policy studies from Stanford University, worked some real wizardry on the crowd. He made business leaders put down their phones and actually be human. You know how? By showing them a ton of super-engaging content that connected the power, precision and adrenaline of the world's most intense flying maneuvers with the humility of the human heart and mind. We're talking strength in mindfulness here, people. It's not a bunch of hippie stuff, it's important to be a human and engage with your team and your customers the way you'd like to be heard and understood. Otherwise you're going to feel disconnected, lose focus and crash that jet. Hearing those Blue Angels say with pure gratitude, "Glad to be here," before they started speaking, and again when thanking their team boss, "Glad to be here, boss," was at once humbling and uplifting.
We all want to feel glad to be here. And if we can create that experience for our customers and team members, well then heck, we might become the valuable partner that everyone keeps saying they want from their AV integrator.