The Future of Retail
Oct 5, 2017, 15:23 PM by Allison Tardif
5 tips that I believe to be relevant, as it relates to design, technology and experience within the future of retail.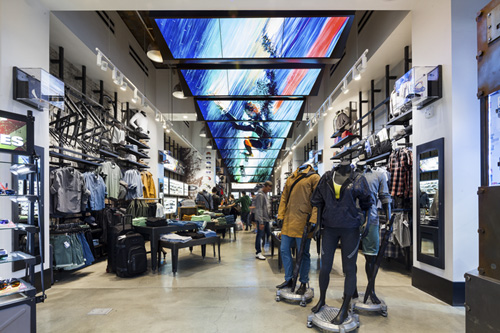 This blog was originally published here, and is used with permission.

A couple of weeks ago, I had the pleasure of speaking at this year's International Retail and Design Conference around the future of retail, with a focus on innovation, technology, and design. Since returning back to San Francisco, I've had a couple of similar conversations with clients with a focus on future retail spaces, and thought it would be worthwhile to put together a quick recap that anchors some of my thinking from the conference, into something that could provide those looking where to spend time, dollars or energy to be effective in this quickly accelerating space.
Before getting into it, I think it's important to set a bit of context as to why things are changing, and why we need to think differently to be successful.
Today's customers are more empowered than ever before, and no matter what phase of the customer journey they are experiencing in the moment, they're always a click away from a shopping choice. Not only are they extremely connected to an enormous network of information, but their behaviors and actions are very easily influenced by their social community, which has the ability to shape their decisions and actions in an instant. The most successful brands and retailers recognize this, and also thrive in this space. These brands understand the need for authentic and personalized connections with their customers, and that this is the source of their brand value, and what is setting them apart from the pack.
Below are 5 tips that I believe to be relevant, as it relates to design, technology and experience within the future of retail.
Tip # 1: Focus on Customer Experience.
Hopefully, this isn't ground-breaking to you, but if it is - pay attention, because if you can only get one thing right - it's this. Simply put, traditional tools and techniques that used to apply to connecting you to your customers, are quickly becoming irrelevant. Customer's thirst for personalized and authentic brand experiences has never been higher, and it is critical to think about this when defining the future of retail experiences, for your customer or organization. Welcome to the new era of marketing, where the products and services which your company is identified with, is defined by how your customers experience it.
The truth is, a customer's experience with any business begins long before they buy a product, and continues long after a transaction has ever taken place. In addition, customer's expectations continue to evolve as new digital capabilities improve every aspect of the customer journey, as well add value to the on-demand economy (thanks, Uber). Now more than ever, businesses have access to an unprecedented amount of data that can provide valuable insights into how to better serve their customers - but companies need to both recognize this, and commit to actually doing it. After all, the sum of each experience your customer has, adds up to the way your brand is viewed, appreciated and shared.
Tip # 2: Understand the value of social commerce and multi-channel experiences.
Unless you've been living under a rock - you probably recognize that the way we're communicating is becoming increasingly integrated with mobile & social platforms. The conversations happening in the marketplace are multidirectional and more importantly far-reaching. It's no longer good enough to tell your customers what you think they want to hear and hope that it sticks. You need to demonstrate it in a way that is unique and allows that message to resonate authentically to the people you are serving. The thing is, people are talking with each other via social media, and for every customer who posts a compliment or asks a question, there are thousands of people who are listening to your response.
Because of this, it has never been more important to find interesting and fun ways to connect with your customers which drive engagement with these tools, and cultural shifts. To take advantage of this, try targeting your customers with initiatives that drive shared experiences, offer up reviews and referral programs online, and come up with activations that help to bridge the in-person, offline/online opportunity.
Consumers are increasingly moving back and forth between mobile, pc, tablet, and in-store experiences seamlessly during their shopping process. The fact is, what may have worked in the past for organizations to reach their audience, can't be the "go to," way we connect with people moving forward. We are embarking on a time of disruption at every turn, and sometimes these legacy perspectives within organizations prevent those from seeing opportunities to reinvent and change.
Tip # 3: Explore new technologies to re-imagine the in-store & online experience.
One of the conversations that I had at IRDC was around the importance of blurring the lines between digital technology layers and traditional brick & mortar experiences, in a way that still feels very human, while also inviting the 2nd screen to be part of the customer shopping experience. This is something that I'm very interested in, and see huge opportunities to flip the script on its head, if committed.
Let's face it, traditional stores that once thrived in bringing customers in through conventional marketing channels, are now being challenged by the accelerated rate of eCommerce, and the efficiency that online shopping benefits offer to its customers. The one thing that online purchasing can't compete with, however, is the core experience that you can provide them within the store. By bringing people into the store (i.e. your space) you can provide customers with a human touchpoint that doesn't exist online, as well as offer them moments of wonder and magic around every corner in ways online can't touch.
When it comes to integrating experiential and digital in store, these can offer tremendous moments of impact in ways that frankly don't exist in the browser. Even if there are extensions that are optimized for web and mobile - the in-store experience will almost always have more impact in person, if executed correctly. These layers can be, reactive or immersive visual treatments, augmented or mixed reality experiences to educate people about your products, interactive media for customers to engage with, or driven by interesting web applications that allow users to augment the digital layers to their liking while bringing people closer to the company in fun or unique ways to set itself apart.
Regardless of the hook into your customers, you can begin to provide them with a reason to go into the store, which will be rooted in the experience they will have, all which can tied to your brand and products (which of course is the goal).
Assuming that you're on board with this philosophy thus far - the question isn't why would you it, but where and when do you begin? While I understand how easy it can be to talk yourself out of doing something that may feel difficult, the answer is really quite simple… MAKE THE LEAP!
Start investing in this area as an organization, and make a commitment to it. While nothing happens overnight, if you're committed to building it and developing a culture around this in your company - there's no better time than now, so long as the foundation is solid. While there will usually be some groundwork that needs to be laid with sound strategy, the end goal should really be about creating something fun, interesting, educational, as well as beautiful to offer your customers they will resonate with, as well as share in their network and community.
Tip # 4: Invest in innovation teams or innovation centers.
If you are a company that is committed to digital engagement for your customers - it is very important to invest in on-going research and development, centered around designing and building experiences to engage with your customers in new and interesting ways. Because of the fact this is a quickly moving industry, with new technologies being introduced at the software and hardware layer all of the time, this really needs to be an ongoing effort to gain an edge and stay in front of your competition. That said, by making a commitment to this, it will provide you and your team with the ability to learn with rapid prototyping programs, as well as try new things as company initiatives shift - all while still staying relevant to the way your customers engage with your brand.
All of this can happen by working with an agency like ours (we have our own Immersive Research and Development lab), or by developing a small department within your organization that is totally committed and focused on furthering the communication methods that can be used to connect to your customers, within physical space or online.
For us, we've dedicated about 4,000 square ft. of space, that allows us to augment the environment in a number of ways depending on the projects we're working on at any given time. While the clients and projects we tackle can change quite drastically from month to month, the one thing that is consistent is the fact we always have about a dozen different technologies that we can evaluate when considering solutions for our clients. Not only do we have the ability to harness these methods when designing our lens and execution strategy, but it allows us to prototype very quickly to take away critical insights as to whether things actually translate in physical space, the same way we imagined during ideation on a whiteboard.
At Britelite, we use our R&D space for just about everything, from viewing Immersive UHD content (10k+ resolution content) on large video walls, projection mapping spaces and surfaces, developing holographic content playback combined with retail products, as well as using a variety of different interactive tools and technologies (touchscreens / surfaces, motion capture simulations, sensor technologies, etc.) as well as Augmented, Mixed and Virtual Reality experiences and of course, the custom software applications that we develop to drive these digital layers from a system architecture perspective (i.e. the engine under the hood).
I can't tell you enough how valuable it is for us to have this space as a company. It serves both, our own internal initiatives at staying ahead of the curve but also for our clients, who are often times hiring us to create very custom experiences that require a lot conditions to take into consideration. It allows us to set up environments specific to what we'll be designing for, all while keeping things focused around a user-centered design approach and evaluate the nuances as we go. What does it feel like? How does this 'thing' behave when I'm using it? Is it fun to engage with? Does it draw you into the moment and hold you there? Being able to identify these answers as you're building them, versus when you roll them out for the first time are worlds apart, which is why this is such a valuable tip in the process.
The truth is, ideation is hardly a linear process which is why having a dedicated space, division or agency is such a valuable piece in solving this part of the equation.
Tip # 5: Design for your user's imagination.
As someone that has spent the last 15+ years producing experiences and projects in pretty much every environment imaginable, I often times think it is more important to step 'outside of the box' when evaluating spaces, rather than simply focusing on the walls, ceilings, and floors that make it up. In short, when evaluating what can be done in a space - attempt to take a fresh look and consider it as a blank slate, versus what is currently being done inside of it, or idea's that have already been thrown around in past meetings. In a nutshell, attempt to design for the user's imagination with the goal of taking them on a journey of what's possible, vs. what's been set-up to be expected.
There's a term that I've been using for a while now, that resonates with me very strongly, which I call 'figital'. It is essentially the confluence of where the digital and physical layers intersect, and when blended together successfully - it can feel imaginative and fresh, in addition to tactile, functional and familiar - even when introducing something new, or even never been done before.
When evaluating ways to design these new experiences, take the time to ask yourself and your team, "what could we build in a physical store or space, while also incorporating digital technology that will breathe new life into it?"… How can we bring the outside in? How can we deliver something that can bridge these two worlds together in a way that is intuitive, memorable and shareable to our customers?
Do these five things, and I would not only consider you ahead of the curve in terms of what most others are doing but also someone who is positioning your organization for success in this quickly evolving space around the future of retail.