You're No Expert…Are You?
Sep 9, 2017, 14:27 PM by Allison Tardif
Have you ever been to one of our seminars or workshops? Did you check out Center Stage this year?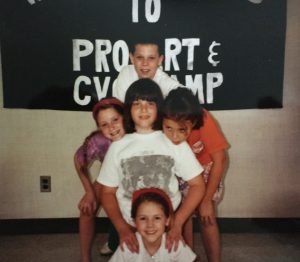 At the end of this blog post, I'm going to ask you to do something. It might sound hard, or unpleasant, or stressful. Do it anyway. You'll thank me later.
As Expositions Content Directorfor InfoComm, I'm broadly in charge of people talking at the InfoComm trade show. Have you ever been to one of our seminars or workshops? Did you check out Center Stage this year? Did you attend the inaugural TIDE event? Those programs are my babies, my heartaches, my fault.
So, like I said: I'm in charge of people talking at the show. Smart people. Cool people. Otherpeople. Alas, I've been behind the scenes at InfoComm long enough that people have started asking me to talk. Publicly. Gross.
Joseph, surrounded by his Ishmaelite captors –
those bangs though.
I'm not afraid of public speaking. In fact, I'm an insufferable ham dating back to 5th grade when I played the title role in the 1994 Pro-Art and Clinch Valley College Summer Camp production of Joseph and the Amazing Technicolor Dreamcoat (gender-blind casting: very progressive for 1990s Appalachia).
The scary thing is laying claim to expertise. I am extremely reliant on others to build my programs. I value research, attendee, and exhibitor surveys, and expert guidance from partners and volunteer task groups far above my own views. When asked to assume the mantle of "Important Person with an Interesting Opinion," I feel like a fraud.
But so does everyone. Very few non-sociopaths would say they deserve 100 percent of the praise and respect they receive. Most of us feel like we owe a lot of our success to luck, help from others, or some other factor we can't take credit for: the so-called "Imposter Phenomenon." As a result, when an expert is called for, we assume that someone is better qualified than we are.
That said, if you do something you love, and you do it for a while, you will become an expert. Since people generally aren't good judges of their own expertise, and don't trust others, here are some signs to look for:
Your colleagues run their ideas past you before circulating them to a wider audience and come to you for help when they're stuck.
You can trust your gut because you've internalized the rules and knowledge in your field to the degree that you can understand and solve problems instinctively.
You're a skeptic: where others see common sense, you go looking for proof.
You plan your vacations carefully because your skill set is critical to operations.
You've got a lot of smart friends whose expertise you trust, and who seem to trust you.
Recognize yourself? If so, here's my challenge to you: assert your expertise. There are any number of ways to do this – hosting "lunch and learns" within your own company, contributing to wikis, writing a blog (Hi, Mom!) – but personally, I'd prefer if you contributed to InfoComm 2018 Call for Presentations (CFP).
Self-serving? Totally. Hear me out, though.
The CFP is structured to help you define your expertise:
What can you help people learn to do – not just know, but do?
What verticals have you developed unique insights into?
Who's your tribe – what audiences do you have a special rapport with?
We've also published some guidance on themes and hot topics on our website. These themes, End User Outcomes and Integrated Life, will challenge you to think about how AV technology can solve problems in new ways. You have a deep understanding of AV users' objectives and pain points. Use the CFP as an opportunity to brainstorm how our technology can not only lessen that pain, but delight users and open new possibilities.
Real talk: The InfoComm show CFP is competitive. Most submissions aren't accepted. Whether or not your session is chosen, there's inherent value in applying. You'll identify your strengths and structure your thoughts. The next time you're called on as an authority, you'll respond with more confidence. You'll have self-identified as an expert.
Some of you will be accepted. Four of our top 20 sessions in 2017 were taught by first-time presenters. They had over 200 people in each of their sessions. Once you offer it, you might be surprised how desperate people are for your expertise.
The deadline for submission to the InfoComm 2018 Call for Presentations is October 1, 2017.