The Backbone Of An Industry
Aug 25, 2017, 18:47 PM by Allison Tardif
The possible erosion of the traditional commercial AV channel may have been overstated.
This column first appeared in Sound & Communications.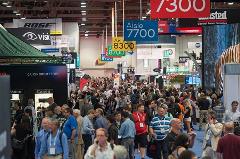 The possible erosion of the traditional commercial AV channel may have been overstated. In some circles, there was speculation that the consumerization of technology and Big Box-ification of AV distribution might lead to customers cutting out trained, knowledgeable AV middlemen and buying their systems directly from manufacturers or retailers. In truth, there's little hard evidence of such a trend. And frankly, that should surprise no one in the AV industry.
To be fair, yes, according to recent research (and experience), there are AV products that move from manufacturer directly to user. No real surprise there, either. Some of those users may just need commodity AV; others may have in-house integration staffs. And some product types are more likely to follow the direct-to-user channel than others. Displays, for example — the poster children for consumer products used in commercial AV applications — tend to bypass intermediaries more than, say, control systems. But straight-to-user displays still represent only a fraction of the displays sold for commercial AV. Overall, there appears to be no growing share of AV products skipping integrators and distributors. And looking ahead, we don't expect that to change. This is to say, there is no apparent trend toward more and more commercial AV products being sold directly to users.
That's because today's AV integrators and distributors have demonstrated their unique value up and down the AV distribution chain. Along with a growing demand for AV systems (conferencing and collaboration systems, digital signage, videowalls and more) has come demand for design and integration, ongoing service, content and so on. In a word: expertise. And as long as AV companies stay close to their customers, listen to their needs and continue to offer value-added service, they will continue to be the backbone of the industry.
InfoComm recently put out its 2016 Global Pro-AV Distribution Channel and Trends Report. The 2016 edition of the research, a follow-up to a 2013 study, examines the channel worldwide and explores three main ways in which AV products go from producer to customer: straight from manufacturer to user; from manufacturer to integrator to user; and from manufacturer to distributor to integrator to user. It's a comprehensive study, projecting the value of various product categories traveling via these three distinct distribution paths, now and through next year. It also looks at channel trends in several global markets.
In a nutshell, an AV distribution channel that includes value-added providers, such as integrators and distributors, is alive and well and in demand both from manufacturers and end users. There is no denying that product margins continue to be squeezed. Fortunately, in many AV markets worldwide, customers understand and appreciate "solutions." It's not true everywhere in the world, but in most robust markets, for example, design services have perceived value. According to our research, which included in-depth interviews with companies up and down the chain, manufacturers count on integrators and distributors to flesh out their products with service offerings. And customers, although they're looking to save money on the systems they procure, recognize that they'll get more value from their AV systems if they buy from more complete solution providers instead of from straight equipment sellers.
So everybody gets it, and it's working. According to research for the new report, integrators expect the overall market for AV products and services to continue to grow, thanks to an increased demand for audiovisual communication and AV experiences. The question going forward will be, what value can companies add, and where in the distribution chain should they add it? Because adding value will be important not only to maintaining healthy profits, but also to fending off incursions from IT providers and other non-AV competitors.
It will also, to some extent, change the makeup of AV companies. We talk a lot about the value-added services that AV integrators and distributors should be offering. Bundling content around a display system is a great way to maintain a healthy price for that system, for instance…but it takes content design expertise. Integrators can hire it, contract it or look for it somewhere else in the chain, such as from distributors. As much as some in the industry scratch their heads over the decidedly IT-esque prospect of delivering cloud-based AV services, cloud-based AV services would represent a new product line to most providers at a time when old product lines face heavy competition. Like offering content, delivering cloud services requires fresh investment, or new partners inside and/or outside the AV industry.
The AV channel is a collaborative endeavor. Researchers for InfoComm's new report examine what is called hybrid distribution, whereby products follow several different paths to end users. It's not necessarily a novel concept, but one that is especially pronounced and important to commercial AV. There are few markets in the world where, for example, AV products are much more likely to go through integrators and resellers than through distributors, or vice versa. No matter what your role is in the AV channel, you face similar challenges (commoditization, consumerization, IT convergence). And no company has a monopoly on great ideas for adding value to AV solutions or redefining the solutions that already exist.
The commercial AV channel is definitely evolving, but it remains vibrant and healthy. For a complete picture, get InfoComm's 2016 Global Pro-AV Distribution Channel and Trends Reportat www.infocomm.org/research.