For the Love of the Job
Aug 24, 2017, 15:07 PM by Allison Tardif
Bert Jacobs, Co-Founder/Chief Executive Optimist of the Life is Good Company, addressed the fourth annual AV Executive Conference in November.
This column first appeared in Sound & Communications.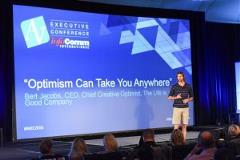 Bert Jacobs, Co-Founder/Chief Executive Optimist of the Life is Good Company, addressed InfoComm's fourth annual AV Executive Conference in November. Among his messages was one that many audiovisual professionals understand well. To paraphrase: Don't think of your job as something you have to do; think of it as something you get to do. (In fact, Jacobs reminds us to focus on the good in every situation, something he learned through stories of people facing and overcoming great adversity: Don't think of going to the grocery store as something you have to do, but always as something you get to do.)
What's the bigger connection to commercial AV? Dave Labuskes, CTS, Executive Director/CEO of InfoComm, said it best during the conference when he talked about the wonder of AV and how it's the basis of the industry. Many of you have stories about how you got into commercial AV, and most of them aren't that you had to become an AV professional. There was something you loved about the audiovisual experience, whether you were working sound boards or playing in a band. Or you were a tinkerer, as Dave put it, like many of the inventors and engineers who created new AV technology, from control systems, to laser-phosphor displays, to the chips that pipe 4K video across the same networks that carry email.
And now you're here. You've turned a passion into a career, and that career is based on your ability to translate your passion into business outcomes for customers. It's not necessarily based on your ability to help them do something faster or cheaper; that's what IT is for. AV is for experiencing things better.
The theme of last year's AV Executive Conference, held at The Ritz-Carlton in Key Biscayne FL, was "Driving Profit Through Customer Experience." Jacobs kicked things off by taking attendees through the journey of his company's iconic lifestyle brand, which you've seen on t-shirts around the world. Life is Good has always been about the company's relationship with its customers, which it has nurtured in many ways. In 2006, it held a pumpkin festival (one of many) on the Boston Commons to raise awareness and money for children with life-threatening illnesses. The more than 30,000 carved pumpkins on the Commons that day set a world record and raised more than $1 million for kids. One AV executive I spoke to at the conference (a global sales director for a leading solution provider) said that he'd been on the Commons that day with his kids, and the experience was amazing and left a lasting impression.
How do you build a lasting experience for your customers, utilizing AV? One way is to create it along with them, rather than sell it to them.
Ian Altman, a business consultant and author, gave AV Executive Conference attendees strategies for changing the traditional, transactional buyer-seller relationship into one where both parties are reaching for the same goal. Altman is co-author of the book Same Side Selling, which advocates for getting parties on the same side of the project table or, in other words, on the same team.
"There are adversarial traps between buyers and sellers that cause customers to focus on price instead of value," Altman explained to me before the conference. "How do we reverse those so buyers and sellers are on the same side of the table, metaphorically putting a puzzle together?"
Seems like forehead-slapping stuff, right? But it's the difference between visiting a potential job site, hearing what the customer says they want, and coming up with a PO that includes displays, sound reinforcement, a control system, etc., and selling an experience that delivers the outcome the customer needs. The former is in the spirt of "have to do;" the latter is something AV professionals "get to do." It's the creative, tinkerer part of the business and what sets an AV pro apart from an IT contractor.
If you remember AV Design 101, this is the needs analysis phase, a critical part of the process. You don't ask the customer what they want; you ask them what outcome they want to achieve. As AV becomes a strategic enterprise technology asset, and enterprise decision-makers get involved in buying solutions, the needs analysis is more important than ever. And it now goes beyond discerning things like who's going to use a system, what they're going to use it for and how an AV-enabled space must function. Often, what the customer really wants is simple, though not obvious, and it's rarely about AV technology.
Last year, I visited Brent Berger of Bridges System Integration, whose website states, "We sell decision-making." Not AV, not technology, not even solutions. "While we recognize that electronics are a key part of this industry and a key part of our solutions every day," Berger told me, "they're not our first step, they're our last step."
The steps in between are critical. They require thought, imagination, metrics. While you're asking questions to discern the required outcome, think about how it will be measured. Here's where software, data and the Internet of Things can play a role in commercial AV. Need better room utilization? Longer dwell times in front of digital signs? Software and sensors can report the results.
Of course, you don't have to do any of this, but to succeed with tomorrow's enterprise customers, you'll probably want to. Fortunately, helping achieve business outcomes through AV is something integrators and designers get to do.
And don't forget to join us this year at the AV Executive Conference in Key Biscayne FL, November 8-10, 2017.