4 Ways AV is Trending in Education
Aug 22, 2017, 15:06 PM by Allison Tardif
As educators explore a variety of teaching practices, audio-based lessons have become an integral practice for student development, no matter their learning ability.
Scott Evans, Califone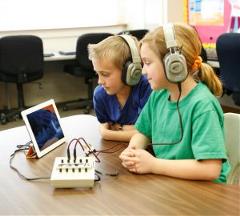 As educators explore a variety of teaching practices, audio-based lessons have become an integral practice for student development, no matter their learning ability. Educators incorporate audio components into their teaching to increase student engagement and foster deeper learning through the use of listening-based activities. No two students are the same, and for optimal comprehension, activities are often tailored to their unique learning styles. Listening devices are integrated into classroom activities in a variety of settings, creating several standout trends for AV use in educational environments.
1) Language Learning
The population of English-language learners (ELL) in the United States has surged over the past few decades. In fact, an estimated 9.3 percent of U.S. students enrolled in public schools during the 2013-14 school year were ELL. Although ELL students have made positive strides in language comprehension, this group of students consistently scores lower on assessments than their non-ELL peers in reading.
In order to help ELL students reach their full potential and achieve the same level of language mastery as their peers, educators are turning to education technology to improve ELL instruction. In particular, audio devices, such as headphones, headsets and earbuds are helping teachers implement speaking and listening activities that target challenges ELL students face.
ELL resources are highly utilized in many U.S. districts where the Latino populations are growing, but not yet at the point where K-12 leaders are willing to invest in hiring full-time language specialists. In these scenarios computer-based language learning content and devices are valued by educators. Not only do these audio devices alleviate pressure from the instructors, but they also give ELL students the autonomy to learn at their own pace, using programs that align with their current learning level.
2) Special Education
With the increased use of technology in collaborative learning environments, students enrolled in special education and students with autism are often more exposed to high sensory learning engagements, especially in the auditory realm. Here lies the need for a different type of audio device – hearing protection. Hearing protector ear muffs block out external noise and allow students with hearing sensitivities to focus on specific activities.
Through noise reduction, hearing protector headphones reduce the maximum amount of background noise. This also prevents students with reduced hearing sensitivity from listening to auditory lessons, books or music at high volume levels.
In another facet of special education, shifting from hands-on activities to computer-based activities has helped students develop a sense of accountability. Listening and speaking activities give educators the opportunity to transition the responsibility from the teacher to students, encouraging a higher level of knowledge and skill retention. This type of independent learning allows students to articulate what they hear by speaking into headset microphones, which is an alternative to writing responses.
3) Assessment Testing
Teachers are turning to audio as they develop formative assessment plans. With tools like headsets, students can demonstrate what they know by speaking and listening rather than reading and writing. Teachers can then use the recorded audio and student feedback to guide future instructional decisions.
Administrators are seeking listening devices that comply with common core assessment guidelines that also have low total cost of ownership. The role of listening and speaking in assessment testing is climbing the purchasing ladder as mandatory use of headphones for the English language arts testing sessions has been specified by state and federal assessments, and to accommodate students who require text-to-speech in mathematics tests.
Every few years, district leaders are vetting the AV market for the most durable and cost-effective listening devices. Schools require commercial headphones, headsets and earbuds that withstand constant use, and are not dangerous to students if broken. Districts typically purchase in bulk for spring assessments and expect these purchases to last for several years. The Department of Education has also explored incorporating game-based assessments into student curriculum, requiring the use of gaming headsets.
4) Game-Based Learning
Education games help students develop critical thinking and problem solving skills in a fun and interactive way. Research has shown that 78 percent of teachers using digital games in the classroom saw increased student performance in curriculum-focused topics as a result of gameplay. Gaming headsets are frequently used in school libraries and computer labs to add another dimension to traditional skill based activities and assessments. Great for soloing or playing as a team member, gaming headsets are built using game mechanics such as badges, experience points, levels and leaderboards. By creating an immersive experience, game-based learning boosts engagement and allows students to choose how they play and progress at their own pace through a series of educational activities.
The multitude of audio-based learning practices trending in the education space exemplifies the relationship between listening and learning. As personalized learning and blended learning methods saturate the teaching landscape, audio components will continue to play a large role in student engagement and comprehension