Session 1
When your AV tech workgroup is well run, everybody wins. The customer gets a faster, more efficient service. The techs get their skills developed, and they get to work where they are appreciated by their customers, their employers, and each other. Success is the norm—stress is under control, and work is enjoyable, not just a chore. And, you can be the manager that makes all this happen.
Mastering AV Service Management is an AVIXA®-exclusive version of the Mastering IT Support Delivery curriculum, redesigned for AV specialists. The purpose of the Operational Manager Certificate is simple—this is how to manage a technical workgroup.
It is essentially practical, packed solid with how-to and methods. There's no committee-designed theory here. The techniques you will learn are proven and time-tested.
Sold Out!

CTS: 18 CTS-I: 18 Max: 18
Can't make it to session 1? Check out session 2!
Who should attend?
Heads of any AV technical workgroup—either in-house or as service provider—where tech support resolutions and conducting projects are part of the typical workload. Predominately where that work comprises interaction with end-users and corporate authorities.
Prerequisites
Candidates are encouraged to read the following texts:
DeMarco, Tom and Lister, Timothy, Peopleware – Productive Projects and Teams
Blanchard, Kenneth and Johnson, Spencer The New One-Minute Manager
Candidates should also

familiarize

themselves with the course materials, devoting approximately 8 hours to read the provided text that will be provided after registration.
What you will learn
Workgroup leadership, consisting of orchestration of department resources and representation of the workgroup to the business, both as service provider and for dovetailing with shadow IT and vendor-provided escalation routes.
Management, including staff development, setting and monitoring production and productivity expectations, governing workload variety, skills redundancy, scheduling non-reactive work, motivation and job satisfaction.
Informed decision-making, including key performance indicators, critical success factors and other statistical analyses to get beyond service levels into throughput parameters. You will also learn to match service delivery with customer satisfaction.
How to lead the department from the front, to represent it according to your vision for its position, role, and standing to its host organization, clients, and users.
Anticipate demand and orchestrate resources both within and outside the immediate workgroup to meet that demand in accordance with true need and affordability.
Orchestrate workforce and other resources to ensure the workgroup's entire workload is appropriately staffed so that nothing gets missed and all priorities are met, for both reactive and project work.
Identify, measure, monitor and act upon key performance indicators and use statistical functions against these to inform management decisions in correcting and improving service, not just after-the-fact (Management Information) but also in real time (Decision Support); use these to regulate and improve workload throughput as a vital contribution to eventual achieved service-levels.
Use a seven-stage skillset management programme to commodities technical knowledge so that it can be imparted at the appropriate level; use this to eradicate Single Points of Failure, remove bottlenecks, increase skills redundancy, increase departmental service versatility, and replace management technical responsibilities to increase management involvement and quality.
How is it delivered?
This course is blended learning, a mix of independent study and online tutorials. Note that the tutorials are not teaching sessions, but merely to check understanding and run quizzes. The candidate is issued in advance with the 60,000-word workbook in PDF format. This Body of Knowledge contains all the slides, accompanying text, and quizzes to help you prepare for the final examination to earn the certificate at the end of the course. You will study a portion of the book, before attending an online tutorial.
MASM-OMC Schedule
Online Tutorial 1: Course introduction, 30 minutes
Student study period 1, approximately one week
Online Tutorial 2: Checking understanding, 2.5 hours: Module 1 - Course Introduction, Module 2 - The Role of the Manager, Module 3 - Leadership Essentials
Student study period 2, approximately one week
Online Tutorial 3: Checking understanding, 2.5 hours: Module 4 – Planning Stage, Module 5 – Processes and Relationships
Student study period 3, approximately one week
Online Tutorial 4: Checking understanding and final examination, 2.5 hours: Module 6 – Delivery Stage, Module 7 – Staff Engagement, Epilogue and Exam (the exam question paper to be available from your AVIXA account and the exam is open book, invigilated/proctored by webcam)
Candidate scans completed answer paper and emails it to invigilator/proctor, and puts the original in the mail to invigilator/proctor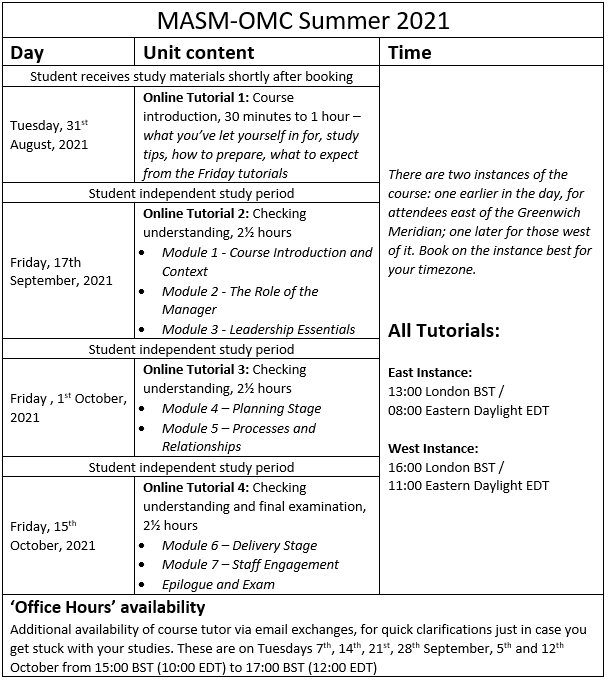 Pricing
List Price/Basic: USD $949
Premium/Elite: USD $854
About Your Tutor/Instructor

This course was designed by Noel Bruton, a management consultant and bestselling author of numerous books specializing in IT and tech support management. Noel will be your impassioned and enthusiastic tutor. His AV experience goes right back to mic'ing up bands at college in the 70's, running AV/VC workgroups for global companies, designing AV service management practices for universities, and composing, mixing, and mastering videogame soundtracks. The originator of terms, methods, and techniques in the tech management field, he referred to in his native UK as 'the godfather of [tech] support'. If you use the words 'desktop support', 'quality index', or 'escalation', you are quoting Noel Bruton.
Event Information
Date
31 Aug - 15 Oct 2021
Time
8:00 AM - 10:30 AM
Eastern Standard Time
Type
Training