CTS-D Prep Virtual Classroom
CTS-D Prep can help ease your nerves and boost your confidence before you take the CTS-D exam.

Through this course, you will practice your test-taking skills and focus on specific areas of AV design you need to focus your study time.

In this virtual learning opportunity, three days a week for two weeks, you'll attend lectures and do group work with your peers just like you would in a classroom setting.

You'll also have access to running chat and AV Math for Design Online to help you learn.


Class schedule
This course will be taught live in six, four-hour long sessions from 1 p.m. to 5 p.m. Eastern Time on:

-Tuesday June 22
-Wednesday June 23
-Thursday June 24
-Tuesday June 39
-Wednesday June 30
-Thursday July 1


Who Should Take This Course
People who are preparing for AVIXA's Certified Technology Specialist - Design (CTS-D) credential.


Prerequisites
To enroll in this course you will need to be a current CTS holder and have a minimum of two years' experience in audiovisual design.

It is strongly recommended that students have in-depth knowledge of AV math or have taken AV Math for Design Online. Students should also have experience in system verification or have taken Elements of Setup and Verification Online. Additionally, the CTS-D candidate should take AV Design 1: Environment, AV Design 2: Infrastructure and AV Design 3: Applied Design — or be experienced designers.


Course Features
In this course you will:
• Learn test-taking strategies and what to expect the day of the exam
• Explore the CTS-D exam format
• Review design terminology and AV design math skills
• Study the processes associated with designing an AV environment and infrastructure
• Identify CTS-D exam study needs with drills and exercises including concepts, math formulas, vocabulary and diagrams
• Prepare with practice questions and study drills
• Study with the help of facilitators
Download complete course online
Course Fees
List/Basic: $399 USD
*Premium and Elite member prices are available on the registration page when logged in to your account.
Sold Out!

CTS: 24 | CTS-D: 24 | CTS-I: 24 | Max: 24
Instructor: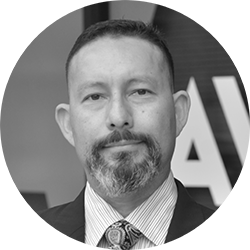 Charles (Chuck) Espinoza, CTS-I, CTS-D, CQT, PMP, ISF-C, DMC-T, DMC-D, DMC-E, EAVA, ECA
As a Senior Staff Instructor at AVIXA, Chuck has over 26 years' experience in the AV industry with 13 years in the United States Marine Corps. In the U.S. Marine Corps, Chuck was the Chief Sound System Engineer for the United States Marine Corps' Musical field units. Since retiring from the Marines, he has held a variety of AV positions supporting commercial and federal government clients as well as contributing to the development of hundreds of audio-visual professionals. Chuck has served on the Scheme and Item Writers committee, as an AVIXA's Leadership Search Committee Member and Chair of AVIXA's Certification Steering Committee, as well as a contributor the InfoComm Installation Handbook.
Important Note
Completion of this program in no way guarantees that you will pass the CTS-D exam, nor will this program cover all the topics listed in the test outline.
By registering for this course, you are not signing up for the CTS-D exam. The CTS-D exam must be applied for, paid for and then scheduled separately at a Pearson VUE Testing Center.
Please refer to the CTS-D Candidate Handbook or avixa.org/ctsd for details
Event Information
Date
22 Jun - 01 Jul 2021
Time
1:00 PM - 5:00 PM
Eastern Standard Time
Type
Training