Class schedule:
This course will be taught live in six, four-hour long sessions from
7 p.m. to 11 p.m. Eastern Time on:
-Tuesday October 5
-Wednesday October 6
-Thursday October 7
-Tuesday October 12
-Wednesday October 13
-Thursday October 14
Pricing:
Base: $475 USD
All members: $427.50 USD
Who Should Take This Course:
Anyone who reads, works with or creates AV designs, including:
Designers
Engineers
Technology managers
Project managers
Prerequisites
Students are strongly encouraged to complete AV Math for Design Online
This six-day distance learning course is four hours per day. Additional work may be required.
Students will also produce a complete drawing package based on several real-world scenarios they might encounter on the job.
The course covers the following topics:
The Audiovisual Design and Integration Process: learn how to properly document and translate a client's needs into actionable project drawings, throughout each phase of a design project
Ergonomics: learn human-centered design factors to help place the people in a space
Visual Principles of Design: learn how to properly specify and position displays using image specifications
Audio Principles of Design: learn how to specify microphones and loudspeakers to achieve target sound pressure levels in a given space
Download complete course outline
Further Study:
AV Design 2: Infrastructure Online
AV Design 3: Applied Design Online
Register Now:
See here for full details on the
AVIXA Course Cancellation Policy
.

CTS: 24 | CTS-D: 24 | CTS-I: 24 | Max: 24


Instructor: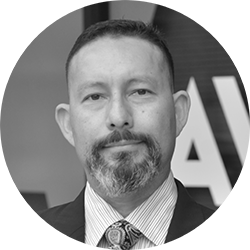 Charles (Chuck) Espinoza, CTS-I, CTS-D, CQT, PMP, ISF-C, DMC-T, DMC-D, DMC-E, EAVA, ECA
As a Senior Staff Instructor at AVIXA, Chuck has over 26 years' experience in the AV industry with 13 years in the United States Marine Corps. In the U.S. Marine Corps, Chuck was the Chief Sound System Engineer for the United States Marine Corps' Musical field units. Since retiring from the Marines, he has held a variety of AV positions supporting commercial and federal government clients as well as contributing to the development of hundreds of audio-visual professionals. Chuck has served on the Scheme and Item Writers committee, as an AVIXA's Leadership Search Committee Member and Chair of AVIXA's Certification Steering Committee, as well as a contributor the InfoComm Installation Handbook.
Event Information
Date
05-14 October 2021
Time
7:00 PM - 11:00 PM
Eastern Standard Time
Type
Training