Evolution of the InfoComm Show
Aug 24, 2017, 18:01 PM by Allison Tardif
As I write this, the InfoComm show management staff, industry speakers and volunteers are diligently putting together the final touches for this year's mega celebration of the audiovisual industry: InfoComm 2017.
This column first appeared in Sound & Communications.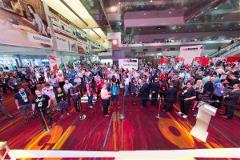 As I write this, the InfoComm show management staff, industry speakers and volunteers are diligently putting together the final touches for this year's mega celebration of the audiovisual industry: InfoComm 2017.
Thousands of attendees have registered for June's InfoComm 2017 show in Orlando. They are joining the 170,000-plus annual visitors who attend our family of shows around the world, including ISE, InfoComm China, InfoComm Tecnomultimedia Brazil and many others. InfoComm offers one long, vibrant manifestation of a growing AV industry, touching distinct groups of AV professionals across the globe.
InfoComm's shows change every year because this industry changes. June's InfoComm 2017 is a case in point.
Depending on why you already travel to InfoComm each year (or even if this will be your first trip), this year's changes may seem subtle, but they're important. We'll still have 40,000 visitors and nearly 1,000 exhibitors showcasing new products in audio, video, lighting, control, signal distribution, content creation and management, digital signage, unified communications and collaboration, and cloud solutions and immersive technologies, including augmented and virtual reality. There will be two dozen audio demo rooms and more than 500,000 square feet of show to cover throughout the Orange County Convention Center.
And of course, InfoComm 2017 will host the largest annual in-person commercial AV education program anywhere in the world. Once again, we'll offer an all-you-can-eat seminar and workshop package, which will include more than 100 opportunities to earn Certified Technology Specialist (CTS) renewal units, manufacturers' training and other industry education. We expect to host more than 3,000 AV pros in our professional development sessions at this June's show.
But for InfoComm 2017, we're starting to take the conversation in our industry in new directions. A key element of InfoComm's strategic plan is to raise awareness of how AV systems, our members and the industry as a whole deliver exceptional user outcomes, solutions and experiences. To that end, we're making significant investments at this year's show to bolster the industry's focus on helping customers tell their stories through AV. Yes, it's important to come away from a show like InfoComm with an appreciation of the latest technology. But more and more, it's especially critical to be able to have new conversations with customers about how that technology solves business challenges.
Enter TIDE (Technology. Innovation. Design. Experience.) for starters. It is a one-day, executive thought-leadership event held on June 13 to examine the strategic impact of AV technology. We've created TIDE not just for AV professionals, but also for design professionals and enterprise technology customers: some of the folks with whom the AV industry is having those new conversations. TIDE will include two great keynote speakers: Matthew Luhn, one of the original story creators at Pixar, and virtual reality pioneer Nonny de la Peña. It's a new kind of AV conference that we believe will position companies for greater success.
That's not to say we won't have something new for technology lovers. Also on June 13 (and included in the seminar and workshop package) will be Emerging Trends Day, sponsored by our friends at IMCCA. Emerging Trends Day will feature a roster of experts and industry analysts in fields like audio processing, display technology, cloud services, UCC and more. This collection of sessions will address what's on the horizon for AV solutions and the industry, and better prepare attendees for what they'll find on the show floor over the following days.
The next new addition to InfoComm 2017 is Center Stage. InfoComm has been known for the stages on its show floor: places where attendees can hear from experts in a variety of AV fields. This year, we're centralizing our on-floor program into a venue called Center Stage. Center Stage will feature various AV industry thought leaders talking about solutions in real-world situations. These case studies will not only focus on the innovative technologies used (although innovation will be a key ingredient) but more on how the solutions, from digital signage to collaboration, helped customers benefit from integrated AV experiences.
Although many in the industry have pivoted deftly to the new realities of solution-selling, it's not as easy for some to wake up one day and call themselves solution providers. We hear it more and more from InfoComm members: Today's customers are less interested in products than they are in the outcomes those products will help them achieve. But selling solutions versus straight products takes a new skillset. As a result, we're presenting some new sales-education programs at InfoComm 2017. Plus, you'll find a series of deeper-dive case studies told from the perspective of the customer, including teams from Cigna, Brigham Young University, the Federal Reserve Bank of Dallas and more. Hearing from customers firsthand is critical to understanding what they value in an AV solution and helps with that pivot away from straight product-selling.
And, of course, we continue to hone and improve the experience of InfoComm. It's never too early to start planning, so visit www.infocommshow.org and start your registration. There, you'll learn more about what will make this year's show memorable, like an opening reception at Mango's on International Drive (think 50,000 square feet of spectacular audio, video, lighting and live entertainment) and an indoor (i.e., air-conditioned) park on the show floor with entertainment, interactive games, food stands and more. Think of it as a large networking area and food truck experience, just steps away from that next great booth visit.
Industries evolve. Commercial AV is no exception. Our trade shows, which must constantly reflect that evolution and show the way to future opportunity, continue to offer the best possible venue for taking stock of everything that makes you successful: solutions, strategy, skills, certification, innovation and, yes, cool technology. See you in June!