Vroom: Daytona Reimagines AV in Sports Venues
Posted on Nov 28, 2017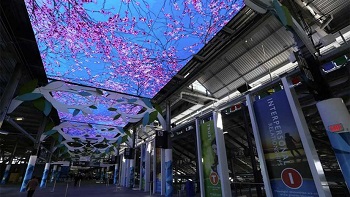 The $400 million renovation of NASCAR's flagship venue, officially unveiled at the Daytona 500 in February, was envisioned to bring the fan-in-the-stands experience up to par with those of MLB, NFL and NBA stadiums and arenas. Daytona Rising, as it's been dubbed, is impressive, with expanded seating for more than 100,000 fans in a single grandstand structure that stretches for nearly a mile along the track's front stretch. Those fans can watch the cars roar by — close up, the ambient noise level averages around 96 dB, equivalent to spending four hours on a power mower — but they can also find more detail on the huge video screens that are part of Daytona International Speedway's new AV package. It includes two 24-by-47-foot frames, built by NEP Screenworks, that offer 720 x 1440 resolution over 104 square meters of area, each flanked by two recently installed 40-by-80-foot towers, delivering 1092 x 2240 resolution over 280 square meters.
As loud as Daytona can get during a race, new audio systems trackside keep announcer and notification speech highly intelligible. Two hundred and ninety-five Community Pro R.5 and R.2 series pole-mounted speakers do the heavy lifting over the grandstands. These were fastened onto light-fixture poles on the ground, lifted by cranes 190 feet to the top of the grandstand structure, then aimed down toward the seats. (They're a far cry from the pole-mounted horns that kept viewers abreast of the action when Daytona first started racing on the beach town's sand dunes in 1949.)
In the new concourse behind the stands, 2,791 audio speakers, mostly JBL Control series, cover the concourse area and suites. During races, fans can keep following the action wherever they go via nearly 1,500 Samsung and Peerless-AV47-inch LCD screens mounted throughout the concourses and inside concessions and bathrooms. CommScope, one of several Daytona technology partners, deployed approximately 220 miles of its Systimax GigaSpeed XL CAT-6 cable, 50 miles of TeraSpeed single-mode fiber-optic cable and all of the terminations supporting the HD displays, digital signage and wayfinding signage for synchronized stadium-wide messaging.
What's Inside
Daytona's concourse reveals a twist: four installations, representing Daytona Rising sponsors Sunoco, Toyota, Chevrolet and Florida Hospital, that are essentially AV-centric oases in which unique AV systems are designed to both promote their brands and provide unique event-production sites.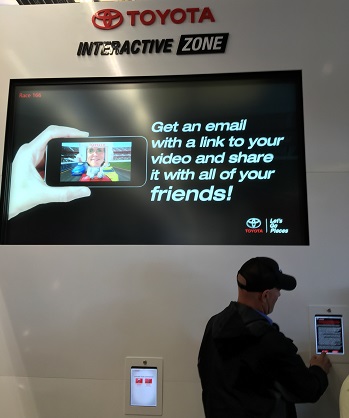 For example, Toyota's brand experience begins with a half-dozen new models arrayed on an incline between one of Daytona Rising's five massive "injectors" — escalators and stairs taking visitors to the top level of the concourse. Intellivox series speakers from JBL Pro — their automotive division supplies sound systems for Toyota's cars and trucks — provide a constant thrum of exhaust and engine sound effects to get visitors in the mood as they approach the main level. There, they'll see more Toyota vehicles, including one of Kyle Busch's Daytona 500-winning chariots, replete with its own localized sound effects. The ambience extends to interactive touchscreens, branded with Toyota's "Let's Go Places" advertising theme, that let visitors put pictures of themselves onto a large map of the U.S. that can then be sent to friends via email from the system (pictured, bottom).
"The concourse sound system allows trackside audio to continue to come into the zone during races, but it's also set up to allow a third party to bring in any other audio they want, using the BSS controller we put in," explains Carlos Gonzalez, president of The Integration Factory, the AV systems integrator that did the audio for the Toyota experience, as well as all the audio for the trackside part of the project. "It's a really immersive area that's intended to also be used for event production." Adds Guy Savage, engineering manager at The Integration Factory, "Daytona Rising is something that never existed before — it's its own event."
Other areas are equally interesting. Sunoco's includes suspended circular enclosures that have interior projection and speakers that put visitors in a Daytona 500 race for a few minutes as they gaze up into them. Over at Florida Hospital's area, visitors are immersed by a huge LED "sky" that changes seasons overhead (pictured, top). They can then follow a circular trail that takes visitors past interactive screens, some of which had integrated cameras and all of which have focused-beam speakers above them, outlining health messages.
Another Florida Hospital installation, installed by LMG, allows visitors to walk through its logo projected onto a FogScreen projection, with images cast onto a screen made of atomized water droplets projected by a Sony [https://pro.sony.com/bbsc/home.do ] laser projector housed in an outdoor enclosure. The bulbless projector has a lifespan of up to eight years, which was important for an outdoor installation.
Back at Toyota, LMG also installed and integrated a 200-inch multitouch videowall using a Planar videowall system, which is enclosed in a custom RP Visual Solutions outdoor enclosure. Nearby, Toyota's interactive Bobble Head Zone features an outdoor 84-inch 4K display TV where fans can take photos and have their heads superimposed on the body of a racecar driver. The images are then projected on a 4K display. The area also features a replica of the NASA Space Shuttle Endeavour that was once towed by a Toyota Tundra.
All exhibits are controlled using an AMX system and can have their content updated remotely, which will help allow them to be used by third-party users from event production. Erien Reinerth, sales engineer for LMG, one of three AV systems integrators that worked on Daytona Rising's concourse installations (the third was Technomedia Solutions), says content can be uploaded remotely to the servers in the Toyota and Florida Hospital areas.
"We have two big HP server workstations there packed with as much RAM as we could get," says Reinerth. "Our understanding was that these spaces, which are leased by the sponsors, will be available for a range of possible event uses in the future, so we built in as much content and operational flexibility as possible."
All of these areas, as well as the entire racetrack, are covered by Wi-Fi, integrated into the facility by the ARRIS Group, which also helped develop a mobile app and interactive engagement stations to help guide visitors around the new motorsports stadium.
Daytona Rising is designed to be the future of NASCAR venues, but it also cleverly includes possibilities for event-production that let its sponsoring brands maintain a presence (something NASCAR's heavily branded cars and racing suits have always excelled at) even as they create a set of unique, immersive experiences well suited for event production.
Overall, it's an auspicious and innovative reimaging of a seminal American motorsport venue with AV that, as Toyota likes to say, can take you places. And you thought NASCAR only made left turns.