Virtual Engagement in the Workplace is Key to Productivity
Posted on Nov 15, 2021
"The 'internal' in internal communications refers to within the whole organization, not just a particular room or building," writes Debbie Wilson-DeWitt, Marketing Communications Manager for Visix, Inc. "With at least some employees working remotely, it becomes even more important to reinforce culture and policies, motivate people and let them feel connected."
"The goal is to connect everyone inside and outside the office with the same mission and messaging."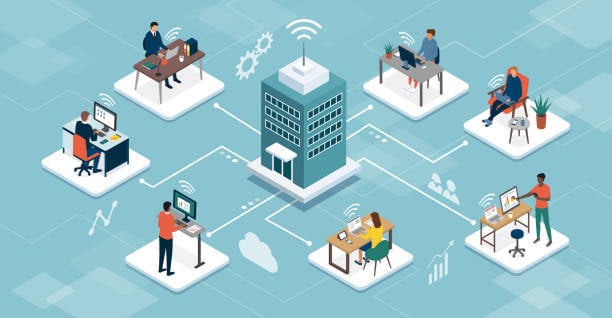 In a recent article for Digital Signage Today, Wilson-DeWitt explains that the role of multi-channel communications should be to give the same experience to an employee across all communication platforms with consistent messaging and branding. "For internal communications, it might encompass messaging for face-to-face meetings, town halls, videoconferences, email, business communication platforms, intranets, social media, printed posters, and digital signs."
"Start thinking outside the traditional push model and use any and all communication channels at your disposal to encourage virtual engagement and interaction," Wilson-DeWitt remarks. "Since more people will be using mobiles on the job, interactive content that lets people click, comment and share will get more participation than in the past. And because people aren't working side-by-side as much, easy feedback systems will be even more important."
"The trick is to balance engagement with workload." Says Wilson-DeWitt. "The fear of every communicator is that with more channels available, they'll have to work up separate campaigns and creative for all of them. That's not necessarily so. You will have to discern what works best where, but then you can streamline workflows. "
A good barometer that virtual engagement is succeeding is that remote employees are interacting more than they were in the office full-time. These team members may be yearning for a sense of inclusion and are more willing to participate than they were in the face-to-face meetings of the past.
With remote workforces growing by the day, the author stresses the importance of new types of content that are relevant to employees, including employee-created content, employee recognition, and transparency. "Kudos can still happen one-on-one via videoconference with a manager, but for most employees, a shout-out across your internal channels will make them feel more appreciated and connected."
To read more advice from Debbie Wilson-DeWitt on creating engagement that matters to remote employees, read here original article here.
TOPICS IN THIS ARTICLE