Tips for Planning a Safe Show
Posted on Oct 29, 2020
Getting everyone back to work safely and effectively is top of mind for most employers these days. One of the biggest challenges facing every employer is no official COVID-19 safety training (or certification) currently exists.
For those resuming production of live events, movie filming, theater, music, and more, "trying to do production the normal way and adding COVID-19 controls (for an immediate fix) is not going to work," said Kent Jorgensen, Chairman of the International Alliance of Theatrical Stage Employees (IATSE) Moving Picture Technicians, Artists and Allied Crafts Safety Committee and the Labor Chair for the motion picture and television Industry-Wide Labor-Management Safety Committee.
Instead, a COVID-19 mitigation control plan needs to be established in addition to existing Occupational Safety and Health Administration (OSHA) safety plans that every employer should already have in place. Production tasks should then be worked into that overall plan.
In the webinar, Planning a Safe Show? This is What You Need to Know, a panel of IATSE experts share tips for planning the safe return of entertainment event personnel.
Prior to Starting Work: General Employer Responsibilities
According to OSHA form 3071, safety is the responsibility of the employer. As a starting point, the guidelines presented in this article (and webinar) assume that an OSHA safety plan is already in place.
In a unionized workplace, the union will work with employers to ensure a safety plan is in place.
However, "most of the entertainment industry is comprised of employees that are hired for specific events and timeframes," said Jorgensen. "The employers are still responsible for training the employees."
In addition to the OSHA plan, the following guidelines are suggested.
Designate a COVID-19 Compliance Officer (CCO) to oversee and coordinate the necessary COVID-related health and safety for the production and/or venue. Specific duties and responsibilities may include, but are not limited to, overseeing and monitoring adherence to protocols for:
Physical distancing
Testing
Symptom monitoring
Disinfecting
Personal protective equipment (PPE) training and use
Other duties determined by the employer
It is the employer's responsibility to designate the CCO role. While there is no official training for a CCO, the employer would ultimately have to answer for selecting someone who isn't qualified. Some training is better than nothing.
"In my capacity as the Safety Chair — talking to studio and other safety professionals from employers — most agree that an OSHA Outreach 30-hour class is necessary as it has a COVID module to help teach these kinds of things," said Jorgensen.
Other sources for information include the World Health Organization (WHO), Centers for Disease Control (CDC), and IATSE.
Perform a Job hazard Analysis Before Employees Return to Work
Once designated, the CCO will oversee a job hazard analysis to identify hazards in the workplace.
"Ask what could possibly go wrong?" said Hannah D'Amico, Safety and Training Outreach Coordinator for the IATSE Education and Training Department. "Consider this an exercise in detective work. As an employer, you know your worksite, departments, and workers, and how they interact."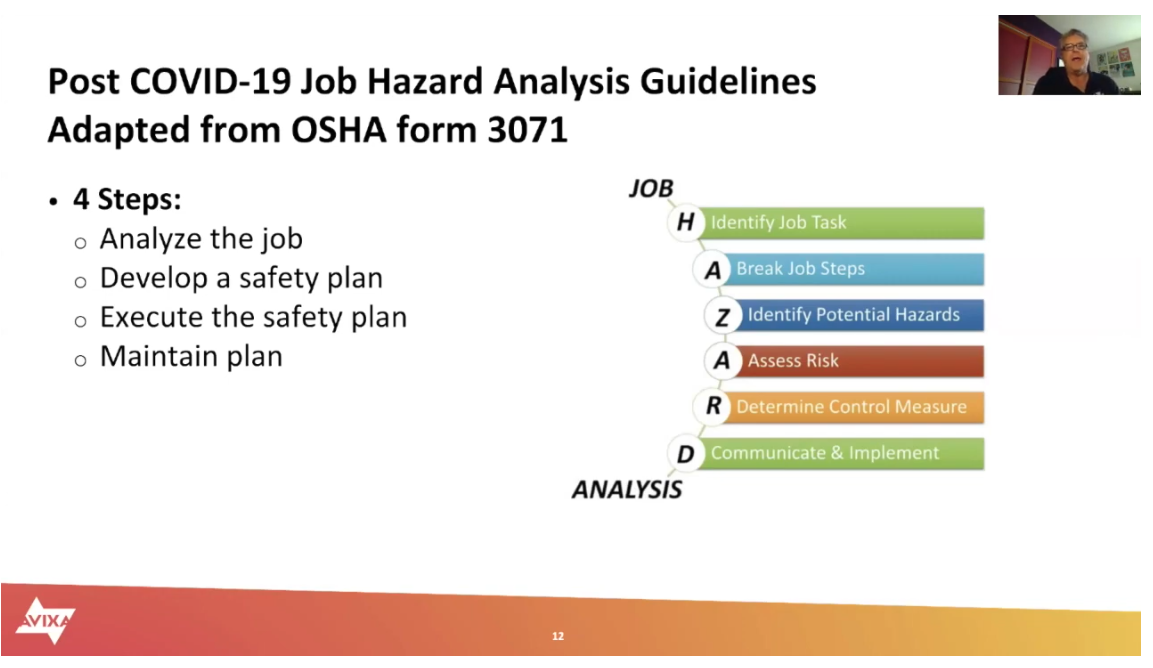 List the departments in your facility or production, look at the activities of each department and how they execute responsibilities and interactions. What hazards will they be exposed to?
Identify job activities where:
People are brought close together to perform their work.
Facilities have been closed for a long period of time and not cleaned.
Surfaces with unknown sanitization are involved.
Handling other people's garments, possessions, or refuse are involved.
Employees unfamiliar with the employer's policies for post-COVID-19 work activities join the crew.
Develop a Safety Plan
After conducting the job analysis, determine how to mitigate the risks. In this case, how will you reduce exposure for all participants? This includes developing a policy for dealing with outside deliveries and vendors.
Make sure the safety plan complies with all federal, state/provincial, and local government guidelines. Also, check to see if the venue has specific guidelines that need to be followed.
Review the analysis, confirm that the plan includes safe working guidelines, avoid making the steps too detailed, and get input from the workers on the ground — they are practicing the policies every day and will have suggestions for improvement.
"The key to making this work is going to be a team effort of coordination and communication," said Eddie Raymond, Retired Safety & Training Director of IATSE Local 16 and now an OSHA Outreach Instructor. "Everyone needs to be on the same page, otherwise there will be holes and people will get sick."
If the risk requires a professional, find one. In dealing with COVID-19, having access to appropriate medical personnel who can advise is critical.
Develop a plan to mitigate identified hazards through appropriate engineering solutions, administrative controls, and PPE for workers such as:
Increased ventilation
Separating tasks and work areas, and staggering work crews
Air filtration
Avoiding atmospheric fog or dusts (to reduce virus hanging in these particles)
Implementing artistic alternatives where needed
Educate Employees on Procedures and Guidelines
Employees need to be comfortable about returning to the job. Before beginning work, make employees aware of employer procedures and guidelines and train them in best practices. Address employee concerns by talking about risks and educating them on symptoms and prevention at home and work.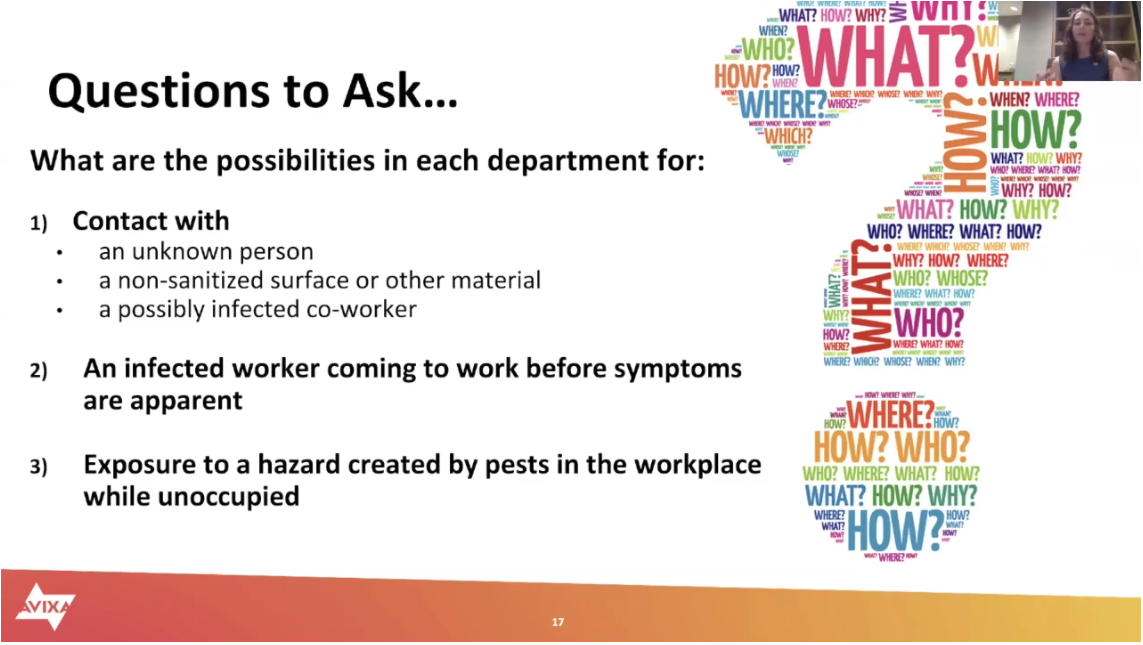 Establish a culture of training and safety and a method for updating training as things change. For example:
Promote respiratory etiquette and virus prevention including hand washing; mask wearing; physical distancing; avoiding touching the face; coughing and/or sneezing into a tissue, towel, elbow, or cloth.
Understand how and when to clean, sanitize, and disinfect industry-specific equipment such as mics, walkie-talkies, cameras, control panels, and phones.
Provide well-ventilated areas to keep the virus from accumulating in aerosolized particles.
Make sure high-touch surfaces and other materials that may have been infected and exposed are cleaned.
Develop a Robust Plan for Employee Health Recommendations
Suggestions include:
Actively encourage sick employees to stay home
Policy on prework health screening
Policy for documenting allergies and possibly asymptomatic employees
Provide guidelines for leave, telework, and employee pay
What to do if you or someone at home is sick
What to do if a coworker is sick
Protections for employees
Cleaning work areas
Tracking illness including virus testing and recovery
Execute and Maintain the Plan
Understand that once started, this will be a continuous and dynamic process. As situations change and evolve, so will the COVID-19 safety plan.
"The OSHA form 3071, stepping outside of COVID for a moment, is something we should be doing daily," said Alan M. Rowe, Chairman of the IATSE Craft Advancement Program and President and Safety & Training Director for IATSE Local 728. "Identify the hazard and mitigate to a safe and manageable level or eliminate all together where possible."
"The sooner you get used to following these protocols, the better off you're going to be. PPE needs to be second nature. Work it into your current routine now," said Rowe. "Don't share air. Don't share materials and tools."