This is How Pro-AV Companies Will Win the Future
Posted on Nov 6, 2019
Robyn Benincasa has seen a lot. As a two-time world champion in adventure racing, it's tempting to say she's seen it all, from the jungles of Borneo to the deserts of Namibia. One time, a racer on a competing team tore her Achilles tendon and that competitor's teammates carried her through the grueling wilderness course rather than bow out of the competition.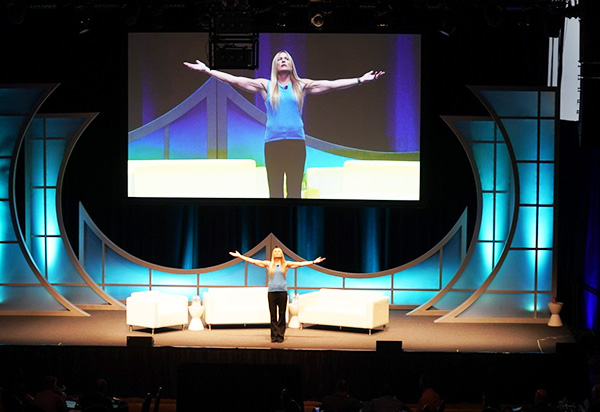 Robyn Benincasa
Benincasa also knows teamwork intimately. Perhaps the most salient story she shared with attendees of AVIXA's 2019 AV Executive Conference in New Orleans went like this: During one of the many adventure races she took part in over her career, the top two teams (including hers), came to a point where they needed to decide how best to proceed. There were 60-plus other teams on their heels, but the two groups stopped, consulted maps together, and figured out the best way to put the most distance between themselves and the others. In other words, they partnered with the competition on the best solution for the race ahead; a solution that, indeed, left everyone else in their dust. Or as Benincasa described it to the AVEC audience, they got together with the best and brightest and became exponentially better — and faster.
Partners are the Future
The pro-AV industry continues to change and evolve rapidly. That's been a common theme for years. A less common theme coming out of AVEC has been that to navigate change and succeed, companies need partners.
"The industry has gotten wiser and open to levels of partnership that don't hurt the average integrator," said John Melillo, Senior Vice President for the Digital Media Group at Diversified, during a talk about trends in digital signage solutions. "We're partnering with a lot of people around the world to deliver the end product."
AV companies today need to be part of ecosystems, added Florian Rotberg, Managing Director of Invidis Consulting. And in setting the stage for AVEC, Jon Sidwick, Senior Vice President at Maverick AV Solutions, talked in terms of platforms, and how AV companies will work together with today's highest-profile enterprise technology platform providers — Google, Microsoft, Zoom, but also SAP, Adobe, Salesforce, and others — "who will need [companies] in our space to enable their products to work."
Partnerships Get Companies to the Table
More and different companies are seeking AV expertise — workspace design companies building out technology practices, for example. And AV companies are partnering with a variety of interested firms that might not have been on each other's radars five years ago.
"Probably the greatest example of this is our growing commitment to working with the likes of Jones Lang LaSalle, CBRE and other very large building management companies," said Joe Laezza, Senior Vice President for Global Accounts at AVI-SPL, on a panel about the future of collaboration. "If you rewind five to 10 years ago, they knew Johnson Controls was doing some things, but smart buildings didn't necessarily cross over and they have now …. We've got partnerships we look to leverage for getting to the table and enabling the workplace from a digitization perspective."
Julian Phillips, Executive Vice President of Whitlock, described how the integrator recently shared a booth at Microsoft's Ignite conference with furniture manufacturer Herman Miller. The curious combination led to questions, which the Whitlock team would answer by illustrating the need for a workspace design process that included technology.
"You can start to see how the conversation moves forward," Phillips told the AVEC crowd. "This isn't about us talking about selling furniture. It's us having the opportunity to get into the conversation early enough and have joined up design thinking so we're actually creating a better outcome for customers."
Think Differently: The Steve Gurney Missile
Partnering with competitors? With IT companies? Partnering outside your core industry? It all represents a new way of thinking for many pro-AV firms. But many insist it's the future of the industry. Companies need to learn how to form partnerships, go to market with partners, and ultimately manage the partnerships that deliver the best results.
"If you do not have a plan for how you can actually change the dynamic and get earlier into the conversation so you can bring unique value, then you're going to lose out," Phillips continued. "Partnerships are the way we have to start thinking, because you can't invest in all those skillsets and expertise on your own…. We need to learn fast, and we need to experiment."
Which brings us to the Steve Gurney Missile and the importance of thinking differently.
At AVEC 2019, Robyn Benincasa told a story about competing against the best team in adventure racing, the French Team Intersport, in Ecuador. On Day 7 (of 10!), the teams were transitioning from a whitewater raft to a pair of inflatable canoes when Benincasa's teammate Steve Gurney had an idea: lash the two canoes together end-to-end to create a faster, more streamlined boat that would cut through the water, and use kayak paddles to propel. It had never been done before, Benincasa said, and it worked like a charm.
"So, what is your next Steve Gurney Missile?" she asked.
Maybe it's the new partner that helps an AV company reinvent its value proposition and deliver the outcomes customers need.
TOPICS IN THIS ARTICLE