The Power of Audiovisual Experiences: Taking the Message of Better Business Outcomes to Markets Poised to Capitalize on AV Solutions
Posted on May 13, 2019
This story first appeared in Xperience, the official publication of AVIXA. For more articles, take a look inside.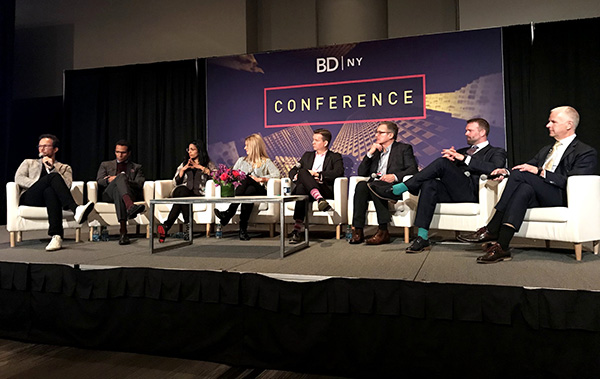 Passenger Terminal Expo is one of the largest airport trade shows in the world — a dynamic, global gathering of industry executives and solution providers focused on reimagining air travel. It's where Skytrax hands out its World Airport Awards and attendees explore everything from the latest baggage-handling technology to cutting-edge wayfinding and digital signage. I've been through airports all over the world, and it's exciting to see so many investing so heavily in audiovisual solutions to improve the passenger experience and boost operational performance.
In March, on behalf of AVIXA and all the AV industry, I had a chance to take part in the show's conference, along with Maurice Jenkins, Chief Information Officer of Miami International Airport; Jesus Saenz, Chief Operating Officer of Houston Bush International Airport; Keith Thompson, Principal at Gensler; and Andrew Merkin, Producer at Moment Factory. We took the stage for a discussion of the business value of AV to airport design. Merkin, whose company has created immersive, engaging AV experiences in terminals at Los Angeles International and Singapore Changi Airport (Skytrax's top airport in 2018), underscored the role AV plays in storytelling, branding, and otherwise turning what might be a stressful trip into something more enjoyable.
Transportation is an industry sector investing more in audiovisual technology, according to AVIXA's market research; our role as an industry association is to speak directly to decision-makers working in airports — and other markets — to increase their awareness of AV solutions. It's part of a commitment by AVIXA to act as a catalyst for market growth, and one that's taken us all over the world speaking to audiences working in retail, hospitality, transportation, financial services, sports venues, and higher education.
Last fall, at BDNY 2018, a sprawling conference and exhibition for the hotel design industry at New York's Jacob Javits Center, AVIXA delivered a pair of sessions. In the first, executives from Marriott, W Hotels, Loews Hotels, PSAV, Gensler, architecture firm HKS, and hospitality design consultants Hirsch Bedner Associates, joined me to detail for attendees how their companies embraced audiovisual solutions in hotels. Kavitha Iyer, Senior Design Manager for Marriott, explained how "AV helps create hospitality as theater." Steven Upchurch, Managing Director and Principal of Gensler, urged the industry to consider audiovisual solutions at the "visioning" stage of a hospitality design in order to maximize their impact. In the second session, several of those executives dove deeper into AV experiences they'd created. Mary Alice Palmer of HKS and Gary Womack of Loews Hotels walked us through technology considerations for a new breed of hotels being built around sports venues, such as the Live! By Loews complexes in Arlington, Texas, and St. Louis.
Since last InfoComm, AVIXA has taken part in the International Retail Design Conference, OEB Global for higher education professionals, the ALSD Design and Build forum and ALSD International conferences for sports venue operators, American Association of Airport Executives' Innovation Forum, Intelligent Transport Conference, and more. At all stops, the connections made have been valuable. Bringing the AV industry into closer collaboration with the industries it serves creates not only better business opportunities, but also audiovisual solutions that truly impact how people experience the world around them.
For more on some of the industries where AV solutions have an impact, plus AVIXA's experiences engaging those markets, visit avixa.org/markets.
TOPICS IN THIS ARTICLE