Seeing the Future at a Creative Technologists Jam Session
Posted on Feb 13, 2019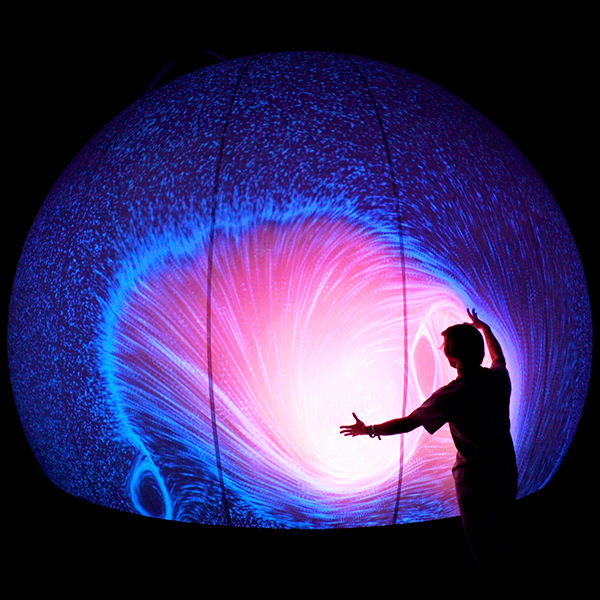 Boolean Planet by Future Wife
Usually it happens in garages or basements, but now it's also happening in lofts, full-scale production studios, fabrication shops and robotics labs. The results are unpredictable, and maybe even incidental, just so long as new ideas are exchanged, some expertise is shared, and a thing called laughter occasionally happens.
Historically labeled a "jam session," these gatherings of likeminded souls are all about sharing talent and maybe accidentally solving some technical problems in a casually collaborative fashion. The roots of this cultural phenomenon remain embedded in music, but now there's a new kind of creative technologist jam session happening, and it's probably more likely to be called a hackathon or some other more contemporarily cool-sounding thing. But the goal of not having a goal -- just exercising your skill sets and talents in an amusing fashion -- is the same.
The AV industry has always been one for getting together and "jamming" after work. When your work involves the stuff you actually love, it only makes sense that your free time looks a little bit like work time.
Some see that overlap as a problem. The New York Times just published a piece of commentary about how the millennial generation is hustling too hard, but I think it's missing the point. These people actually like what they do for a living — also, they're not just millennials. This is a group containing many demographics, and whether they're getting paid for it or not, they're asking. "How can we take that thing apart? How can we build that thing better? And how can we have fun doing it?"
That's the ethos behind some gatherings that have been occurring among several creative technologists and AV practitioners who participated in last year's InfoComm Center Stage sessions. This is a group of people who work in similar fields, but who didn't necessarily know each other before they all headed to Las Vegas to do some talks in 2018. Now we're getting together in New York every few months.
We did one of these events recently and enjoyed an official reconvening with our Center Stage leader Rachel Bradshaw, Director of Program Design for AVIXA. The location was the fabulously next-level home of all that is immersive experience design, "Future Space," out in Brooklyn. Our hosts were Dave Rife and Gabe Liberti of Dave & Gabe, who brought all the cool technology to the room, alongside one of Future Space's other core residents, Beau Burrows of Future Wife, who dazzled with mechanized ping-pong-ball arrays and other interactive video delights.
Beneath the canopy of Dave & Gabe's 40-channel spatialized audio system, which was very much a part of the creative technologist jam, the Center Stage crew caught up on fun new things like AV&C's installation of lull (pod) in a gallery on Canal Street in Manhattan.
Jam requirements of no agenda and, yes, laughter were met. And the informal meeting proved again that we love what we're doing — and that it's just getting more creative out there.
We're so fortunate to be involved in a business that is founded in entertainment and connection. Whether the project outcome is a stage production, live event, global conference call, media-enhanced education, immersive retail and hospitality experiences or sports spectacle, it's kinda all about the jam. Do we like working together well enough to play together? Yes, actually, we do.
TOPICS IN THIS ARTICLE