Podcast: Reshaping the classroom experience
Posted on Sep 18, 2020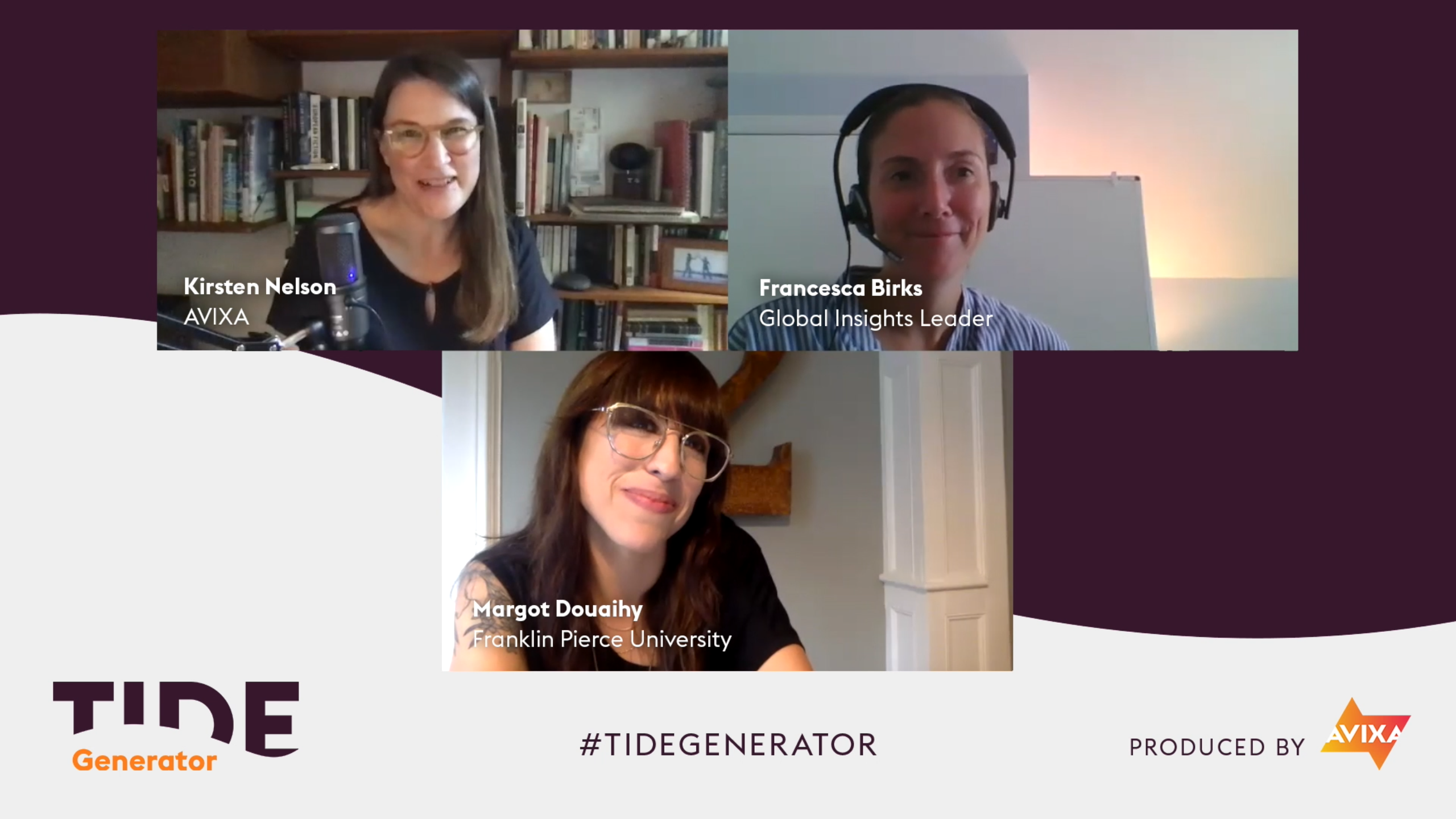 For years flexible learning spaces have undergone rapid evolutions to accommodate new styles of learning. AV technology is at the center of these changes both as the impetus to create more interactive classroom experiences and as a reflection of the tools and knowledge sources central to learning.
Now this technology is even more essential in a remote-learning landscape in the pandemic. But alongside the functional nature of the tech-centric classroom, there is also a human-centric shift that is occurring. How can we demystify technology for teachers and ask questions about usability? And what are the ways that AV and media tools can be used to harness the potential of narrative in learning?
TIDE Generator Host Kirsten Nelson speaks with Dr. Margot Douaihy, Ph.D.,, a writer, editor and analyst who teachers at Franklin Pierce University, and Francesca Birks, Global Insights Leader with a worldwide architecture firm to talk about the numerous ways technology is reshaping the classroom experience in K-12 and higher education.
As hybrid models for in-person and remote education continue to evolve, how can we make learning spaces more engaging and adaptable?
""One way to optimize multipurpose spaces (today and for tomorrow) is to consider IP-enabled AV that can adapt to the needs of each class—onsite or HyFlex (hybrid/flexible). Network-connected ceiling mics, for example, can be scaled up or down to capture localized or zoned sound, or the sounds and conversations of an entire class. No student—onsite or online—should feel like an afterthought. Making sure everyone—onsite and online—can hear the class with pristine audio quality is critical for the learning experience.""
Dr. Margot Douaihy
Franklin Pierce University
In the K-12 space, as technology becomes essential to continue learning from home, the issues of equity and access must be addressed. How can we use tech to introduce creative new approaches to learning such as multi-modality, interdisciplinary approaches, and spatial computing/AR/VR? This time of accelerated experimentation will yield big changes to the way that AV and media are used in education, both now and in the future.
Subscribe to the TIDE Generator Podcast on:
Anchor
Apple
Spotify