Now It's the "Smart" Built Environment
Posted on Nov 24, 2020
For years, many of us have worked in "the built environment." Now it's time we catch up to the "smart" built environment.
A new 10-part series Smart Buildings Power Hour from AVIXA brings you the latest from the frontlines of a fast-changing landscape impacted by the pandemic, the exciting new IoT technology, human-centric design, government regulations & incentives, proptech innovation, and changing energy options.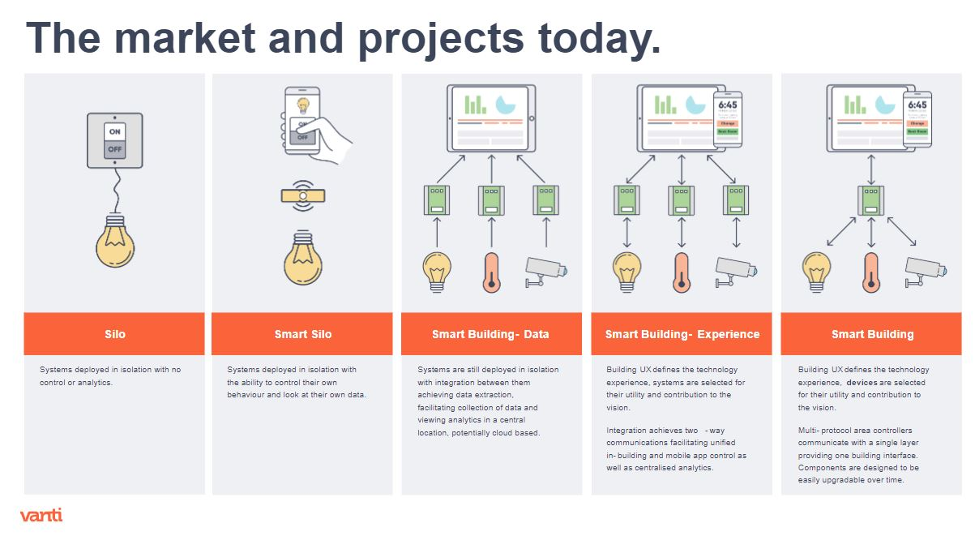 Smart building projects that a Master Systems Integrator encounters. Chart courtesy Vanti.
While there is still much debate about what defines a smart building, you can appreciate the term describes a moving target, an industry that is constantly adapting to new technology as the old silos of building management fall and converge onto shared networks. Just like in human intelligence where someone can be "smart" for different reasons – emotional intelligence, street smarts, academic smarts or mechanical smarts – many buildings can be smart in one way and still "dumb" in another.
And what was "smart" five years ago may seem average today, as different buildings are in different stages of their lifecycles. In some cases, we have the newest buildings going up as "smart," but in most cases we have 80% of the market in buildings that need retrofit.
In the first Power Hour discussion on the opportunity and market, Susan Clarke, Smart Buildings Research Director for Verdantix, brought a preview of their recently released research on systems integrators for smart buildings and identified three key trends: the digitalization of technologies in the building including IoT; a changing buyer demand, especially new appetites to improve occupant experience - it's no longer about the kit but more about a strategic goal; and the change in the competitive landscape as integrators learn to broaden their capabilities from specialists to multi-integrators.
Verdantix identifies six key categories of smart building integrators, the most revealing one perhaps being the Master Systems Integrator, the MSI that can do it all. Not everyone will need to aspire to Master System Integrator status.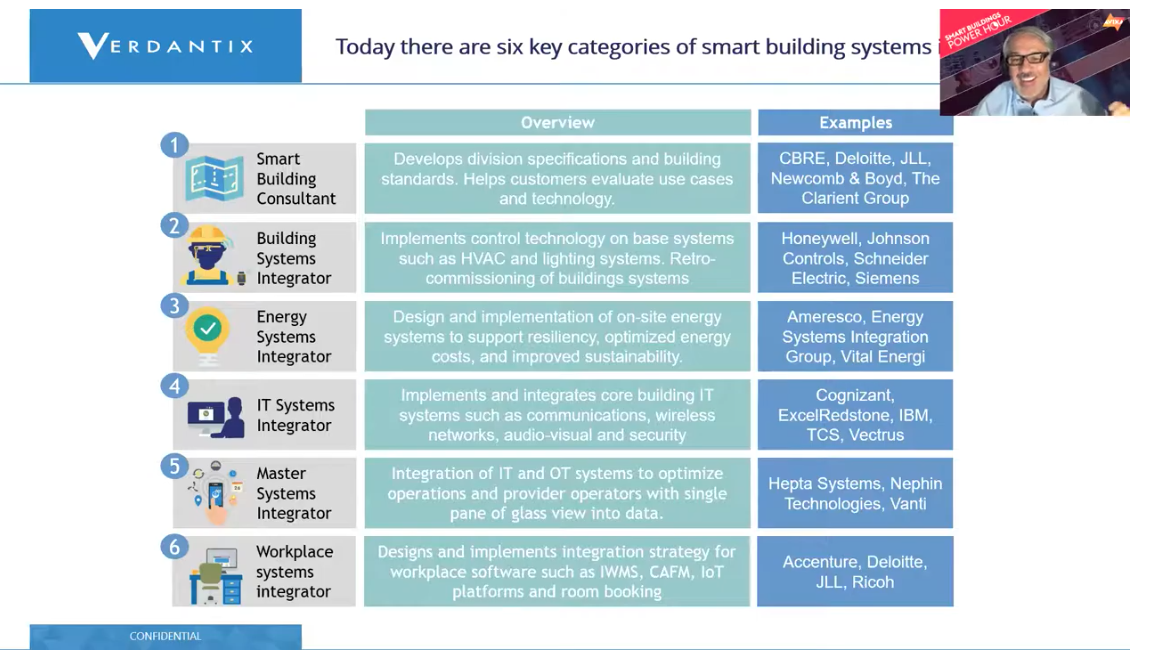 Six Categories of smart building systems. Chart Courtesy of Verdantix.
One of the reasons AVIXA has a 10-part series in smart buildings is because the opportunity is wide enough that integrators can pick and choose which in-building aspects of today's smart buildings match their own skillsets.
Peter Coman, Smart Workplace Strategy & Design Principle at PTS Consulting, told us his firm recognizes there are not many truly smart buildings and instead refocused efforts on smart workplaces, hoping to use the allure of truly smart workplaces to inspire stakeholders to create smarter buildings. He is currently in New York City working with tech giants to help them re-imagine their global workplace by leveraging smart technologies to enhance workplace activities and the user experience.
Joseph Aamidor, Managing Director of Aamidor Consulting in California, told us that data from McKinsey expects the building controls market to be worth $75 billion and to grow to $100 billion by 2026. There is still so much legacy equipment in the market, says Aamidor, that today's influx of connected equipment looks to use a cloud-based overlay to integrate the data and create intelligence from disparate legacy systems.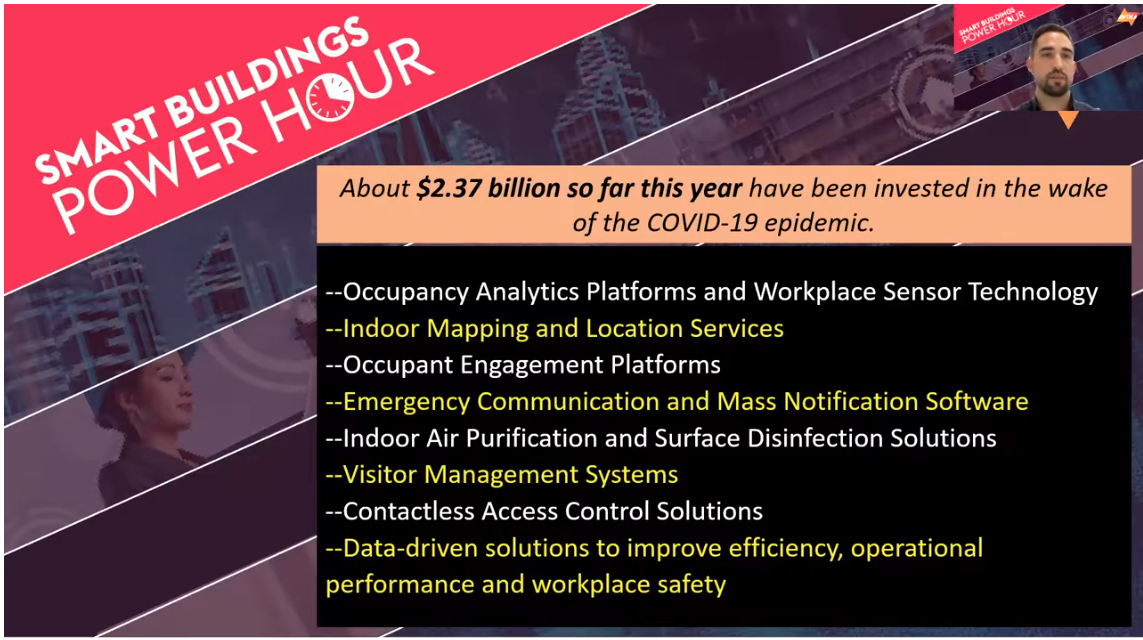 Mike Brooman, the CEO of Vanti, a Master Systems Integrator and AVIXA member, agreed the bigger opportunity may be in retrofit. One experience he mentioned was a commercial client with a large building that left the lights on 24/7 because—years after installation— no one remembers how to turn them off.
Brooman outlined the full range of projects that a Master Systems Integrator encounters. (See chart above.) And Coman encouraged us to understand that we first need a Master Systems Designer unless we want the havoc of legacy systems to continue.
As the built environment gets smarter, everyone agrees there are opportunities for integrators to expand their expertise and business if they pick carefully. It seems that in the smart building environment, as in human life, the way to get smarter is one step at a time.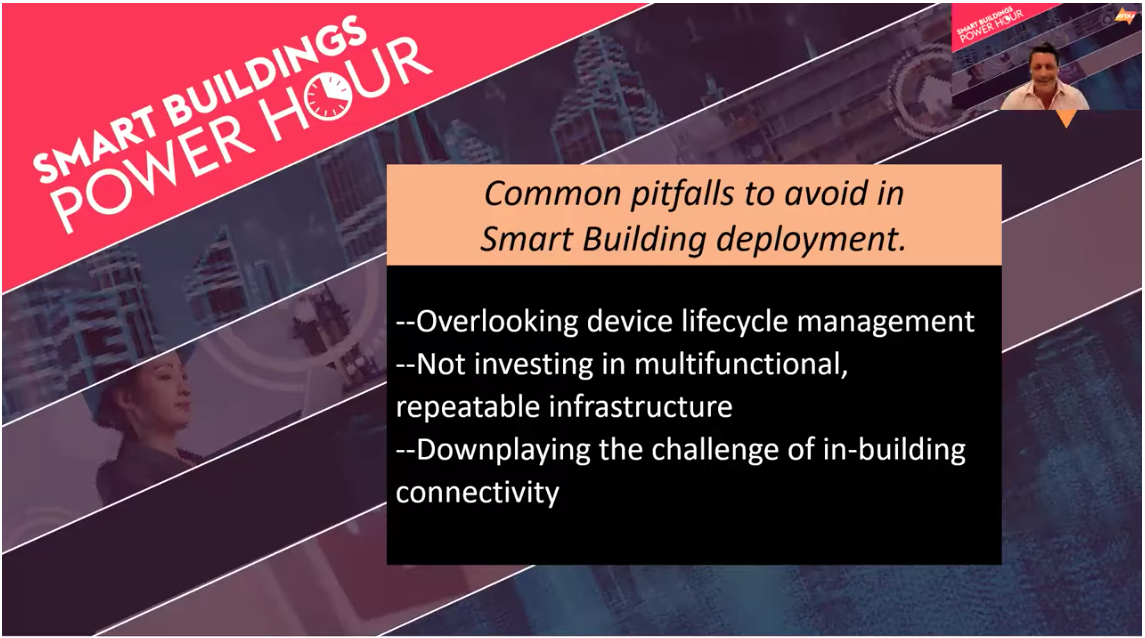 For example, the newest applications include space management, environmental monitoring, asset management, and cleanliness and hygiene management, offered as standalone solutions or to augment existing building automation systems.
Together, these new solutions will grow at 32% CAGR over the next eight years to create US$2 billion in software and services revenues by 2026, according to a new report from global tech market advisory firm, ABI Research.
As human-centric design emerges from the pandemic and from the digital transformation of rooms, buildings, and enterprises, the categories of built environment technology where professional AV integrators can add value are increasing. Now is the time: Verdantix research shows it's only the beginning of the phase when the vertical integrators from all various silos ask themselves: "What else do I need to know? How else can I apply my integration skills to a new and emerging situation?"
While the pro AV business matures, companies feel some doors are closing on traditional opportunities. Yet for every door that closes, another opens. Especially if it is a smart door.
The Smart Buildings Power Hour is a 10-part series, with each session dedicated to one or two big topics such as Energy, Workplace and Health, Building IoT, BIM, Digital Twin.
Power Hour offers 60-minutes of informed discussion with very few slides, an animated insight into how to get your head around a big topic that impacts almost all we do in the built environment.
While a session may focus on a topic (let's say, IoT), that doesn't mean IoT wouldn't come up in discussions on Energy, Workplace, Building Control. But it does mean we'll have top experts in that session that can address most questions you might have about the main topic.

Register for December's Smart Buildings Power Hour: Lighting