Industry Insights: Together Again Expo Demonstrates New Concepts in Production
Posted on Sep 23, 2020
On July 24, 2020, Technisch Creative provided live production support to the Together Again Expo, one of the first large-scale events to return to the Orange County Convention Center in Orlando, Florida, after the shutdown caused by COVID-19. The expo was created to demonstrate a safe and successful approach to large event production following some loosening of restrictions in the state. 1,400 live event professionals and 250 exhibitors gathered in-person in Orlando while over 8,000 attendees tuned in to the virtual programming.
Recognizing the level of pent-up demand for live events such as conventions and trade shows, Technisch Creative CEO Heidi Brumbach viewed the expo as a great way to showcase new practices and a way to show event organizers that it's possible to move forward with staging events, albeit in very different circumstances.
"There are a lot of companies out there that, before the pandemic, had planned to participate in live events; companies whose success rely on the connections and sales they make," Brumbach said. "When one of your primary marketing and communications tools is suddenly taken away from you, it's really difficult to make up for that. We were glad to be able to demonstrate that, while it may not be business as usual, you can still do business by meeting in person."
Strategies for Success
During the planning stages, Technisch Creative developed strategies for protecting the health and safety of the crew and onstage talent. Protocols were established and strictly followed that involved constantly sanitizing all equipment, including microphones, consoles, cameras, and computers. Guidance from the county required a larger than normal exhibit hall to allow for more spacing, which in turn allowed the crew to be spaced out backstage with every tech getting at least one 6 ft table.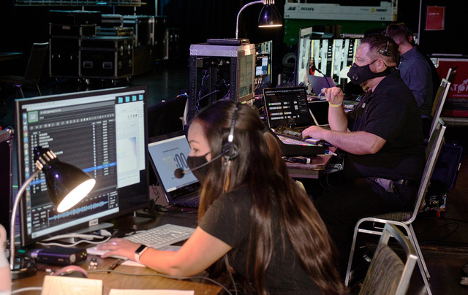 The entire crew ran the show from backstage. Photo courtesy Technisch Creative.
"The goal of the organizers was to design an event where no one was exposed to potentially dangerous pathogens and there were no cases of coronavirus being transmitted," Brumbach said.
Crew members were thoroughly briefed and educated on the new safety protocols and daily temperature checks and face coverings were required and monitored. To minimize large group gatherings, load-in periods were extended to allow for smaller crews and increased distancing. Traditionally front-of-house roles such as audio and lighting were relocated to more spacious areas backstage. Rational Acoustic's Smaart audio analysis software allowed audio to reference backstage monitors to the relative FOH levels. In addition, Technisch Creative provided individually packaged snacks and drinks so there would be no shared food or beverage.
To eliminate crew contact with interviewers and interviewees, the team set up two JVC PTZ cameras, a boom mic, and soft box studio lighting. Both cameras and a Behringer X32 Producer digital audio console were controlled remotely over the existing building LAN. Audio and video signals were distributed over a custom configured VLAN using Visionary Solutions' Packet AV Duet 2 DANTE and video-over-IP encoders and decoders, operated from the main backstage area. Another roving camera was used to capture exhibitor showcases directly from the booth and the images were sent wirelessly to the main show switch and livestream feed.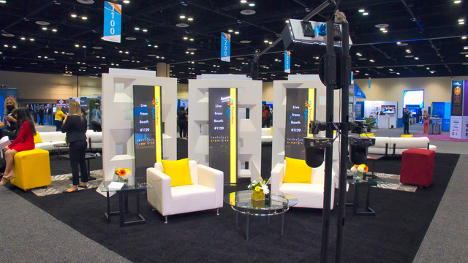 Show floor interviewers were captured with remotely controlled equipment. Photo courtesy Technisch Creative.
Looking to the Future
Providing a remote audience the opportunity to view the event with a livestream was exciting and instructional, according to Brumbach. Thousands of professionals from around the world tuned in to learn how a live event might look in the near future.
She noted that one of the main challenges was monitoring the online chat during the livestream. A lot of comments were requests that were impossible to respond to in real time. "Because we were trying a lot of new concepts with a very small crew, we weren't able to respond or react to the majority of the viewer comments. However, it does point to a huge opportunity we can explore for the next event."
"Everyone involved with the event was really pleased with the results," she said. "In fact, we've probably learned some things that we'll be able to apply when these events truly go back to normal in a post-COVID world, which is exciting."
Technisch Creative specializes in live and virtual event production, creative development, and audiovisual production and is based in Orlando, Florida. Since opening its doors in 1999, Technisch Creative has established itself as a leading company in its field, earning numerous national and international awards.
Related: Practical Tips for Improving Virtual and Live Experiences
Event design has always been the foundation for successful events. Designing for live, virtual and hybrid is more important now than ever as organizations look to keep their audiences engaged, energized and coming back for more.