How to Use Your Audio Prowess as a Happy Shopping Diversion Over the Holidays
Posted on Nov 28, 2018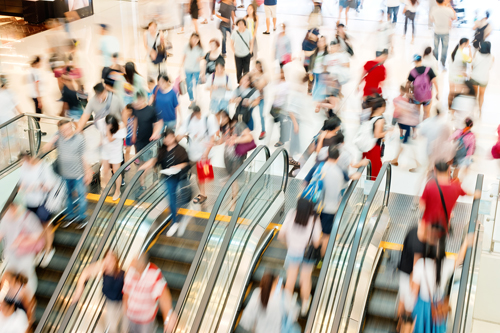 To ready myself for the holiday shopping season, I did some intense endurance training on the mean midtown streets of Manhattan with retail and hospitality audio guru David Schwartz, president of Essential Communications. Dropping into big brands' flagship stores and some smaller outposts for comparison, Schwartz and I tried not to draw attention to our spying selves as we pointed at speakers and took notes on the successes and failures of audio designs. I won't mention any names here, to protect the audio-deficient. Instead, I'd like to propose a little holiday shopping exercise to help distract you from the brick-and-mortar madness of the months ahead.

Does this store have its own music curation department? We're still on the upward curve of the "localization" and "personalization" craze at the heart of commerce, so there remains some sport in trying to separate the future-ready from the many retailers that continue to rely on smart phones and some Spotify. Savvy brands are already hiring tastemakers to guide location-specific music selection, Schwartz notes, "rather than be in the handcuffs of a traditional music provider." So take a listen. Are you hearing some totally un-Shazamable deep soul tracks? Or are these the exact same songs that any ol' music streaming bot would select?
Do these patterns clash? It's not just the relative obscurity of music that matters. Even familiar tracks can have a bespoke level of impact if they reflect a store's overall aesthetic. Try to connect the scene with the sound. Look for details about decor and try to guess what music matches best. Where you see lots of custom-carved wooden pieces carefully arranged in a dimly lit, luxe shopping habitat, you'll probably hear tastefully anachronistic '90s and early aught years electronic-infused mood pop.
Is the music here at least as good as the video? Yep, video is everywhere. But as the "experience" aspects of retail design continue to evolve, shoppers will grow wiser to mismatched video and audio quality. Walking into the midtown location of a sporty eyewear brand, Schwartz seems pained by the awkwardness of big video and tiny (in fact, tinny) audio. "Why have all that great video content of major athletes if your music is way too low?"
Can you find the sonic dead spot in this store? Every AV professional knows it. Even coverage is key. Still, that knowledge hasn't quite reached the mainstream, even now. Walking into a major fashion flagship location, Schwartz pointed at the ceiling speakers mounted some 40 feet above a glass-walled atrium. Probably not gonna sound great when you move from that area to the adjacent lower-ceilinged space. "It's important to have a continuous experience, with no dead spots," he emphasized. "Otherwise you lift the veil or show what's going on behind the curtain if all of the sudden there's a break." Visually this is important, too. Successful installs are very intentional in their speaker placement. When speakers look like they're evenly spaced with architecture and interior design, it's just better.
Final Analysis: Rate the store owner's audiophile tendencies on a scale of 1-10. With one being "probably uses standard-issue iPhone earphones and calls it good" and 10 being, "definitely buys the mink-wrapped, Swarovski-bedazzled speaker cable every time," try to rate the store owner's audiophile tendencies. Maybe they're not using the most high-end gear on premise, but if the music selection is better than that of your standard Uber driver and the loudspeaker placement looks like it might actually have been designed by a professional, you're dealing with a sound-savvy boss. Lucky for Schwartz, most of his clients tend toward the latter category. To match their visual and aural requirements, he's developed customized loudspeakers and refurbished vintage cabinets for mega flagships and tiny boutiques. Ultimately, it seems that more than a few clients "channel their love of audio through me." That's kind of the best part of being in AV, right?
TOPICS IN THIS ARTICLE