How the Internet of Things Changes Everything in the Built Environment
Posted on Feb 23, 2021
For years, many of us have worked in "the built environment." Now it's time we catch up to the "smart" built environment. SMART BUILDINGS POWER HOUR from AVIXA brings you the latest from the frontlines of a fast-changing landscape impacted by the pandemic, exciting new IoT technology, human-centric design, and proptech innovation.
We're just past halfway in our SMART BUILDING POWER HOUR series and the first important fact we learned is that, despite the pandemic, the smart building market appears to be an irresistible force. Insiders might still complain the pace is "glacial," but very few forces stop a glacier. And glaciers seem to always get places faster than expected, surprising those observers lulled by the deception of the always-forward, slow and steady push.
COVID-19 Sparks Smart Building Revitalization
Every 2020 research study on start-ups reports that the smart building sector is up (e.g., No Slowdown in PropTech Startup Investment in 2020 Despite COVID-19).
In fact, this pandemic clearly inspired commercial real estate executives and other stakeholders to turn more to smart technology to safely bring companies and organizations back to work. Building lobbies now stand as the first line of defense against COVID-19 and digital signage plays an invigorated role. Throughout the building, the single most important factor for a healthy building is Indoor Air Quality (IAQ), enabled mostly by sensor-driven technologies within the broader category of IoT.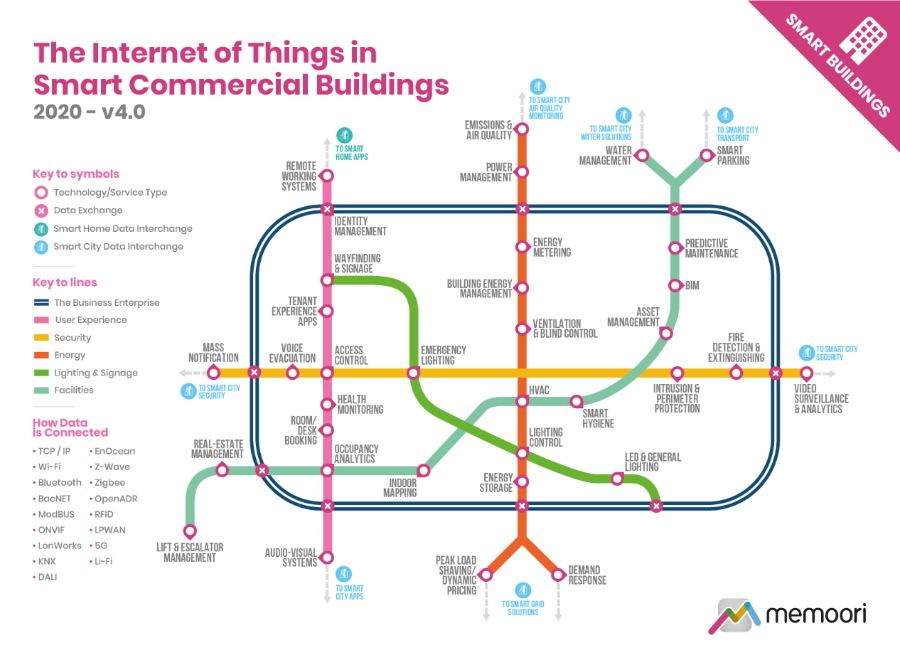 Chart from Memoori
How we will get back to work safely, what new workplace configurations and models we'll see, and how we achieve safety in commercial and work environments – these being the most important questions for the in-building environment – also affect so many categories within the AVIXA technologies we represent.
Building Automation Tech is Booming. Here's Why
"With an expected market growth from $75 billion in 2019 to $121.5 billion by 2024, the adoption rates of building automation technology are significantly increasing. While the growth of IoT-enabled devices has extended into the buildings industry, an increasing number of components within building infrastructure are now connected to the internet and therefore to each other – representing a convergence of IT and OT," the VP Digital Buildings at Schneider Electric, James Mylett, recently told the press.

Source: Siemens
The convergence Myett talks about represents the last major battle for building control: we've moved mostly from fighting many silos of technology to fighting over two backbones, Operational Technology (OT) and Information Technology (IT). Both depend on the Internet of Things – and that common denominator proves to be one of the two big reasons OT and IT may be converging. The other reason is the cost-savings of a single network.
With this as background, the last few sessions of our POWER HOUR series bring us into the latest trends in critical in-building communications and public safety, workplace and health, the building IoT that enables that transformation and more. IoT can improve the tenants' wellbeing and their safe return to work by tracking diverse environmental variables – from temperature and relative humidity to air, lighting, and sound quality – in real-time.
Experts will debate what the post-COVID-19 workplace will look like – but most agree there will be opportunities, as well as the changes they bring.
Some of these opportunities will happen because of our improved tools: tools such as the latest generation of BIM and the exciting new Digital Twin technology. While Building Information Modeling (BIM) aids the design and construction of a smart building, Digital Twin takes the built model, layers a continuous flow of sensor data over it, and produces value-generating analytics. Both are vital to understanding the changes in the smart building environment.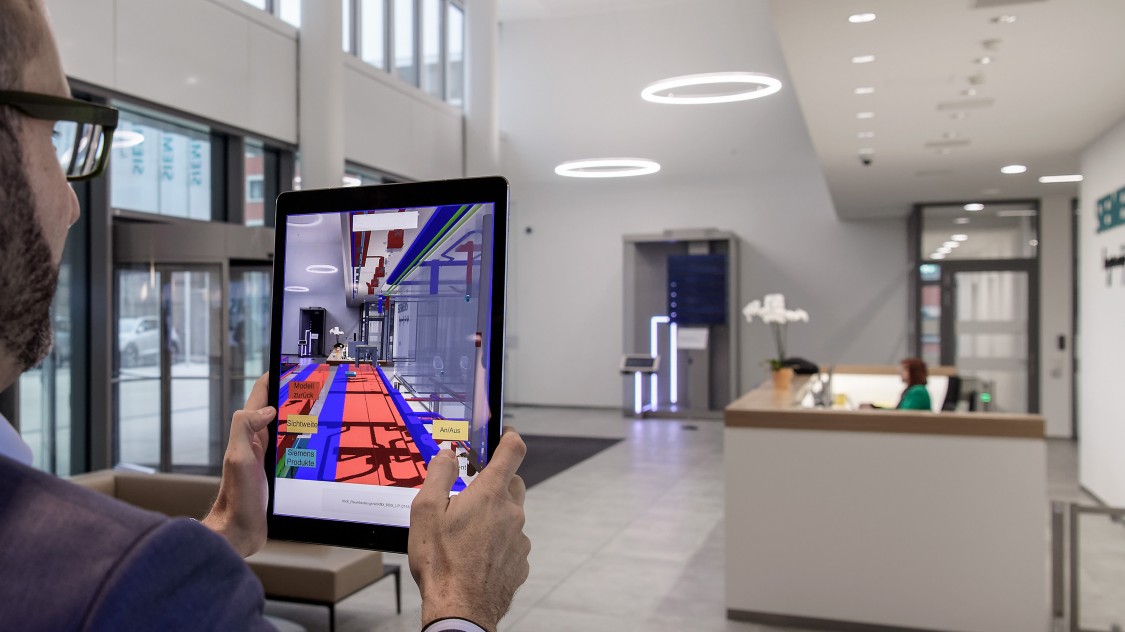 A look behind the physical façade...detailed information is stored in the Building Twin.. an app shows this information right on site.
Smart systems incorporating IoT technology will change the way commercial buildings are designed, operated, and managed. When this global health crisis finally ends, commercial real estate will find itself with a range of smart systems that shift the building's focus to the occupant comfort, health, security, and productivity goals they have long strived to achieve.
The SMART BUILDING POWER HOUR is a 10-part series, with each session dedicated to one or two big topics such as Safety & Audio, Workplace and Health, Building IoT, and BIM & Digital Twin.
While a session may focus on a topic (let's say, IoT), that doesn't mean IoT wouldn't come up in discussions on Energy, Workplace, Building Control. But it does mean we'll have top experts in that session that can address most questions you might have about the Main Topic.
POWER HOUR offers 60-minutes of informed discussion with very few slides, an animated insight into how to get your head around a big topic that impacts almost all we do in the built environment. Smart Buildings Power Hour webinar series.