Envisioning the Future: Experiential Workspace Case Study
Posted on Sep 24, 2019
by Kirsten Nelson
Whether the objective is team-building, a product launch or a serious, heads-down strategy session, many companies are using off-site meetings to deliver fresh ideas.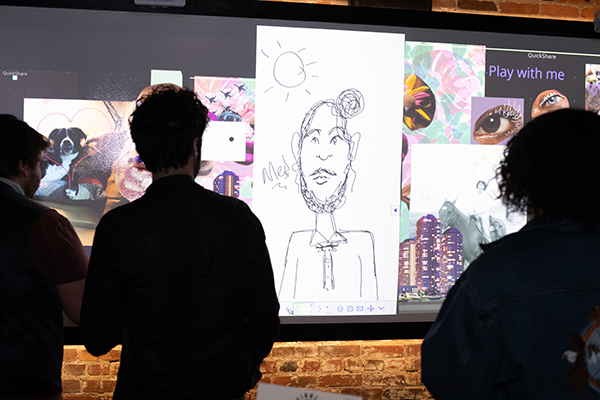 Sometimes a change of scenery makes all the difference, adding a much-needed boost to day-to-day workflow or providing enhanced focus away from office distractions. This strategic escape can prove invigorating, and possibly even prompt new workspace ideas to take back to the office. Particularly if the setting is a thoughtfully designed, tech-enhanced, idealized workspace like VisionLoft in downtown Indianapolis.
Designed and built as the passion project of husband and wife team Julie Johnston and Dan Johnston, VisionLoft is a creative meeting and event venue that blends the historic charm of the property's livery stable past with the sleek and intuitive innovation of modern audiovisual and collaborative technologies.
Flexibility, both in terms of layout and in terms of technology use, is the foundation to the venue's inspiring offerings. Each seating and hospitality area was designed with a distinct feeling and purpose in mind, Julie Johnston explains. Groups can rotate from the plush furniture in the fireside area to more formal tables and chairs or social-centric built-in seating.
The setup is designed to help VisionLoft clients break free from the traditional marathon of slide presentations projected onto a single screen. Breakout sessions, design thinking exercises and interactive group ideation are encouraged.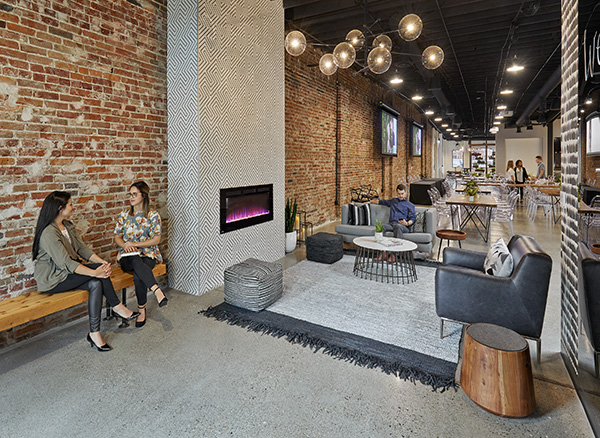 In addition to increasing engagement from more participants, planning a rotation of these activities so teams can mix and reassemble throughout the space keeps the inspiration level up. "Change the setting, change the mind," Johnston notes.
Here her expertise in contemporary modes of learning and collaboration reveals itself. Johnston is also the Director of Learning Spaces at Indiana University, where she leads a team of AV specialists and learning space design engineers in pursuit of innovation across campus environments. Seeking to maximize productive and energizing interaction, she and her team have added flexible new "informal learning spaces" to libraries, the art museum and various other spaces where students and educators meet.
Her professional observations about how people use spaces and interact with technology for collaboration were part of what guided the design and renovation of VisionLoft. "It's about how you feel when you walk into a space — how it makes you comfortable, how aesthetically pleasing it is, and how easy the technology is to use," Johnston says.
Working with AV technology integration firm CCS Presentation Solutions, the technology components of VisionLoft fit seamlessly into the elevated look and feel of the space. And even though the gear features some of the latest capabilities for sharing and interacting with audiovisual content, "it's not intimidating," she emphasizes, "it's easy for clients to think about how they might use it."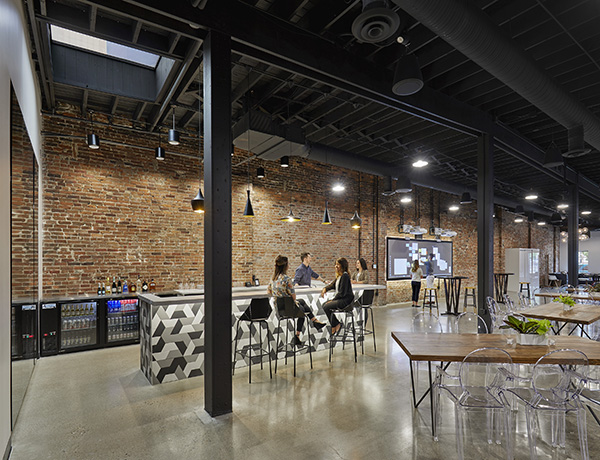 The personalized tech enhancement begins right inside the door, where two Epson LightBeam projectors can project a client's logo, welcome message or inspirational quote on the floor in the entry area. Once that creativity is opened up, the client inevitably finds abundant use for the large-scale video screens on the walls and the interactive surface powered by Nureva Span Workspace collaborative software. Control of the many displays is easily managed via an iPad app, which is connected to a Crestron DigitalMedia NVX IP routing system that allows the display of images on any of the six different presentation areas.
With six inputs at clients' disposal, "we could have a live-stream of a guest speaker playing on the back video wall, and we can also route it to a different part of the space," Johnston explains. "So, when they're in the space, everyone can see the content, and they can be immersed in what's happening."

As clients make creative use of the space's full potential time and time again, VisionLoft's playful suggestion that "meetings don't have to be boring," has been achieved. And that might just change the workplace beyond the venue as well.
"What we're finding with the people that come to VisionLoft is that they embrace these tools and they start thinking about having something like this back in their office," Johnston observes. "We hope that we can inspire our clients not only on the days that they're here, but actually have a broad impact in the sense that maybe we're helping to improve the experiences of their collaboration in their office spaces."
TOPICS IN THIS ARTICLE