Engineering Interactive Public Spaces for Health & Safety
Posted on Aug 26, 2020
During InfoComm 2020 Connected, Sasha Harris-Cronin of BBI Engineering and Maria Mortati of Maria Mortati Experience Design discussed how interactive and immersive elements in museums and public spaces will need to adapt due to concerns over health and safety.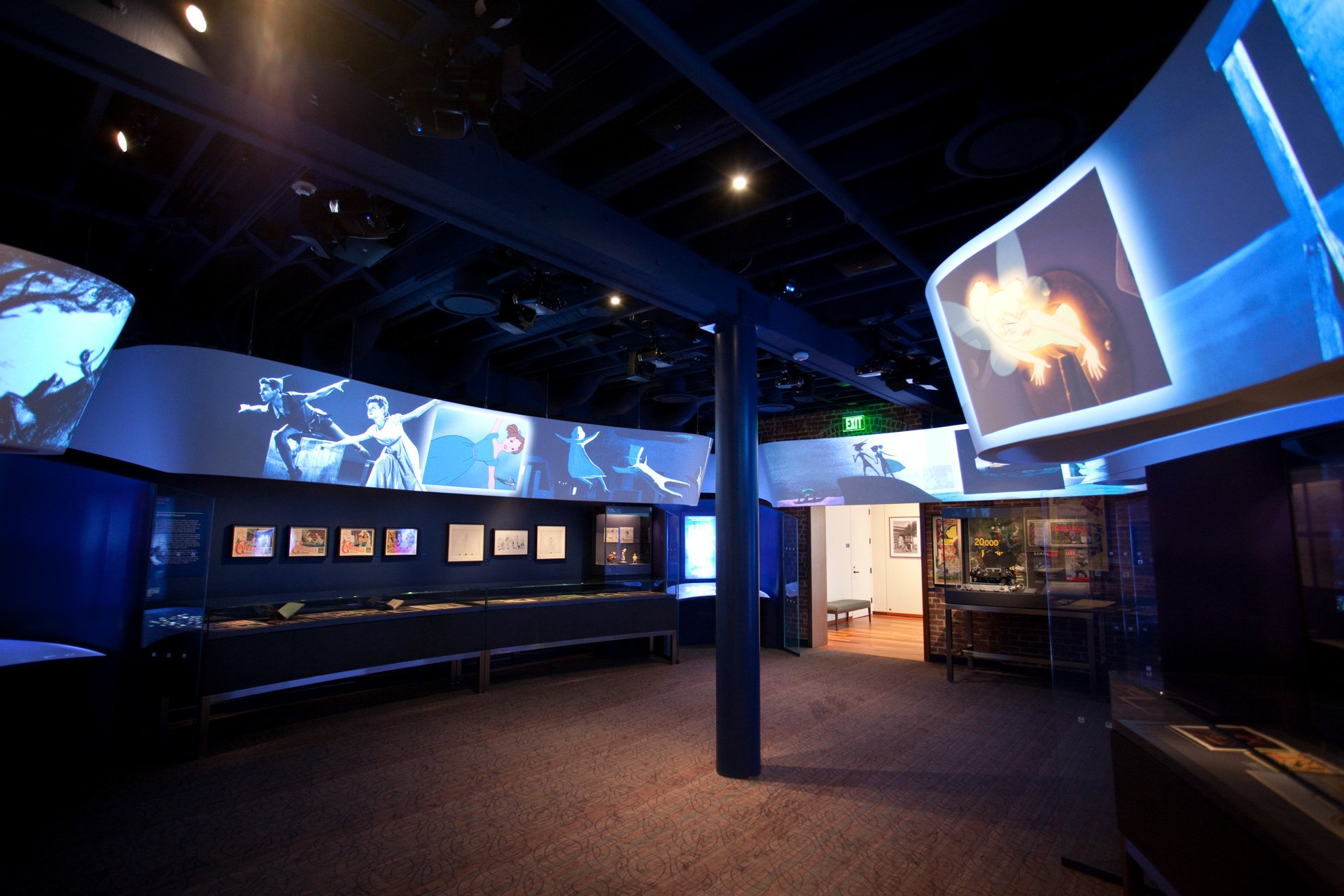 Video Ribbon at Walt Disney Family Museum, which is a nice immersive space. Exhibit Design by Rockwell Group Architects. Media production by Batwin and Robin. AV Integration and control by BBI Engineering, Inc. Photo credit BBI Engineering, Inc
Sasha Harris-Cronin is a principal and owner at BBI Engineering. She specializes in exhibits and experiences that fall in the realm of physical computing. At various times, she has been everything from project manager to interaction designer to programmer or technologist.
Maria Mortati is a leader, artist, experience designer, and educator interested in examining and amplifying the relationship between public and institution, public and private. Her projects span formal exhibitions to short-term interventions, involving collaborations with other artists, communities, and staff.
Their session produced some very thoughtful questions from attendees. Sasha and Maria continue the conversation below.
What are you most looking forward to creating in this new environment?
Maria: The possibility of working at a larger, more theatrical scale, that can still offer the richness of unusual content.
Sasha: I look forward to the challenge of creating collaborative works at larger scales and refocusing on storytelling instead of pushing buttons.
What is the biggest challenge for AV integrators of shared experiences under COVID-19?
Sasha: Honestly, it's funding. It is very likely that as the economy shrinks, fun experiences will be "value engineered" out of the budget.
Can you provide some examples of touchless interactive experiences and how they are being implemented and where?
Maria: Companies like Ultraleap are working on haptic/gestural interactives now. Graduating from touch to simple gesture in an easier interface. We are considering that for a project. In the past, you could play around with a Wii controller as well.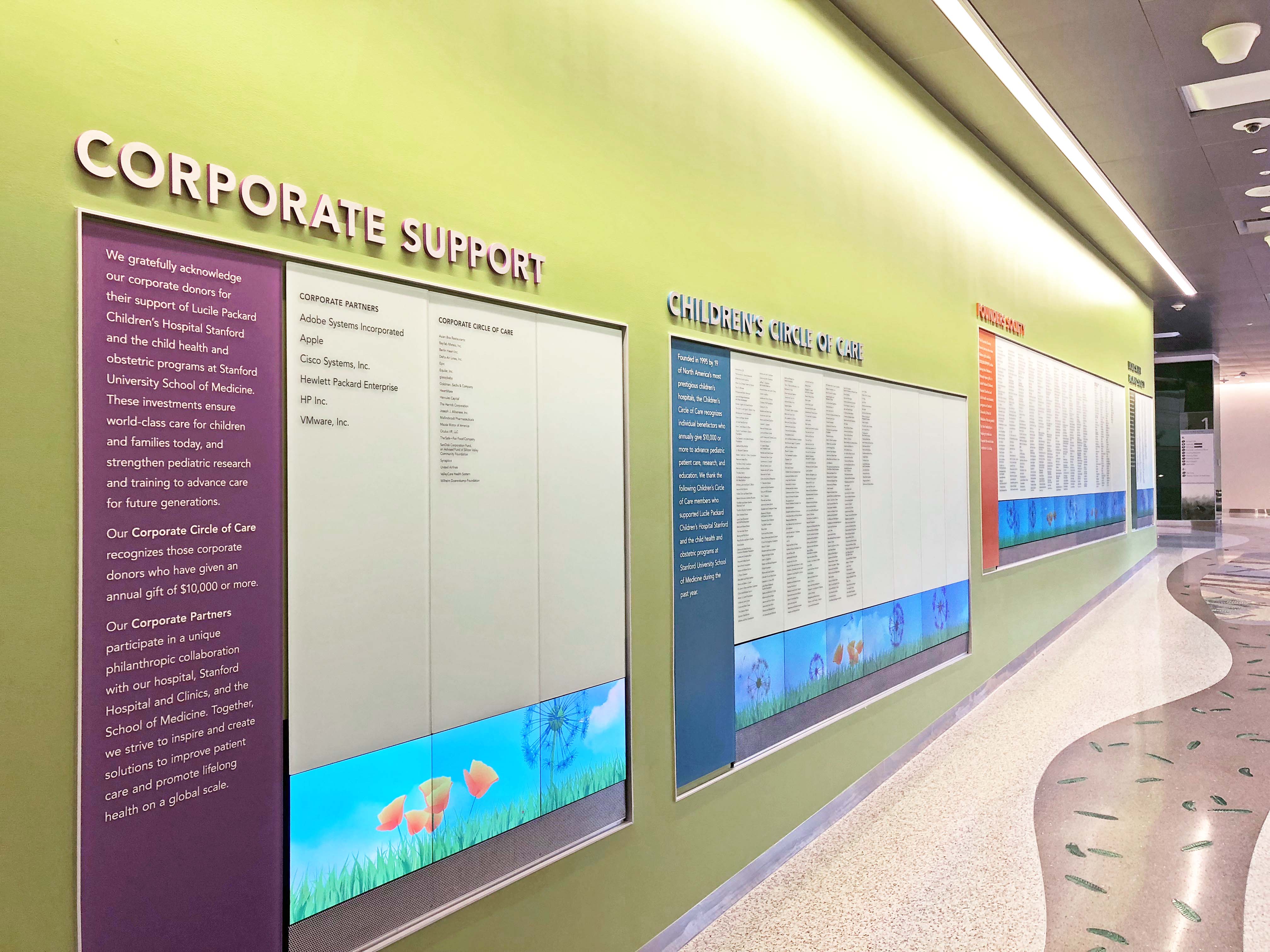 Lucille Packard Children's Hospital interactive wall. Exhibit Design by Clearstory, Inc. Interactive programming and AV Integration by BBI Engineering, Inc. Photo credit Clearstory, Inc
Sasha: There have also been motion tracking interactives for over 20 years. Camille Utterback and Scott Snibbe are two well-known names in that space. Last year we created a motion-tracking based interactive wall at Lucille Packard Children's Hospital and a motion tracking based interactive lighting environment at a public space in downtown San Francisco.
Have you designed any voice response exhibits? Using AI?
Maria: I am looking at it for a current project. There are privacy and audibility issues that we are discussing right now. Check back with me in the spring!
Sasha: We've done audio reactive exhibits, but not voice responsive. The trick with audio or voice reactive exhibits is to control the ambient audio. AI is especially sensitive to noise. That means designing the spaces with audio in mind. We've looked into AI and will continue to, but it's very challenging in public spaces. One of the biggest problems with voice response is accessibility. Voice exhibits are notorious for not understanding accents, multiple languages, or voices of folks with disabilities that affect their speech.
How do you handle accessibility for people with hearing or speech disabilities?How well do the systems handle accents?
Sasha: Unfortunately, this is one of the places where voice control really needs improvement. As usual, the technology centers a certain type of person. I think this needs to be part of a large push for technology to be created in collaboration with more diverse users and where accessibility needs to be designed from the beginning, not as an afterthought.
Can you talk to the accessibility of an exhibit or attraction? What if people don't have phones?
Maria: Good question! Pre-COVID-19, museums had devices on hand for visitors without phones, or they always would have alternate ways to experience something without a phone. If a project is sited in a context where phones aren't expected to be available to all, that means we have to design a different approach.
Sasha: It is still possible to loan out devices and then clean them thoroughly after returning them. I've seen a lot of chatter around museums coming up with cleaning regimens and requirements.
How many people do you think is safe inside an exhibition?
Maria: This is an important one that is being discussed quite a bit right now. From my perspective, it is largely dependent on 3 primary factors: the size of the space and its systems, the orientation of the elements, and the orientation of the exhibits. So, is this an airy space with good circulation and it's cool? Are the exhibit elements able to be viewed or somehow experienced safely? Are they adequately spaced?
Sasha: I agree with Maria. I've also seen some creative ideas about pacing people and families through exhibits and moving exhibits outside.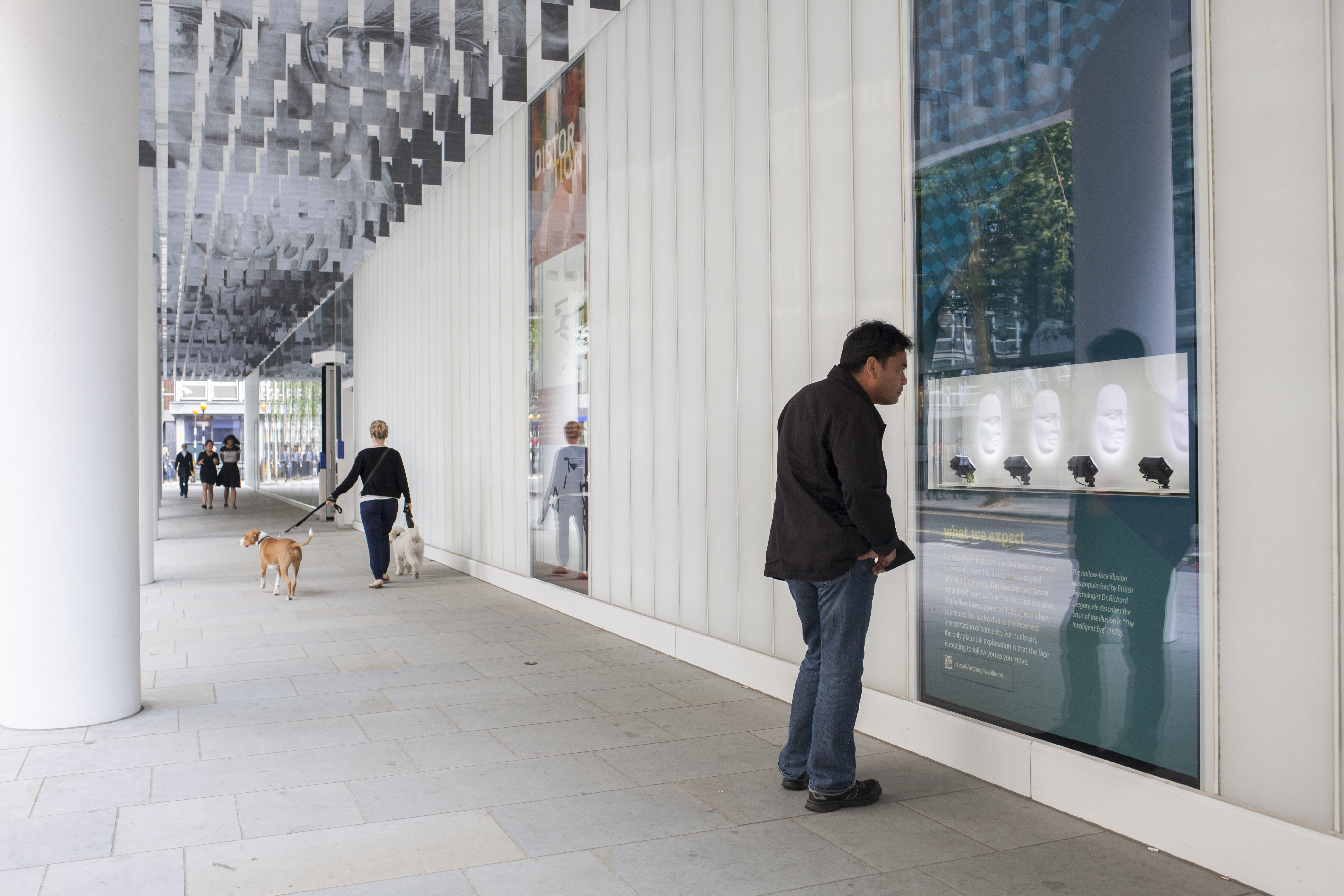 Sainsbury Wellcome Centre, Maria Mortati Experience Design
Even as an adult I see lights and I see displays that you say "WOW," but still want to go up and touch and this is really difficult with children! How do you work around that?
Maria: So true! I think that is an intent and design question. What is the content that you want them to experience or takeaway? You would then use any elements to support their focus in a way that is safe and meaningful. For example, the light for an experience may be used to signal success, but it also may be projected up high.
Sasha: We've focused on touchable things for so long that kids are trained to touch everything. We need to take a step back and figure out what storytelling and presentation methods are effective, beautiful, and meaningful while activating other learning modalities.
Related: Touchless Technologies Will Define the Next Brand Experiences
Have you started looking into adapting the technology being used in public spaces to the higher ed side?
Sasha: We've been working in higher ed for a long time. It tends to have more in common with corporate AV than museum AV. One of the challenges with higher ed is the lack of immediate technical support. When a museum exhibit breaks, it gets a sign on it. When something in a classroom breaks, it ruins a lesson. This leads to a lot more caution in classrooms and a tendency to stick with minimal, bulletproof technology.
Personally working in the live events industry, do you have any ideas for how interactive elements such as lighting or projection may be used in public rather than exhibit spaces?
Maria: Heck yes! We both work in the public sphere, whether in a museum, or outside of one or on the street. One of the things I see is a greater need to work with lighting that can allow the non-expert ways to create the content and try it out.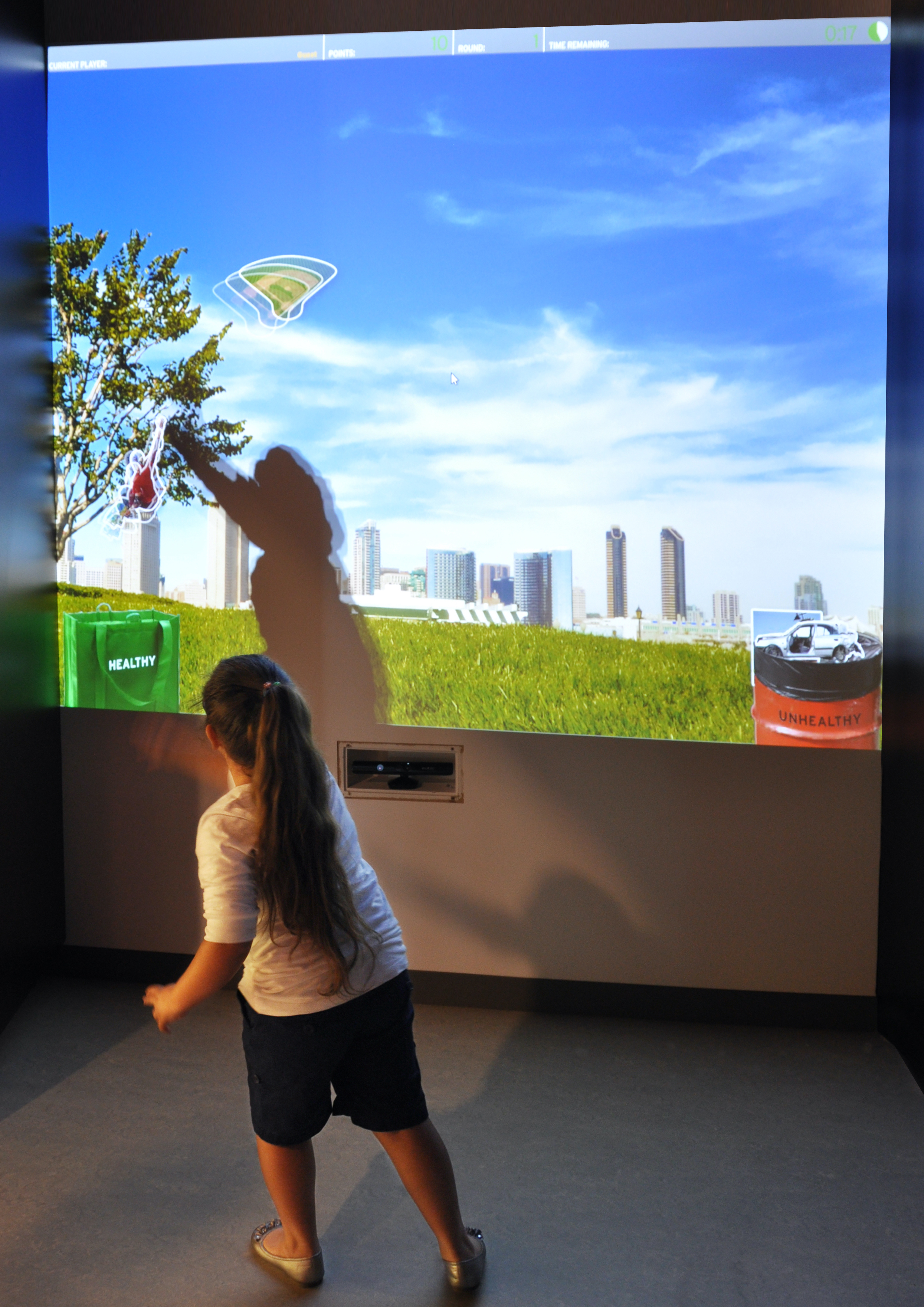 "Heads Up" in the "Health Happens Here" gallery at the California Museum in Sacramento that is a motion tracking exhibit. Exhibit design by West Office Exhibition Design. Media production and programming by Richard Lewis Media Group. AV Integration by BBI Engineering, Inc. Photo credit West Office Exhibition Design
Sasha: Last year we created a motion tracking-based interactive lighting environment at a public space in downtown San Francisco. The lights were all ETC Source 4's. We created "games" where visitors could hop from light pool to light pool and the lights would change, expand, and contract depending on the interaction. I think there are tons of possibilities we can leverage.
Related: Podcast: User Experience Design for Museums and Events
Are there many institutions exploring interactive spaces and providing opportunities for ideas to bubble up? For example, NGX at the National Gallery in the UK.
Maria: At the moment, I've got an exciting non-museum project that is all about bubble up. It is to create rich interactives for the elderly. It's moving from some pretty speculative stuff to reality. Finding institutions with leaders or boards that have the curiosity and drive to make resources happen is essential. It's rare, but it's a tried and true method for breakthroughs, and we need them right now.
Sasha: This is actually a place where pop-up museums are doing well. A lot of pop-up museums feel like one-hit wonders, but they have a lot of creative ideas about space interactivity. As usual, the Exploratorium is a good place to look. Also, art galleries and foundations like Grey Area Foundation for the Arts in San Francisco hosts interactive art space immersive installations. The Japanese group teamLab has done some fantastic work in that arena, too.