Creating a Virtual Bridge Back to Physical Spaces
Posted on Oct 21, 2020
In the meetings and conferences sector of hospitality, virtual meetings are reaching a new phase of development, with platforms designed to help in the transition back to in-person events. Hospitality providers like Convene, which provides high-end workplace, conference and events facilities, have developed interesting new virtual options that go beyond the talking-heads format to which we've become accustomed.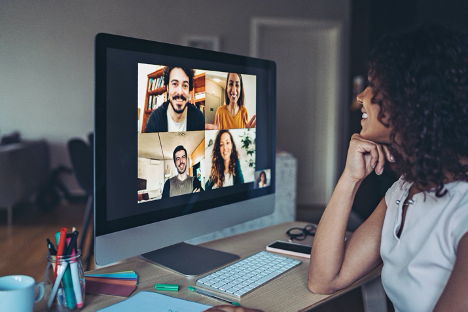 "Challenges always bring great innovation," says Michael Judeh, Senior Director of AV Technology with Convene. "Specifically in the conferencing and collaboration space, everyone's had to adapt pretty quickly, and that creates an amazing opportunity for workplaces and hospitality venues to look at how can we utilize technologies to create unique experiences."
Related: Podcast: Can we use technology to make events more human?
In developing its custom virtual platform, Convene stayed focused on the human-centric element of its brand. Noting in its research that most virtual meetings and events offerings are self-service, Convene went for a more personal support angle. "The platform is still built around human interaction, and specifically human interactions with our team," Judeh says. "There's someone with you from when you first make an inquiry through your event, and even after your event."
Attendees and speakers will enjoy a more human experience as well, as Virtual Convene offers more audience engagement tools, including peer-to-peer and larger-group networking that bring the spontaneity back to events. The platform also provides tools for creating better connections with presenters, with customizable networking capabilities to keep the conversation going with attendees.
All of these virtual offerings will provide a natural bridge back to Convene's physical locations as well. Even while social distancing standards are in place and capacity is still limited, speakers can gather safely in one location, and limited groups of attendees and sponsors might also meet there as well.
Related: New Solutions: New Events
"If we can keep our customer base engaged, and find new customers as a result of this as well, and get them back into a hybrid environment where we can marry the virtual component with our industry-leading physical product, we're in a really great space," Judeh says. "The functionality of our audience interaction tools is available to presenters across virtual and physical spaces. So the experience is different, but the same."
In the events and hospitality industry, there's still work to be done to realize an ideal blend of virtual and physical location experiences. "Hybrid is going to be a challenge for a lot of people to solve because historically the virtual audience was secondary," Judeh notes. "That's flipped on its head to a degree where now you have to either weight them equally, or in some instances the virtual audience, because that's where a substantial amount of participants are going to be, might be more important than the online audience. It forces you to reevaluate the priorities."
The future lies in creating spontaneity. "That's the reason you go to a physical meeting or event," Judeh observes. "It's that happenstance, where you can overhear a group having a conversation and you join in and expand your peer and social network. It will be interesting to see how Convene and others continue to evolve that, while bridging it back to the physical spaces, creating experiences that allow for that spontaneity to happen."
Read Next: Top 5 Takeaways for Live Events from InfoComm 2020 Connected
As we reflect back on three dynamic days of interviews during InfoComm Connected 2020, panels and discussion, these five takeaways for the live events industry rise to the top.