Corporate Technology Services: A Leading Australian AV Provider Shares Their Secrets of Success
Posted on Apr 21, 2020
by David Keene
AVIXA resources have played a key part in the growth and success of Corporate Technology Services, a market leader in Australia that is consistently at the forefront of new tech trends and AV industry best practices.
AV integrators and AV design firms have long known the benefits of leveraging AVIXA's resources for certification, training, and standards to navigate a changing industry landscape and evolving customer expectations. And many companies have combined those resources with their own unique expertise to create a winning strategy in competitive markets. But few companies have been as adept at leveraging AVIXA's resources to help them grow and prosper as has Corporate Technology Services, based in Sydney, Australia. The company has found a winning combination of AV installation, AV system design, and corporate live event services, all bolstered by their training, certification, and continuing education programs that draw on the best that AVIXA offers, globally and regionally.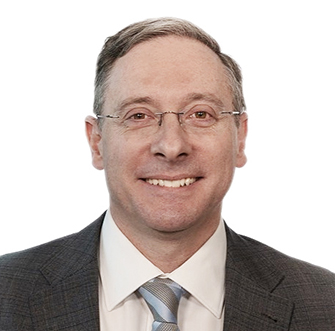 Duncan Lugstein
Corporate Technology Services has such an innovative and adaptable market position, and seem to have found such a good combination of go-to-market offerings and utilisation of AVIXA resources, that I wanted to let the two top principals of the company tell their story, so to speak, to the industry. What do they see as the top trends in AV today? And how do those trends dovetail with AVIXA's ongoing role in helping forward-thinking companies achieve their goals? To find out, I spoke to Duncan Lugstein, Managing Director at Corporate Technology Services; and Ryan Gomes, Head of Sales and Workplace Technology. Duncan has worked in the audiovisual industry for over 20 years, and he currently sits on AVIXA's Australian Membership Advisory Group. Ryan has over 20 years of IT and audiovisual experience and is uniquely positioned as a unified communications and audio visual consultant catering to the finance, corporate, government and professional services sectors. Ryan plays a key part in the development and implementation of corporate audiovisual support services and their quality control systems. Ryan also plays a key role in offering system design, consulting and project management services to the company's clients.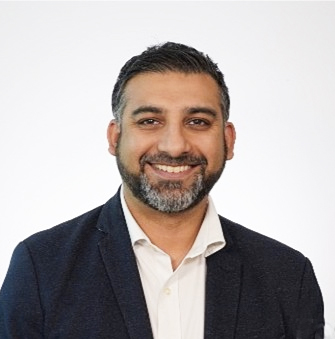 Ryan Gomes
David Keene: Corporate Technology Services has been delivering innovative solutions to customers for a while. You just celebrated your 18th anniversary. And over half of your staff has acquired the highly recognised AVIXA Certified Technology SpecialistTM (CTS®) certification. In fact, two of your staff were recognised last year by AVIXA Oceania during Integrate 2019 award night. Tyler Wood, with the Oceania Young AV Professional Award. And you, Ryan, with the Oceania CTS® Holder of the Year Award. Congrats, Ryan. That certainly says a lot about your company. Before we circle back to the CTS® and other AVIXA-provided resources, you've positioned your company, haven't you, to provide what's not done very often in the AV world: excelling in three areas: AV system design, AV installation, and corporate live event production.
Duncan Lugstein: Yes, we have a unique combination of offerings. Design, i.e. we are AV design consultants. We're also an AV integrator. And we do production, both video production and event production for corporate clients (not entertainment).
David: So, is there something about the Australian market that warrants that mix of offerings, or is that more a function of your company's DNA?
Ryan Gomes: That's a good question. In terms of being able to succeed in the different areas: consulting (AV design), AV integration/installation, and live events, that speaks to our origins as a company (we started our very strongly as a live events provider), as well as to trends around the overlapping of installed AV and live event AV.
Ryan: That being said, the Australian market is unique. Some vendors see Australia as a leader in the AV world. We're the right size of a market that we can be used as a "test case" so to speak for solutions. But we're a big enough a market, and definitely as sophisticated a market as you can find, so that solution vendors see us at the vanguard. And add to that, Australia is a nice mix of East and West, so to speak: you can expose a tech solution to both western culture and eastern culture users. That gives innovators like us a unique vantage point in the global race to test, and roll out, new technologies.
David: As an analyst/researcher I've covered that trend you just mentioned: installed AV and Corporate live event AV coming closer together. Can you give us an example of that from your experience?
Ryan: Absolutely. A lot of corporate clients now say, when they're planning a live event: "I don't want to go to a hotel space, I want to do the event in our own facilities. We've invested in great installed AV systems. Let's use that." So that's the first driver of the trend: better installed AV spaces that can be used for corporate live events, better in terms of video, audio, lighting, streaming capabilities, everything. These companies that commissioned and paid for these great technologies for their offices now often say when talking to the AV provider "you're a technology company, so why are you bringing all that extra technology in for the event? Why isn't it integrated better from the outset so you don't have to bring so much gear in every time?" Good point, isn't it?
David: So how do you deal with this trend? How do you marry the two worlds, of installed AV and live events?
Ryan: That's a huge topic. Here's a partial answer that speaks to a trend: combine the magic of the best UCC, with the best live event technology. For example, we just did systems for a big financial firm in Melbourne. One of their needs: a UCC room with Microsoft Teams, for a one-to-many broadcast, where they can go from the room to 100 people using Teams. So, we design for a camera in the back of the room, for intelligible audio everywhere, and more. Often, when an AV integrator does the design, the live event component is not addressed. But there are many use cases where you use both.
David: Do you mean, that with the proliferation in the installed AV market of easier, simpler UCC rooms, there is also an increased demand for live event technology and services for corporate clients? And that somehow the two trends overlap?
Ryan: There is, and there is opportunity for an integrator, if you know how to leverage the synergies of both. And this where we get back to AVIXA's CTS® and training offerings for the industry. Not only is almost everyone AVIXA CTS® certified on the installed AV side, and the consulting side, of our company, but also almost everyone in our production/live events arm is certified. CTS® is so helpful, for our guys doing "live events" that have to understand how the "live" stuff integrates with the installed AV systems. And vice versa, as UCC rooms are about "live" collaboration, and beyond that companies also want other kinds of spaces for sophisticated live events.
David: We all know that the AV industry is shifting to a more experiential approach to solutions. Some people, when you talk about "experiential" AV might think of grand designs like projection-mapping the side of a cathedral, big outdoor events, etc. We all love that, but are you saying that experiential is obtainable by any company?
Ryan: Experiential spaces are the up-and-coming thing in the corporate world. Even where a lot of budget is going to lower cost collaboration rooms, the experiential side of events is growing. So even as conference rooms become more simplified, the corporate live events spaces are becoming more complex. That being said, we're designing and building experiential spaces that are more practical. The goal is, when our clients bring their clients into the space, the spaces are now more emotive. And that's achieved with better sound masking, better acoustics, better video – and this is all happening simultaneous to mass deployment of easier, cheaper UCC.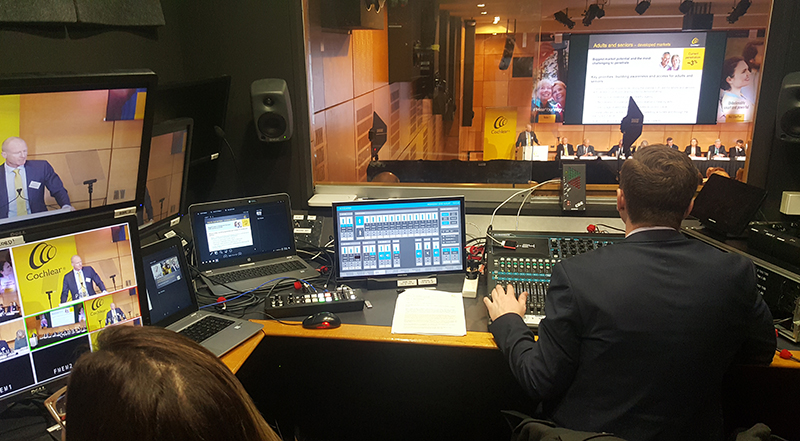 Staging an event for one of Corporate Technology Services' corporate clients often requires blending both installed AV systems with live event production tools.
David: So you've shown us how CTS® certification from AVIXA helps you be better prepared to deal with this new AV market landscape where the boom in UCC is happening along with a surge in demand for live event technology. Could you explain how CTS® helps in all parts of your business?
Duncan: We have just celebrated our 18th anniversary in business. We're in the mid-40s' for full time employees, nationally. Add in out part time staff, and we have about 50-60 full time equivalents. And just over half of those are AVIXA CTS® certified. That's key.
Ryan: Absolutely, and one of the things AVIXA has done very well, is that not only do they deal with technology, and specifying, but also with service requirements. A lot of our staff are very technical, and they get the audio, and the video, more quickly. But it's the service and customer relations aspect that they need more coaching on, it's a challenge to get the balance right between the tech, and the customer service. The good news is that AVIXA has always had that focus, to address both.
David: And what other AVIXA resources have been key to your growth and success?
Duncan: A lot of them. For example, every single employee that starts with us, from the receptionist on up are doing the AVIXA Quick Start to the AV Industry Online course.
Ryan: What do we use AVIXA for? Well, it's been fantastic, for CTS®, Standards, online courses, conferences and trade shows, and more. And for reference materials. Personally, I have CTS®-D certification. And I can say the content that is within the courses is superb. And I have the CTS®-D Handbook on my desk. I refer to it often. And with that quality of references, and standards, you can always have an answer when the client asks: "why did you do it this way? Why did you choose those loudspeakers, those size displays?"
Ryan: That breadth of resources, well, that's why we always align ourselves with AVIXA. It's something we rely on, to have the best certification, and standards, not just for ourselves as AV professionals, but also for our clients, to help them succeed. AVIXA is a fantastic resource, and key to all we do.
TOPICS IN THIS ARTICLE