Back to the Workplace: Harnessing Data in AV Designs
Posted on Jun 8, 2020
By Kirsten Nelson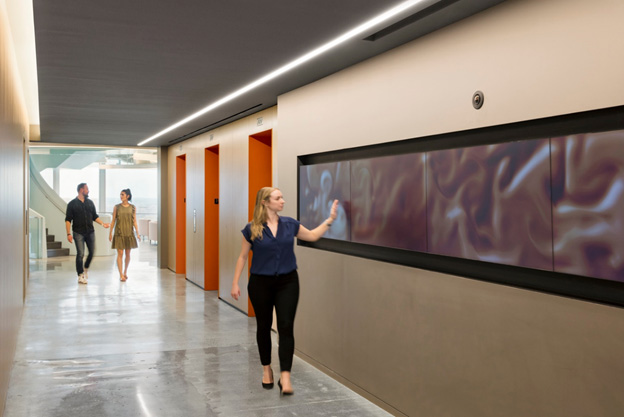 The lobby of Nestlé's U.S headquarters features a motion-sensor-enabled digital display. Photo courtesy Gensler.
The proliferation of sensors and data-driven environmental and communications controls in recent decades has made our offices smart. Now all we have to do is help them share their insights.
"It's really going to be about communication and thinking about how we can use information and data-rich environments to support a safe environment," says Michael Schneider, Director of Media Architecture with the Digital Experience Design Group at Gensler. Using real-time analysis to track quantitative elements like air quality and sanitization efforts, and overlaying that information on a map that also shows foot-traffic patterns or occupancy levels can help promote comfort through the clear depiction of a space's status.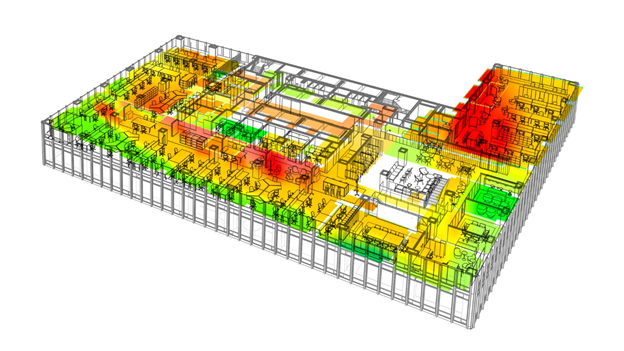 Gensler's New York office has an entire floor dedicated to a living lab that tests sensor technologies to track things like occupancy, temperature, and energy consumption. Image courtesy Gensler.
As the global firm dealt with client re-openings in the first countries that began to emerge from the pandemic's initial wave, it gained insight into the physical changes and informational needs that ensure a safe return to work.
As a foundational step for those looking to change their office layouts to meet new requirements, Gensler has harnessed some of the power of data analysis with its Re-Run physical distancing tool. Employing generative algorithms, Re-Run takes an existing layout of a workplace and generates options for new configurations that adhere to social distancing guidelines.

Gensler's physical distancing tool ReRun™ puts generative algorithms to work on post-COVID workplace occupancy planning. The first image shows space allocation pre-COVID, and the second image shows newly distanced space. Images courtesy Gensler.
Information, signage, and communications are also a significant part of reopening efforts, and to that end, Gensler's branding and environmental graphic design groups created a package of graphics and signage to communicate new messaging. Elevating that into the digital signage realm, the technologists in the firm's Digital Experience Design Group are developing ways to use visual display technology to support a safe re-entry into the workplace.
The latter really highlights the flexibility of the digital layer of a building's infrastructure, Schneider notes. Even if sensors were initially put into place to help ensure that every square foot of real estate was used to its maximum density, now it's comparatively easy to use those same tools to help make sure people are spread out in a space. "There is a lot more focus on how digital changes the work environment, and how it's able to be more resilient in times of drastic change," Schneider says. "It's harder to be dynamic with brick and mortar. So if you give a building a digital skin, it adds a new layer of dynamism and resilience that will allow it to adapt to major cultural or historical changes."
Other ways that the digital layer of offices might change include meeting space configuration. Small conference rooms that once had the capacity to host four people might actually only be able to have one person within a six-foot radius now. And medium-sized rooms that were built for six people might only be able to have two or three if everyone stays in a far corner. So, Schneider suggests, we may not be talking about meeting rooms so much as open meeting spaces: "It may be like immersive corners or walls or things that are less separated."
Related: Back to the Workplace: Human-Centric AV Design Means Asking Workers for Input
Combine that shift with the need for more intensive hands-on or 3D-oriented collaboration, and we get into immersive ideas for the workplace. The advent of 5G will help to support the plethora of AV-enabled 360-degree globes and cylinders that are supporting virtual environments that can surround a group of people in the office, while remote participants get a view through VR and AR tools.
The need for agility in the workplace will drive the adoption of many new technologies. Schneider expects to see a big push toward these new immersive and mixed reality scenarios as workplaces aim to impress occupants with safe and high-tech amenities that suit the new hybrid workplace.
AV professionals' ability to help guide corporate and enterprise clients into these new scenarios will produce new opportunities. "There's openness to really leveraging technology for making the space smart, for offering employees things that they can't get when they're at home, and to create seamless transitions from working in one location to the next," Schneider says.
Related: Guiding Your Corporate Clients Through Workplace Changes
That openness also extends to the adoption of fringe technologies that were just beginning to gain more traction in the office, such as mixed reality and gesture-based control. "Now people are open, so it's an exciting time. It could really propel AV technology forward. There's a huge opportunity for growth, but it will happen to the companies that are nimble and able to shift to the new needs."
Read Next: Rebuilding Revenue in the Shadow of a Pandemic
How can AV integrators help customers now and tomorrow? How can they position their businesses for success while helping clients succeed during a pandemic? The answer: Walk the next mile in their shoes.
TOPICS IN THIS ARTICLE