Back to Basics for Effective Collaboration Solutions
Posted on Jan 6, 2021
Although the current pandemic has brought some radical changes and accelerated trends, the reality is that collaborative spaces were already transforming due to the emergence of new styles of work meetings. AV solutions expert Juan Montoya, CTS, from the Colombian company Ambientes Inteligentes, spoke about these transformations, how to take advantage of new business opportunities, and the role of AV integrators and technology consultants in this field, at the recent Congreso AVIXA.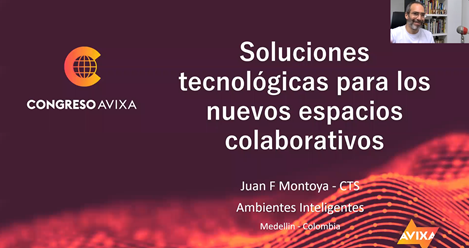 Presented by Juan Montoya
Before tackling any project, Montoya recommends going back to basics and first understanding what it means to collaborate and the key elements of a meeting today. This will make it easier to identify the challenges an AV integrator can solve to help customers and users make their meetings productive.
We meet with other people to achieve a common goal through communication and interaction, most of the time to plan a project or to share information. And we understand that it has been productive if we learned something new, developed our creativity, managed to motivate other people, or created unity, cohesion, and commitment.
"All participants have the right and responsibility to make their meetings productive," says Montoya. A productive meeting is one which people can access without obstacles, collaborate – share, receive and archive information – for a certain time, and manage to leave with the objective achieved.
The first step in making meetings effective with technology is knowing the meeting styles your client uses. For this, it is best to start by interviewing the people who organize and participate in these meetings, listening to their needs, and understanding their working method. Does your client regularly hold innovation meetings, Scrums, informational meetings, teambuilding sessions, or relay meetings? The format of the meeting will impact the needs of space, resources (audio, video, software, lighting, furniture, networks), and time management required.
Once you know the client's meeting styles and objectives, the challenge for the AV integrator is to design solutions that allow capturing the sentiments and information of each participant to transmit, reproduce, and store for the desired spaces.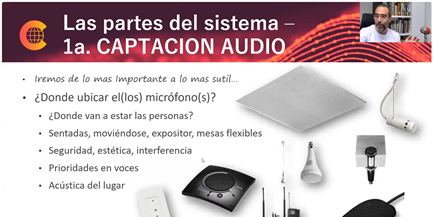 The Parts of a System: Audio Capture
In his presentation, Montoya shared the details of the method he uses to design solutions. It is the "123 AVC", which consists of the following of three steps in a logical sequence to decide which audio, video, and control technologies and devices are the best for each collaborative space.
The first step considers all the elements for its capture, the second step refers to the reproduction, and the third to the processing. The "123 AVC" method starts with audio, without which it is impossible to hold a meeting. We follow the same steps for the video and finish with the control, including the operation, playback of the control, and processing.
In addition to a methodology such as "123 AVC", Montoya recommends using the different standards defined by international associations such as AVIXA, which will facilitate both the initial integration work and any adaptation or improvement made in the future.
Watch out! Not everything is solved with AV.
Finally, it is also important to know the technology's scope and understand that some collaborative meeting processes are not solved with a new touch screen or a noise-canceling headset.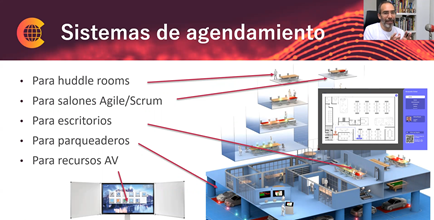 Networking Systems
Preparing the topics of a meeting, defining schedules, keeping control of the agenda, or motivating the participation of attendees are not tasks that AV technology can solve, so we must make it clear that the best meeting space equipped with the appropriate technology will not achieve that the guests to a meeting are punctual or express better ideas than before.
Montoya makes it clear that technological challenges are also opportunities to expand knowledge, develop new ideas and, of course, generate business opportunities. Practice your Spanish language skills and listen to his presentation Technological Solutions for the New Collaborative Spaces, available on demand. Not a member yet? Please take advantage of this opportunity and review the membership options that we put at your disposal.
Read Next: Creating Solutions that Connect Near and Far
Offices, classrooms, and spaces are either open or starting to open, but with new design strategies and implementations. AV technology again plays a key role in these new environments in not only promoting safety and distance where needed, but just as importantly, in facilitating the communication necessary for success.
TOPICS IN THIS ARTICLE