A Look Back at 2020's AV Experience Award Winners
Posted on Jul 14, 2021
Not just another AV awards program, the AV Experience Awards program recognizes the innovative integration of content, space, and audiovisual technology to enrich experiences. The different award categories celebrate AV technology's role in creating dynamic art, flexible spaces, and collaborative, individualized, immersive, and in-person experiences. Past winners have been some of the most innovative and awe-inspiring uses of audiovisual technology we've seen.

As the deadline to enter this year's awards approaches, here's a look back at the stunning projects that took the top prizes in 2020.
---
Best Collaborative Experience, celebrating applications of AV that bring people as close together as possible via technology.
Winner: Klarman Hall at Harvard Business School
Company: Idibri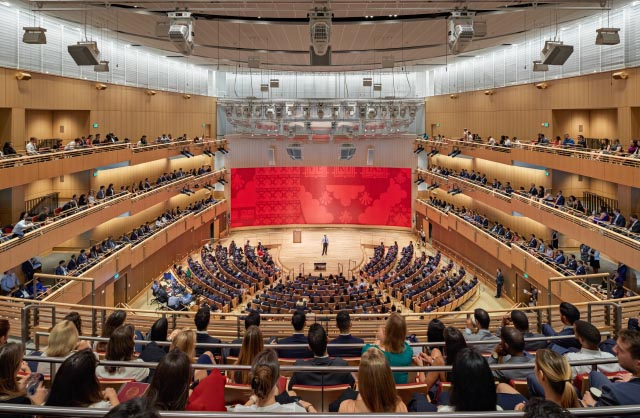 Harvard Business School's Klarman Hall essentially reinvented the conference center when it opened in 2018. While the 1,000-seat room can be utilized for almost any purpose a large audience will be present, its uniqueness lies in its ability to connect people in the room bidirectionally, rewriting the traditional one-way paradigm of most other lecture halls.
Conceived with Harvard's case method teaching in mind, the room allows students to communicate with not only the instructor but with each other. This was achieved with state-of-the-art sound systems, including a separate and advanced voice lift system that supports student interaction with ultra-sensitive microphones and more than 100 speakers.
The focal point is a 1.9mm 61-ft wide curved digital display with viewing distances ranging from 5 to 40 meters to optimize viewing angles.
For additional details, be sure to check out the case study on this project.
---
The Best Flexible Space Experience category recognizes AV utilized to creates spaces that are constantly changing and adapting, enabling a better experience. These spaces must be fit for multiple purposes, easily changed, and, in numerous configurations, optimize the activity happening within them.
Winner: Qatar University - Sports and Events Complex
Company: Techno Q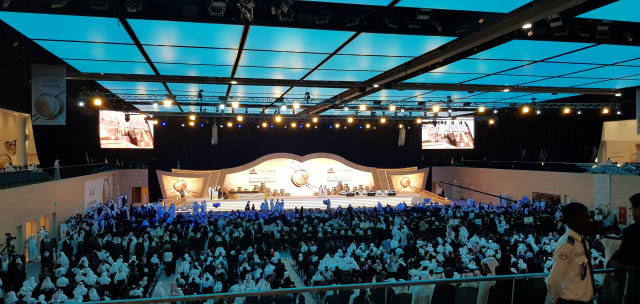 Using advanced AV applications, this 25,500-sqm space seamlessly combines multiple sports and event functionalities, making it the heart of community life on campus.
With the ability to adjust the capacity size in the main area, along with additional rooms that can also serve as event space, the complex utilizes a multitude of architectural designs, acoustical lighting, and audio-visual technologies to create a myriad combination of facilities with spatial flexibility. Powering the complex are technologies you'd expect in any modern sports arenas like broadcast capabilities, scoreboards, production communication, IPTV, and digital signage. But the implementation of a complex-wide blend of wireless, BYOD technology architecture, touch panel-controlled instruction panels, and a language interpretation system makes this multi-use facility a standout.
To find out how Techno Q pulled it all together, click here!
---
The Best Dynamic Art Experience category highlights AV installations that merge awe-inspiring visuals or audio with art. But as stunning as they are, they're not art for art's sake. They have distinct purposes, either as cultural centerpieces, or as tools to energize people, reinvigorate a functional space, or display information.

The Best In-Person Experience celebrates AV used strategically to motivate potential attendees to get out into the real world to experience something they can't see, do, or feel anywhere else.
Winner: DATA GATE: NASA AI Astronomical Sculpture - Best Dynamic Art Experience and Best In-Person Experience
Company: OUCHHH
Commissioned by the Chinese Government, DATA GATE is a permanent public Ai sculpture that utilizes machine learning to interpret astronomical research through NASA's Kepler Telescope Data. With NASA astrophysicist Dawn Gelino as a mentor, the completed project invites visitors to explore the diversity and habitability of exoplanets through a multi-disciplinary approach. In other words, this sculpture allows people to discover space... the final frontier!
Even though the aesthetics of this installation is breathtaking, it isn't merely for stargazing. Using its website as a launching point, people from around the world can upload photos and messages as part of a "collective consciousness" of human beings, visualized on the screen in Nanjing, and then converted into signals and sent into outer space.
Ferdi Alici Eylul, Creative Director and Founder of Ouchhh Studio, drew inspiration for this project from astronomer Carl Sagan who once said, 'We are made of star stuff.' And, indeed, when people enter the exhibition area, the sensors detect their shapes and virtually transform them into stardust making them part of the universe.
Read more about this amazing piece here and view the video evidence below.
Winner: Sviatovid: Best Dynamic Art Experience
Company: BARTKRESA studio
As co-winner in the Best Dynamic Art Experience, BARTKRESA studio's new 360-degree projection-mapped sculpture, Sviatovid, was inspired by both a ninth century Slavic deity and a medieval sculpture of the same name. Sviatovid premiered and WOWED at Integrated Systems Europe (ISE), the largest AV and systems integration show in the world.
Described by some as an avant-garde approach to AV, this 15-foot tall, 360-degree projection-mapped sculpture toured the world with stops at the Centre for Meeting Culture in Poland, InfoComm in Orlando, the Luma Projection Arts Festival in New York, and InfoComm India in Mumbai. Though it has to be seen live and up close to be believed, the following video does manage to capture its essence. Learn more about it here and see the video below.
---
AVIXA's AV Experience Awards category for Best Immersive Experience recognizes illusionary or simulated environments that envelop individuals into a multisensory experience utilizing content, space, and technology.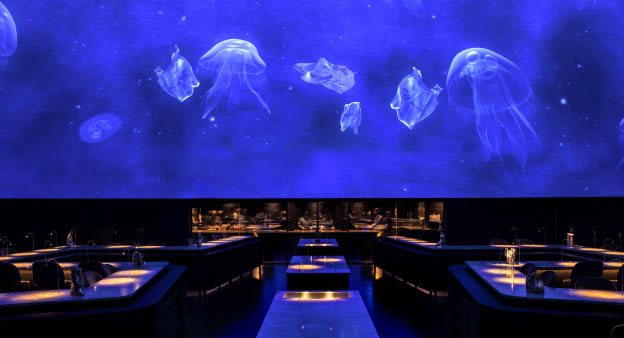 Winner: Alchemist, Copenhagen
Company: Audio-Visuelt Centrum A/S
The Alchemist restaurant in Copenhagen is a holistic multilayered dining experience that utilizes AV technology along with innovative cuisine, high-quality ingredients, and skillful food preparation to extend the dining experience beyond the plate. It is project mastermind head chef Rasmus Munk's intention for diners to transcend time and space.
The restaurant encompasses three floors and guests are served 50 courses with accompanying drinks during a three to five-hour session where they move through different spaces, each with spectacular tech to go along with the inventive venue of dishes like aerated foie gras or lamb's brain with cherries. Inside the restaurant, the most dramatic design element is an atmospheric dome filled with projection.
Ten Epson LCD projectors, along with immersive audio, were installed to create a dome of content to immerse the diner in a virtual world. The projection content is managed by Christie servers and fed through Extron boxes. Diners are treated to constantly changing content, developed along with the dishes served, such as floating jellyfish and the Northern Lights. Diners listen to 10 playlists as they move through different zones that fit the visual content.
To read more about this dining experience like no other, click here.
---
The AVIXA® AV Experience Awards category for Best Individualized Experience celebrates applications where technology creates personalized experiences.
Winner: Yogi Berra Museum
Company: Tritech Communications
The Yogi Berra Museum and Learning Center, located on the campus of Montclair State University in Montclair, New Jersey, is an engaging setting that reflects the good nature, humor, and humility of famed New York Yankees catcher Yogi Berra.
Its mission is to sustain and promote values of respect, perseverance, sportsmanship, and excellence through inclusive, culturally diverse sports-based educational exhibits and programs. It is a unique and engaging setting that reflects the good nature, humor, and humility of the "accidental philosopher" that it is dedicated to.
Collaborating to create the museum's popular "PITCH!" immersive experience was TRITECH Communications and exhibit designer Responsive Spaces who used advanced technologies like an integrated radar system and video wall. The attraction allows visitors to face off with an animated batter and catcher and track the ball's velocity and accuracy. Based on radar readings of the pitch, an umpire responds with a "strike" or "ball" call, along with a fitting "Yogi-ism" ̶ the pithy and paradoxical statements Berra was famous for when speaking with sports reporters. The response the visitor's pitch receives is personalized based on their pitch data as recorded on the radar.

Read more about it here and see it in action below. PLAY BALL!
The deadline to enter this year's awards is just around the corner. Enter today!
TOPICS IN THIS ARTICLE